Our latest Top Pick Event in Thailand is the Singha River Kwai Trophy 2014 Adventure Race. This adventure race is on a whole new Course for 2014! Adventure racing combines a challenging 1 day multiple discipline (biking, running, swimming, and kayaking) race with the magnificent beauty of nature. This year's event will start from the world renowned Bridge over the River Kwai, and the race route travels along scenic trails and explores the mountains and farmlands of western Thailand. View this and other great cycling events in Thailand on our EVENTS calendar page.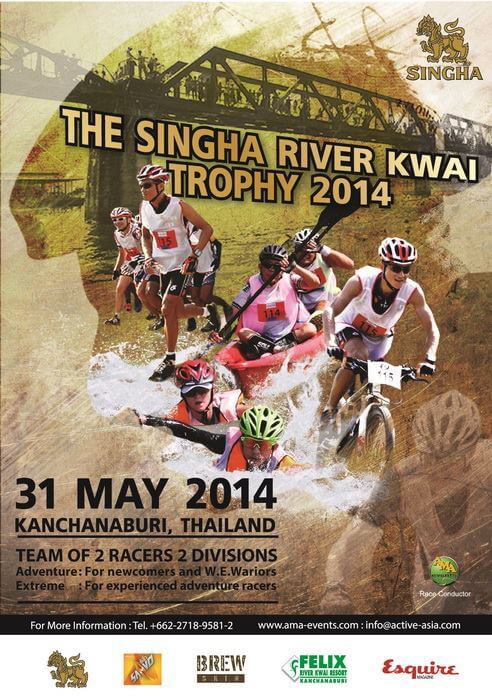 MAY 31 – Saturday : Kanchanaburi
The Singha River Kwai Trophy 2014 Adventure Race. Sponsored by Singha and organized by AMA-Events. Location: Felix River Kwai Resort & Spa Kanchanaburi province. View event poster by clicking here. Visit the AMA-Events website for more details about the most popular adventure race in Southeast Asia.
Well-organized routes and marshaling of the course makes this a great introduction to Adventure Racing for many. The opportunity to compete in either an Adventure or Extreme category makes this event popular with hard core adventure racers as well as weekend warriors. Read reports from the 2012 and 2013 editions of this race. AMA Events consistently puts on races in Thailand that are both enjoyable and professionally managed. If you are organizing or know of a cycling event in Thailand that you would like to see listed on our EVENTS calendar page, or as a future Top Pick Event, contact us with event details at Events@BicycleThailand.com
Event details required:
1. Name of event
2. Date(s) of event
3. Exact location – Tambol, Amphoe, and Province. Include additional information if available such as GPS coordinates or description of registration and/or start point of event.
4. Type of event: MTB, Road, Casual, City Ride, Festival, etc.,
5. Cycling distance(s)
6. Registration: Process and location
7. Fee(s)
8. Event categories
9. Website, FaceBook page, email, phone number or other contact information
10. Other details of event