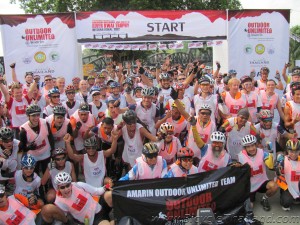 The historic and world-renowned Bridge over the River Kwai in Kanchanaburi Thailand was the backdrop to this year's Amarin Outdoor Unlimited River Kwai Trophy International adventure race. An all-new course for 2012 made use of the area's scenic valley farmlands and surrounding mountains.
The annual race, held this year on Saturday March 10th, drew over 90 teams of competitors from Thailand and abroad. Two separate racecourses allowed participants to compete in either an Extreme or Adventure level division. The organizers rate the Extreme division for experienced racers and extremely fit competitors while the Adventure division is said to be suitable for weekend warriors or those athletes who are new to adventure racing.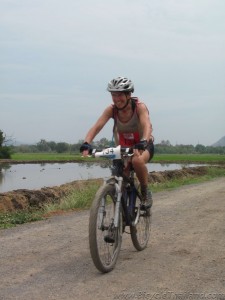 The race was an alternating combination of physical trials that tested each team in the areas of mountain biking, jungle running, river kayaking, and swimming. In addition to these core disciplines of adventure racing the competitors had to overcome a few surprise obstacles along the course.
Event organizers provided a free shuttle bus for competitors from Amarin Plaza in Bangkok to the race venue in Kanchanaburi. Sumptuous accommodation at the Felix River Resort, a pre-race pasta dinner and racer brief, a post race gala dinner complete with entertainment and awards ceremony, and a free goodie bag for each competitor expressed the level of organization that Active Management Asia (AMA) has committed to this event.
All teams were comprised of two members. Teams competed, and were awarded trophies and prizes, in 5 different categories: Men, Women, Mixed, Masters, and Grand Masters.
To learn more about this event and how you may participate in future events organized by AMA-EVENTS go to – http://www.ama-events.com
To find similar events in Thailand go to the EVENTS page at BicycleThailand.com
More photos – on FaceBook
Extreme Division Race Results – Overall
Extreme Division Race Results – Category
Adventure Division Race Results – Overall
Adventure Division Race Results – Category