WHERE CAN I BUY GUIDEBOOKS AND MAPS IN THAILAND?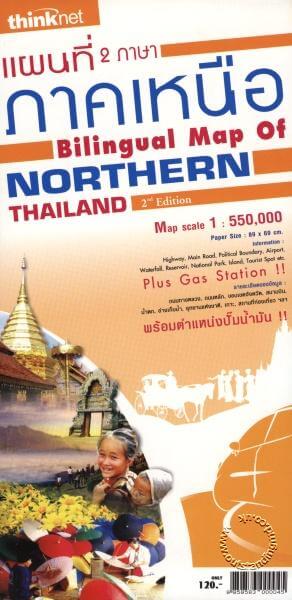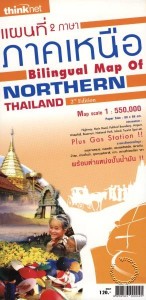 If you will be starting your cycling trip in Bangkok, the capital city has several well-stocked chain bookstores. Some, but not all, of these chain bookstores can also be found in other major cities such as Chiang Mai, Phuket, and Khon Kaen.
In Bangkok you'll be able to find Asia Books and Kinokuniya. Both of these well-stocked stores are located in the bigger shopping malls along Sukhumvit Road. These bookstores carry a good selection of English language and bilingual regional maps (suitable for cycling use) and guidebooks for Thailand. We personally like ThinkNet bilingual maps.
Prices for the current issue of guidebooks like Lonely Planet, Roughguide, and Let's Go are comparable or a bit higher than those you can purchase outside Thailand. However, road maps, that are difficult to find outside of Thailand, are routinely less expensive when purchased in Thailand.
Bookazine is another chain that is more geared toward keeping a good selection of magazines and newspapers for foreign visitors to Thailand who are looking to stay informed of their hometown news.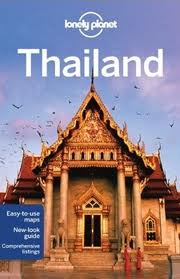 For the best selection of used worldwide guidebooks; Lonely Planet, Footprint, Let's Go and Roughguide and the latest bestsellers, go to Khao San Road near the Royal Palace (river boat stop #13 Phra Arthit (Banglamphu). Vendors set up along the Wat wall on Rambutri Road (just off of Khao San Rd.)  Several formal used bookstores and stalls are also on Khao San Road.
Most guidebooks are the current year.  Vendors start prices pretty high at 850 Baht but they are negotiable and trade-ins are welcome.
Have you ever considered using a GPS device to track and plan your cycling adventure?
http://bicyclethailand.com/gps-devices-make-cycling-in-thailand-more-enjoyable/
Find various touring routes on our RIDE MAPS page.
http://bicyclethailand.com/category/ride-maps/
---
Planning a cycling trip in Thailand? Want to remove some of the guesswork when it comes to routes and information? BicycleThailand.com offers GPS route data for touring cyclists that can be used on a GPS device, smartphone, or tablet. These routes can be viewed on your device regardless of internet access during your Thailand cycling adventure. Learn more about our Thailand GPS cycle touring routes.
---
WHAT CAN I EXPECT ACCOMMODATION TO BE LIKE IN THAILAND?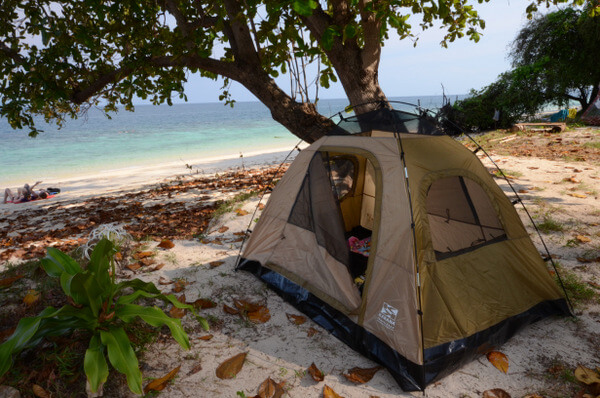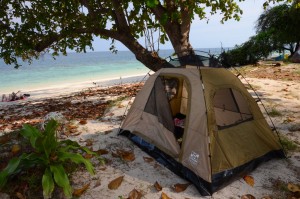 Accommodations in Thailand vary from the basic guesthouse with shared bathroom and fan for around 200-300 Baht. A mid-range room with two double beds, air conditioning, television, mini-bar, and private bath can be found for around 500-600 Baht. The high-end accommodation with all the bells and whistles can go as high as your wallet will allow, but most are around 1,300-2,000 Baht.
Most cities in Thailand have accommodations at various levels. Even the smallest of towns has some sort of basic accommodation.
Camping – In Thailand you will not find many opportunities for camping. Accommodations in Thailand are so inexpensive that carrying a tent is not necessary or practical.  A few of the national parks in the central and southern regions of Thailand have camping options, but most of these parks offer rental equipment (tent, sleeping bag, etc.,) in addition to inexpensive dorm-style room rates.
Interested to know what the approximate daily costs of traveling through Thailand on a bicycle tour would be?
http://bicyclethailand.com/price-per-day-touring-in-thailand/
WHAT KIND OF AUXILIARY TRANSPORTATION IS AVAILABLE IN THAILAND?

Train transportation in Thailand is comfortable, inexpensive, and reliable.  Trains run throughout the country and can accommodate a bicycle for an extra cost.
http://bicyclethailand.com/how-to-transport-your-bicycle-on-thailand-trains/
TRAINS – Make sure the train that you are taking has a cargo cart attached. Some trains do not have a cargo cart and you may end up on one train while your bicycle rides on another all by itself.
Bicycle tickets are purchased at the cargo window in the train station. The cargo office is separate from the passenger ticket window.
Overnight trains are the best way to travel long distances in Thailand. Meal cart with waitress is attached for an evening meal.
Tip! Book the bottom bunk. You get a window, nightlight, two flip down shelves for packs and easy access in and out.
The seats are assembled into beds by the train personnel around 7:00 p.m. and include clean sheets, a pillow and blanket. The bunk also has full curtains for privacy.
Tip! Keep your earplugs and eye covers handy for a good nights sleep.
BUSES – Buses in Thailand are comfortable, have a toilet and can "easily" load bicycles underneath in the luggage compartment. Some buses require you to take off the front wheel and turn the handlebars. An extra fee is charged for bicycles. This extra fee seems to differ from company to company, and also seems dependent on the amount of cargo the bus is already transporting. I've had my bicycle transported fro FREE on some buses while others I have been required to pay as much as 300 Baht (half the price of my passenger ticket). The key is to show up early (when the most cargo space is available underneath the bus), smile a lot, and make the bus employees job as easy as possible. Doing those three things will greatly increase your chances of getting your bicycle loaded without any fuss or fee.
Tip! Purchase a small towel or blanket to cover the greasy drive train of your bicycle. This one little effort on your part will go far to ensure your bicycle doesn't mar the other luggage in the cargo compartment.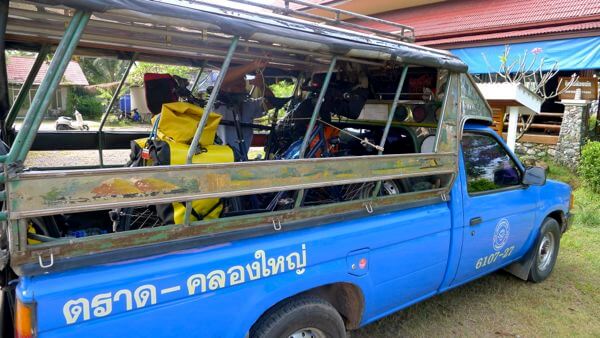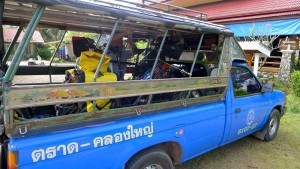 Song Thaew – A song thaew is a small truck with a covered back and two long benches (the literal translation of Song Thaew is Two Rows, meaning the two benches) facing each other. The song thaew is a good option for transporting bicycles and panniers if you ever find yourself with a mechanical issue alongside the road. Song thaews run on most major roads between towns and will pick up and drop off passengers whenever they are flagged down. The price for a ride should be negotiated as the drivers will expect more than the usual passenger fare to transport your bicycle.
You can take your bicycle on the Skytrain in Bangkok.
http://bicyclethailand.com/july-how-to-transport-your-bicycle-on-bts/
Wondering what the requirements are for putting your bicycle on one of Thailand's domestic airline carriers?
http://bicyclethailand.com/bicycles-on-airplanes-in-thailand/
WHAT ABOUT FOOD IN THAILAND?
One thing that can be said without a doubt, "You will never starve in Thailand, no matter where you are riding." Of course that can only be true if you are not a very picky eater.
Every small village, town and city has numerous eating options from vendor carts, roadside restaurants, food areas at the markets, huge food courts in the shopping malls all the way up to familiar chain restaurants in most major cities.
Water – Drinking water from any tap in Thailand is NOT recommended. Bottled water is available everywhere in Thailand. A 1.5 Liter of bottled water sells for about 12-22 Baht and can be found everywhere along the road during your ride.
7/11 stores are a convenient stop. Most are well-stocked with everything a cyclist may need on the road. Beverages galore, chips, nuts, seeds, some ready-made food, sundries. Most towns and gas stations have a 7/11 or some version of a 7/11 such as Family Mart.
Some gas stations on the major roads are similar to the rest stops in Europe and the US. They normally have several sit down restaurants, a specious food court, a mini-market/convenience store, restroom facilities and food vendors.
Most central markets have vendors that sell sundries, toothpaste, detergent, soap packaged goods, snacks and dry goods in addition to fresh fruit, vegetables, meat and bread.
Meals in Thailand, especially on the road, include fried rice or fried noodles. There are variations. Some dishes come with meat, some with fish, some with vegetables, but the gist of it is the same. The price per dish is around 20-40 Baht.
Want to know more about recognizing and ordering from Thai noodle stands?
http://bicyclethailand.com/cycling-on-a-shoestring-the-ubiquitous-noodle-shops-of-thailand/
Supermarkets such as Tesco/Lotus, Tops, and Big C can be found in the bigger cities and at times have western products such as cheeses, cereals, oats, peanut butter and pasta. Some have ready-made meals with a salad bar or a food court.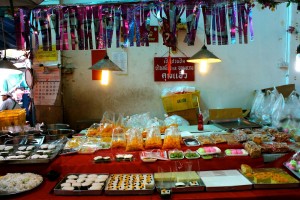 Snacks on the road – Along your daily ride you will come across roadside snack shops with a front table displaying a myriad of Thai snacks which all fall under the category of Khanom. Khanom, like most Thai words, has a basic meaning (Khanom=Snack) and a deeper meaning (Khanom=Ask a Thai person). Suffice it to say Khanom describes a plethora of snacks with a wide range of ingredients and tastes. You simply need to try two or three varieties of Khanom every day of your trip before you'll start establishing which are your favorites. Make a Khanom stop part of your daily cycling trip and you'll be well rewarded with a sweet treat that is an integral part of Thai culture.
BICYCLE SHOPS – Go to http://BicycleThailand.com/bike-stores for a complete listing of bicycle shops in Thailand.
---
Planning a cycling trip in Thailand? Want to remove some of the guesswork when it comes to routes and information? BicycleThailand.com offers GPS route data for touring cyclists that can be used on a GPS device, smartphone, or tablet. These routes can be viewed on your device regardless of internet access during your Thailand cycling adventure. Learn more about our Thailand GPS cycle touring routes.
---