WHAT ARE THE COSTS INVOLVED WITH TAKING A BICYCLE TOURING TRIP IN THAILAND?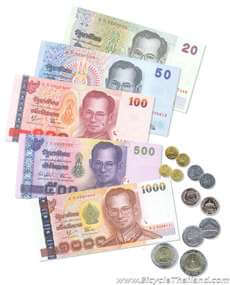 Before your trip, you should find the current exchange rate of your country's currency to the Thai Baht (THB). For a current, up to date, exchange rate go to www.exchangerate.com
Upon arrival at any one of Thailand's international airports (Bangkok, Chiang Mai, Phuket, etc.,) you'll have plenty of opportunity to purchase Thai Baht at several different exchange booths.
Read this article, and follow the recommendations below, to determine approximately what you can expect to spend per day while cycling in Thailand.
Average Daily Expenses – $30-40(USD)/day for two people. Two people staying in mid-range accommodation, cooking their own food and occasionally eating out, using local transport such as buses and subway in bigger cities and fees for typical tourist attractions such as museums and archeological sites.
Automatic Teller Machines – ATMs and Thai banks are found in all major cities and big towns. Most Thai bank teller machines work with cards from around the world (PLUS, Interlink, Co-Op Network, etc.,) and are capable of dispensing Thai Baht in 100, 500, and 1,000 Baht note increments. ATMs are available 24 hours and banks are usually open on weekdays from 9:30-3:30 pm. In the smaller towns, Thai banks are usually clustered together on the towns Main Road, near the business district. ATMs are located at the banks as well as convenience stores (7-11 & Family Mart), chain stores (Tesco Lotus & Big C), and government services buildings (just outside military bases & municipality offices).
Negotiating – I have to say that Thailand is a country where negotiating for items, including hotel rooms is not uncommon. More leeway is allowed by street vendors who are hawking wares and trinkets while less flexibility should be expected when negotiating prices for food and accommodation. Sometimes, it's not the price that is flexible but rather what you get for the stated price that can be played around with. I've checked into hotel rooms, paid the asking price, but managed to get a larger (or nicer) room, a secure storage spot for my bicycle out of the weather, and a breakfast coupon or free drink ticket without having to pay extra. It seems every place is a bit different. I always make it a point to emphasize that I have arrived to the hotel on my bicycle and fully expect to have my bike stored either in my room or somewhere else that is safe and secure for the night.
Tipping – Tipping is not expected or common in Thailand. Having said that, Thailand is definitely a country where a little extra something to a driver, waiter/waitress, guide, or even public servant (policeman) communicates your gratefulness more than words. Tipping in Thailand is not the standard 10% -20% you may be accustomed to in your home country. For average service in a restaurant it is common to leave the coin change for the wait staff after you've paid your bill. If the service was really good, or you occupied the table well after you finished your meal, than something more like 40-60 Baht should be left. If you leave the standard 10% you will keep the staff smiling for a very long time. A special note about giving gifts: While cycling in Thailand you will inevitably come across inquisitive, smiling, cute kids. In Thailand, giving a gift of a small treat (candy or sweet snack) directly to children is completely acceptable and this simple act is highly regarded by Thai parents; giving to their children is a way of saying 'Thank You' to the parents. I've had many instances when I was helped on the roadside by a passing Thai motorist who refused my offer of money, but readily accepted and smiled when I gave something to their child.
WHAT KIND OF VISA SHOULD I GET FOR MY BICYCLE TRIP IN THAILAND?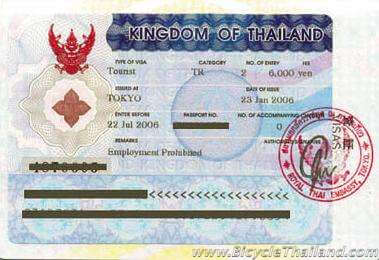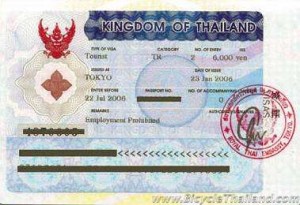 Every country is a bit different when it comes to the length of stay for a 'Tourist ' visa allowed by Thai immigration. The following information pertains to travelers holding a US passport. To find the length of stay allowed for your home country I highly suggest that you search online at least two (2) months before your planned cycling trip, as rules and regulations frequently change and/or get updated.
Currently, travelers holding a US passport receive a tourist visa in Thailand for a period of thirty (30) days. This thirty (30) day tourist visa is free of charge, and is issued at the immigration arrival counter at any one of Thailand's international airports. If you arrive to Thailand through a land border crossing you will receive a tourist visa for ONLY fifteen (15) days.
Obtaining a tourist visa for a longer period of sixty (60), or even ninety (90), days is possible. For these longer stay tourist visas you will need to apply at a Thai embassy or consulate in your home country before you arrive to Thailand.
Getting one of these longer stay tourist visas can be done via the mail in sometimes less than two weeks. If your cycling trip will see you riding out of Thailand, rather than flying, it is a good idea to send along a letter with your visa application stating your intent and mode of travel so that you can avoid being denied a visa on the basis that you do not have the required return trip (with the date that you will be departing Thailand) airline ticket.
Are you planning to use any domestic flights during your cycling trip in Thailand? Here is an informative article about taking your bicycle on Thailand's domestic airlines – http://bicyclethailand.com/bicycles-on-airplanes-in-thailand/
HOW DIFFICULT WILL IT BE TO COMMUNICATE IN THAILAND DURING MY BIKE TRIP?

Thai language – Thai is a difficult language to learn, but it will not be impossible to communicate with local Thai people during your cycling trip. Any attempt to speak Thai is highly appreciated by the locals. Learning just a few of the basic phrases for greeting and thanking people in Thai will prove to be a rewarding and useful tool during your trip.
How to say Hello and Goodbye in Thai:
sa wat dee ka (female)
sa wat dee kap (male)
How to say Thank You in Thai:
kob koon ka (female)
kob koon kap (male)
Some useful words that you WILL need to know:
Toilet – haung nam
Market – ta laat
Drinking water – nam plao
For additional Thai language help check out these useful articles which explain recognizing noodle stalls and ordering delicious Thai noodles and making sense of Thai kilometer markers alongside the roads.
Thai Post Offices – If you plan to send postcards or receive correspondence during your cycling trip in Thailand the Thai post office system is quite reliable.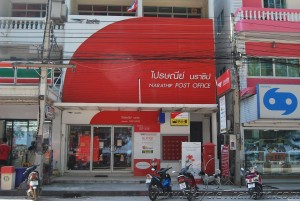 Every town and city has a post office and the hours of operation are generally 8:30-4:30pm Monday thru Friday and 9-12 on Saturday. Thailand is a good place to ship excess stuff home (or ahead of you on your trip) or have packages shipped to you at the post office (Read this article about sending items POST RESTANTE) or to your hotel. In Thailand's bigger cities you will be able to find international shipping companies such as DHL and Fedex. A favored service of the Thai Postal System is called EMS, and it is the quickest way to ship something domestically in Thailand. If you use the EMS service you will be given a tracking number for your parcel that can be viewed (in English) at the online website of the Thailand Post – https://track.thailandpost.co.th/?lang=en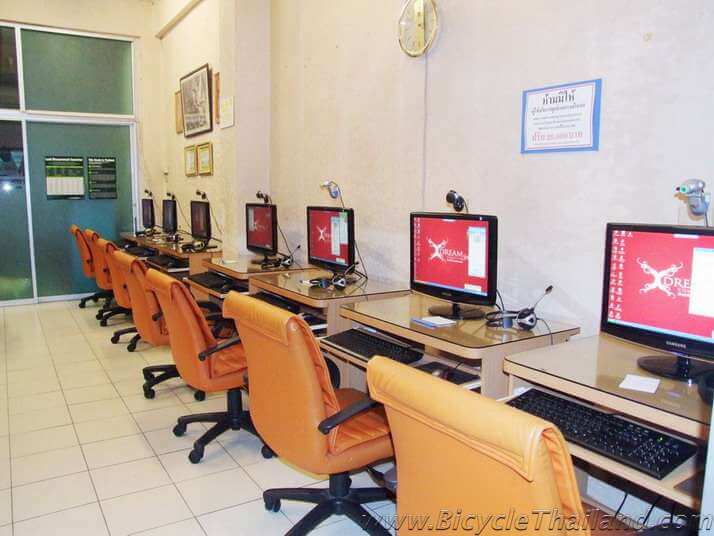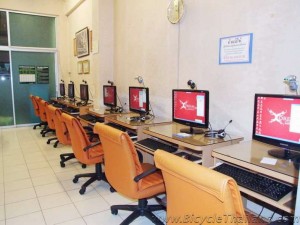 Telephone and Internet – If you must call home periodically during your cycling trip in Thailand you should acquaint yourself with online services such as Skype (www.skype.com) or utilize the infrequent Overseas/International calls service locations that can be found in tourist destinations throughout Thailand. Purchasing a local cellular phone and using a Thailand SIM card is an expensive option that you will probably find unjustified at the end of your cycling trip. Staying in touch with friends and family back home is better accomplished via email, letters and postcards, and an occasional online video chat. Internet shops are everywhere in Thailand and the rates are very low (20-30 Baht/Hour). Try to avoid using your hotel's internet service, unless of course it's free. Search out internet/coffee shops or WI-FI spots (if you've brought your own laptop) in the central areas of towns or shopping malls. Thai teenagers have an absolute obsession with online gaming and because of this you should avoid trying to find an open seat at the online game/internet shops anytime after 2-3pm, when school has let out.
WHAT KIND OF HEALTH ISSUES SHOULD I BE CONCERNED ABOUT AND WHAT TYPE OF MEDICAL FACILITIES ARE AVAILABLE IN THAILAND?

Vaccinations – There are three exceptional hospitals in Bangkok, Thailand that have English speaking doctors, travel clinics, and give vaccinations.
Bumrungrad International Hospital – www.bumrungrad.com
Samitivej Hospital – www.samitivejhospitals.com
BNH Hospital – www.bnhhospital.com
Visit the International Society of Travel Medicine website which issues health information and locations of travel clinics throughout the world.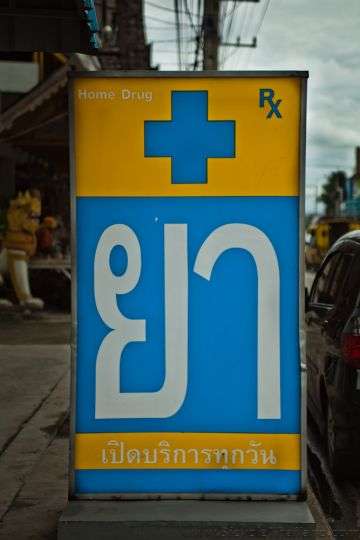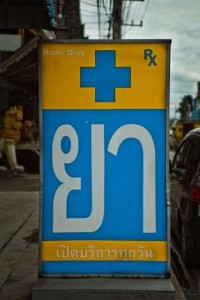 The prices charged at Thai hospitals will probably be considerably less than what you would expect to pay in your home country. Prescription medications are sometimes nearly 50-75% less while vaccinations can be had for 10-20% their usual price. Rabies shots in a Thai hospital are usually 600-800 Baht each, while typhoid and tetanus vaccinations can be 500-700 Baht. Many non prescription drugs (Paracetamol, Ibuprofen, Imodium, etc.,) can be found at local pharmacies across Thailand.
Dentists and Opticians – Having tooth problems or prescription eyeglass issues while on a cycling trip in Thailand might seem like a real catastrophe to most, but surprisingly Thailand's towns and cities are bursting with dental and eyeglass shops.
Get new prescription eyeglasses made at Top Charoen or Beautiful Optic or Time Optic (there are so many!). These shops can be found on the business district road of any Thai city, town, or village. FAST turnaround time and very low prices for custom made prescription eyeglasses. Cash and credit cards accepted.
Dentist shops are just as plentiful as the eyeglass shops. Basic services, such as cleaning and filling, will cost you approximately 700-800 Baht. Emergency care and in-depth procedures, such as root canals and cap replacements, will be more expensive, but still relatively inexpensive when compared to the prices you would expect to pay in your home country. Cash and credit cards accepted.
BICYCLE SHOPS – Go to http://BicycleThailand.com/bike-stores for a complete listing of bicycle shops in Thailand.
---
Planning a cycling trip in Thailand? Want to remove some of the guesswork when it comes to routes and information? BicycleThailand.com offers GPS route data for touring cyclists that can be used on a GPS device, smartphone, or tablet. These routes can be viewed on your device regardless of internet access during your Thailand cycling adventure. Learn more about our Thailand GPS cycle touring routes.
---