X-Biking Chiang Mai Downhill MTB Company "Bamboo Trail" Tour Review
Mueang Chiang Mai is the capital district (amphoe mueang) of Chiang Mai Province in northern Thailand. This majestic city, with its cooler than average temperatures and relaxed atmosphere, is situated at the base of several mountains, the closest of which is Doi (mountain) Suthep. Doi Suthep is the destination for this morning's ride, my first downhill mountain bike experience in the area, and my first trip with X-Biking Chiang Mai.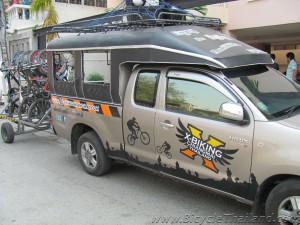 My riding companions and I are collected at our hotel by the X-Biking staff, who help us assemble and load our bikes for the short drive up to the top of Doi Suthep, less than thirty minutes from Chiang Mai city center. The owner of the company, King, is all smiles as he anticipates another great weekend of showing off the area's trails to us newcomers. Our group of five riders consists of Allen, Paul, Nick, Kevin, and myself while King, Mai, and Lerm of X-Biking will play host and be our guides, showing us the best trails and the best lines to ensure we depart Chiang Mai with huge smiles from great memories of gnarly bike moments.
As we reach the start point of what is to be our first run of the day we're informed that we'll be riding the 'Bamboo Trail', an undulating trail of eight and half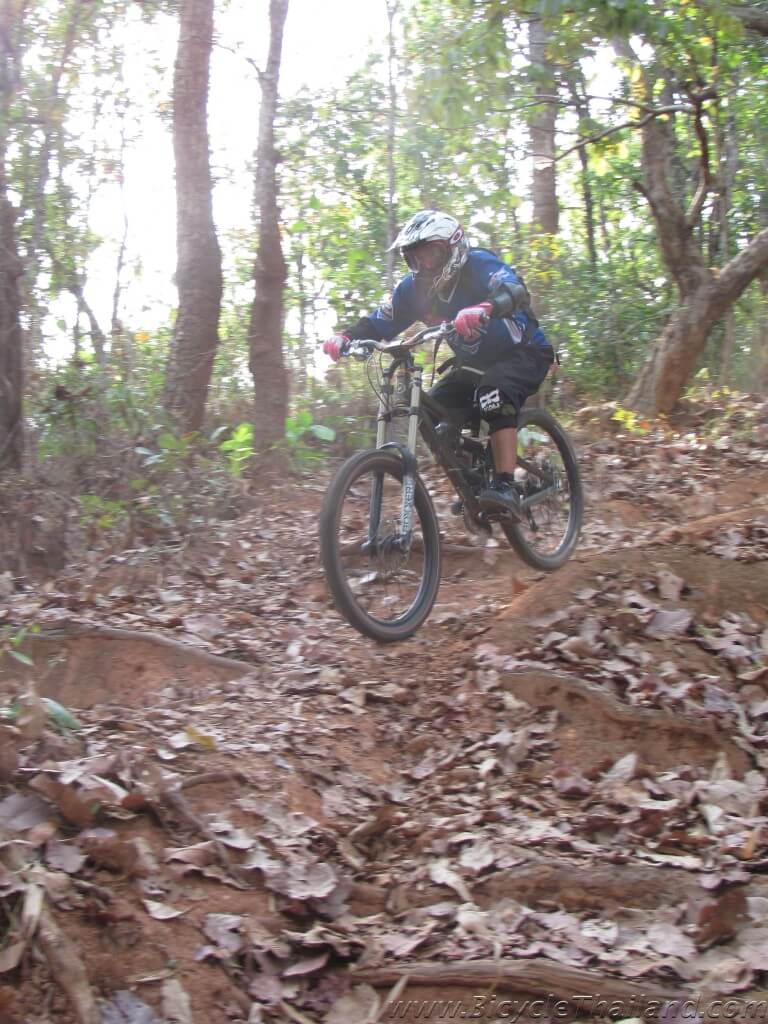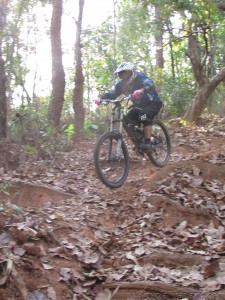 kilometers featuring a steep drop-in, several root staircases, a small river crossing, and rutted singletrack that winds down the Suthep mountain amid trees in the beginning sections of the trail and bamboo as you near the base of the mountain and the end of the ride. Along the 'Bamboo Trail' are a couple of log jump points that can either be gone at with speed to get a bit of air between your tires and terra firma, or simply rolled over if you're looking to keep your wheels firmly planted in the soil. Two scenic viewpoints along this trail provided our group with a chance to look out over the surrounding area and down into the Chiang Mai city valley below. The pace of the ride is determined by the group and several times along the trail our guides regroup us so that we can catch our breath and discuss the previous or upcoming section of the trail.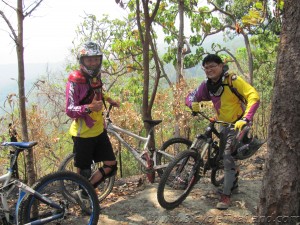 Finishing off our 'Bamboo Trail' run we cycle into a Thai temple (Wat) where the X-Biking staff load the bikes back onto the trailer, and treat us to icy cold coffees at a nearby shop. I'm still floating on cloud nine from the adrenaline and caffeine mixed rush that downhill mountain biking and coffee is known to produce when King and Lerm remind us that our group has time today to make 2-3 more runs along some of the other downhill trails on Doi Suthep. That is what's so great about X-Biking Chiang Mai. They specialize in giving their customers what I would call a true downhill mountain bike experience. Not only are they professionals, with top-notch equipment, and an in-depth knowledge of local downhill trails, but they made me feel as if the whole day was about me getting the chance to experience the many different aspects of the sport.
My downhill ride with X-Biking Chiang Mai was the first of this kind for me but it certainly opened my eyes to a whole new world of mountain biking. I plan to do many more downhill runs and I can't think of a better place than the beautiful mountains of Chiang Mai Thailand to do them. Thanks X-Biking!
View more photos on Flikr of this downhill tour with X-Biking – http://www.flickr.com/photos/bicyclethailand/sets/72157629607641437/
View a video created by Fakawitribe.com of this downhill tour with X-Biking – http://vimeo.com/38790685
X-Biking Chiang Mai
58/5 Moo 1 Chiang Mai-Fang Road
Rimtai, Maerim
Chiang Mai 50180 Thailand
Tel : +66 85 039 8468, +66 89 951 0015
Website : www.x-bikingchiangmai.com
e-mail : info@x-bikingchiangmai.com