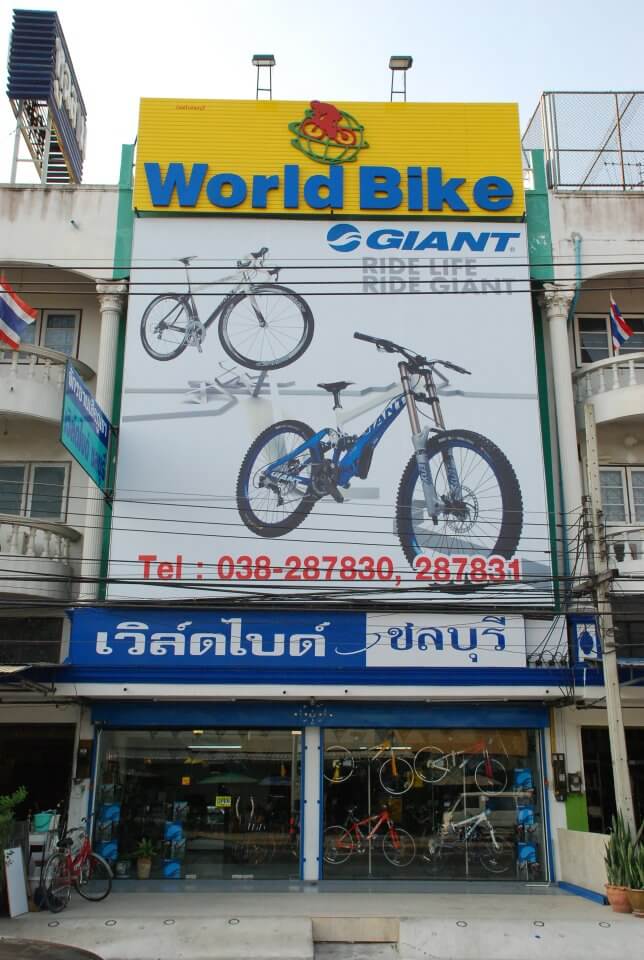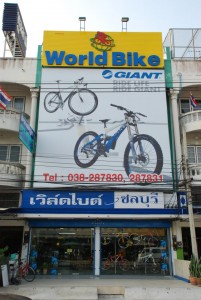 World Bike in Chonburi is owned and operated by a great pair of cycling friends, Khun Bank and Paul. This energetic duo of bike fanatics run a large, well-presented, professional shop on one of the major thoroughfares in Chonburi city, which is located inside Chonburi province.  I enjoy visiting this shop when I'm doing any riding on or near the 'east coast' of the Gulf of Thailand because the shop has a great selection of bike accessories and hard to find repair parts. Plus the 'riders first-salesmen second' attitude of Khun Bank and Paul always impresses me. I remember the first time I visited the shop. Before they asked me if I needed any help finding anything they noticed I was eyeballing the repair center near the back of the shop and they proceeded to give me a behind-the-scenes tour of their impressive work center where they are certified to work on Chris King, Mavic, Sram, and Rock Shox products as well as many others.
The showroom is well-appointed and displays bicycles from GIANT, and parts and accessories from the GIANT affiliated brand as well as Topeak, Mavic, and Sram. Road, MTB, and leisure bicycle models from GIANT's mid and high level offerings give a great range of choice to the discerning customer. The shop's storefront is very easy to see from the main road, as you travel along Setthakit, which is a direct offshoot from Sukhumvit (Hwy 3). Use the handy GPS location link provided below to easily locate this shop.
World Bike Chonburi
194/7-8 Moo 5 Setthakit Road
T. Ban Suan A. Mueang Chonburi
20000
ภาษาไทย [+]
เวิลด์ไบค์ ชลบุรี
194/7-8 หมู่ 5 ถนนเศรษฐกิจ
ตำบลบ้านสวน อำเภอเมือง
จังหวัดชลบุรี 20000 Tel. 038-287-830, 038-287-831
[Thailand Distributor: GIANT, ROCK SHOX, SANTA CRUZ, MAVIC, SIDI]
GPS – N 13 21.359, E 100 59.911
Top notch repair service, strong product line, and a friendly pair of English-speaking riders/proprietors make World Bike in Chonburi a bicycle shop worth knowing about. So whether your next bicycle tour takes you along the beautiful Thailand coast or has you loading up the Mountain Bikes for a weekend trip to Khao Kieow, or the PRC Park drop in and check out what World Bike in Chonburi has to offer. And don't forget to say hello to Khun Bank and Paul for me. Happy Riding!