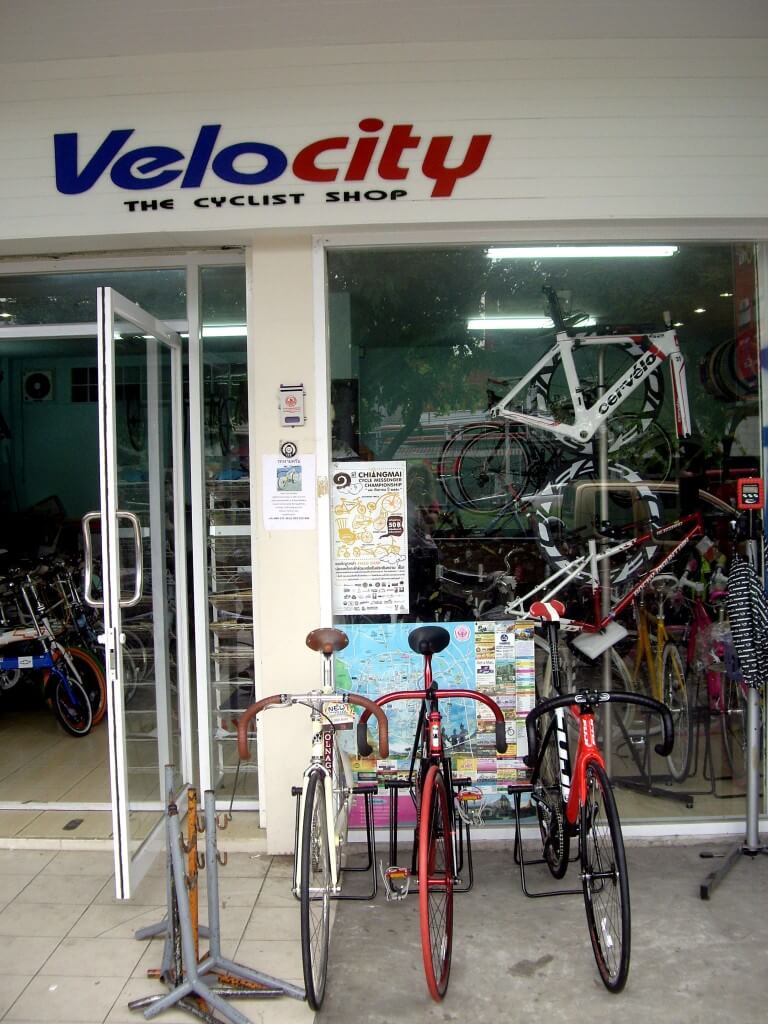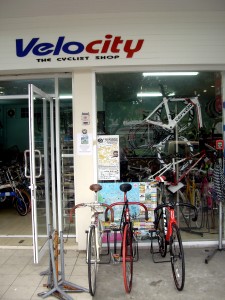 This month's featured bike store in Thailand is Velocity. Velocity is located on the north side of moat in the old city of Chiang Mai. The shop is situated on Manee Noparat Road between the Chang Puak gate and Wat Chiangyeun.
In previous issues we've told you about the great weather and destinations that the city and province of Chiang Mai has on offer for cyclists. Now we're filling you in on some of the great bicycle shops in the area. Velocity is a shop that definitely caters to the road bike and fixed-gear fanatics in the North of Thailand. Frequent patrons may have noticed that the shop has recently relocated a few doors down from its previous location. Regardless, the new location is hard to miss as the bold white storefront stands out against its surroundings.
Velocity The Cyclist Shop
***SHOP HAS RELOCATED – NEW LOCATION***
199/1 Huai Kaeo Road (next to Huai Kaeo Soi 2)
T. Chang Phueak A. Mueang Chiang Mai
Chiang Mai 50200
ภาษาไทย [+]
Velocity The Cyclist Shop
199/1 ถนนห้วยแก้ว (ใกล้กับ ห้วยแก้วซอย 2)
ตำบลช้างเผือก อำเภอเมืองเชียงใหม่
จังหวัดเชียงใหม่ 50200 Tel: 053-418-861, 081-595-5975
GPS – N 18.802910, E 98.964808
Once inside the shop you'll be hard pressed to ignore the vibrant multi-colored parts hanging from the walls and displayed on multiple showroom bikes, pleasing the eye and discerning tastes of Chiang Mai's growing community of fixed-gear and 'messenger' crowd. Building custom fixed-gear bikes seems to be the shop's specialty. While the majority of showroom bikes are new from manufacturers such as Bianchi, Fuji, and GT, it is not uncommon to see a few used bikes on consignment at the shop as well. Proving their commitment to the cycling community and to the trend of singlespeed and fixed-gear bicycles, Velocity was a sponsor of the first ever Chiang Mai Cycle Messenger Championships, held September 12th. Stop in and support a shop that promotes great cycling events like this. Happy riding!