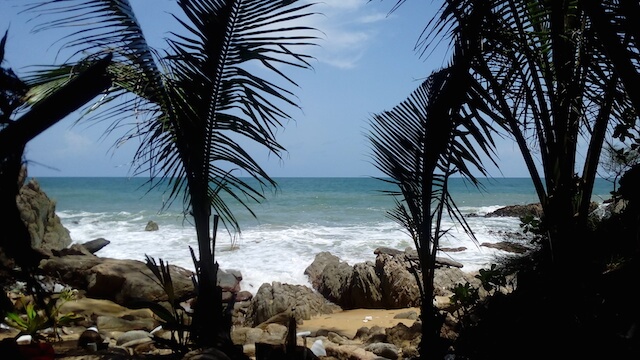 Day one – I'm not a planning cyclist.  Especially in Thailand.  Life is relatively easy in Thailand and, as a cyclist, quite relaxing.  Normally I just ride until I feel tired.  If a city is coming up rather than hurry to arrive I prefer to stay slightly out of town.  In Thailand, outside of Isaan I will look for a temple to sleep.  Extremely safe and comfortable.  In the north of Thailand, Lanna temples will often allow you to sleep in a room, even the room with the Buddhas inside.  In the south of Thailand the monk will show you in a sweeping gesture of his hand the area you may camp.  The temples have many dogs.  Often times the dogs will bark all night at you, sometimes aggressively.  If one is afraid of dogs, temple sleeping in the south may not be your cup of tea.
Leaving Phuket by bicycle is always exciting as the future is always uncertain.  Movement increases the uncertainly and predictability of life.  Last year I left Phuket by cycle for the first time with Andy, an Australian tourer.  He had all the gear and was heavily loaded with his Surley.  I'm rolling with my 14 speed Masi road bike with lower end Shimano components.  It is a 56cm aluminum frame with carbon fiber fork that I bought in Bangkok and is a bit bigger than my preference but, over long distance, it is quite comfortable.  Easy to get in the drops and go.  I had seen it on the internet in Thailand and at the time I didn't have a road bike here although I have two classic road bicycles at my brother's house in Washington DC.  The Masi is very durable and during my travels across some very rough dirt roads in Cambodia and continuing on to Vietnam the only damage was a few broken spoke nipples.  So I can certainly recommend the Masi's frame.  Mine is a bit tall for me but for touring it is ok allowing me to stretch out and just go for distance or deal with a head wind.  Up hills it isn't ideal as the top tube is a bit longer than I would prefer. Masi is a good brand because before purchasing the bicycle I researched the brand learning the frames are identical from top of the line to the low end.  So although the price was low and the components not the top of the line the frame was of top quality.  Made in Taiwan of course.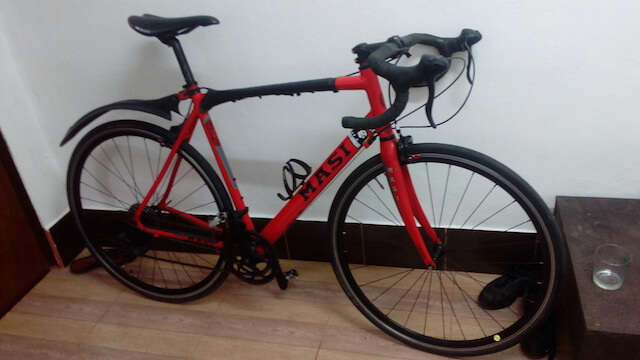 So off from Phuket.  The first day I made good time.  Lunch in Phang Nga at a vegetarian restaurant run by an older lady.  After eating, the rain began to fall.  She began cleaning as she was closing and told me to sleep in the corner.  An hour later I was refreshed as was the air after the afternoon rain in the tropics of south Thailand.  Phang Nga is famous for James Bond Island, an island used in (you guessed it) a James Bond movie.  The area is blessed with amazing limestone cliffs and islands.  Rain finished for the moment and onward I went.
Wanting to leave the main highway I took a right down a secondary road heading to a beach.  Having been delayed by the rain a few times in the day, reaching the beach was looking unlikely.  All of a sudden, as it does in south Thailand, the sky opened and rain fell out.  A lot of rain.  Immediately dashing for shelter there was a shop with two people.  A man and woman.  After drinking tea and eating snacks the dark was nearly upon us.  In front of a shop a small gazebo used for sitting next to the road was under some trees.  After asking the woman if I could sleep there she agreed happily and directed me to the temple down the road across the street to shower.  A few monks looked shyly at me but didn't speak to me.  A fine sleep in my hammock and mosquito net and the next morning off I went in search of a decent coffee.  Coming across a petrol station I was pleased that they even had cappuccino. Oddly enough the theme of the station seemed to be based on the giant gnome statues surrounding the road area.  A bit unsure I was while drinking a cappuccino in the hot misty morning with a giant Santa Claus and the 7 dwarves overlooking my every move.  Or so it seemed.
Day two – After coffee or tea is when the day really begins.  Whether sleeping in a temple, police station (without arrest, more on that to come later), or a hotel normally the day begins with sleepy packing and immediately seeking coffee.  Good coffee is easier to get than good tea in Thailand these days.  Coffee is everywhere.  So after coffee with the giant gnomes and a little chat with the Myanmar girl off I was to the tourist beach Ao Nong.  A nice beach, I suppose it was nicer than I expected but the water is of the bay not the ocean.  The freshness and beautiful color of water in Phuket west side is amazing.  Continuing on I rode to Krabi town and then another beach.  Searching for a temple but not finding a suitable location I went to the police station to sleep.  When riding I noticed a man that was clearly police or military and I asked him about the police station location.  He took me there and spoke to them easing the way for me.  He was indeed police in another area.  The police were very kind and accommodating.  There again similar to the temples in the north sometimes they will give you a room in the south normally you can camp on the grounds and use their facilities.  I've slept many times at the police stations in Thailand and the officers have always been very polite and generally extremely friendly often times buying me food and drinks.  Police booths and stations are always available for water and assistance for cyclists throughout Thailand.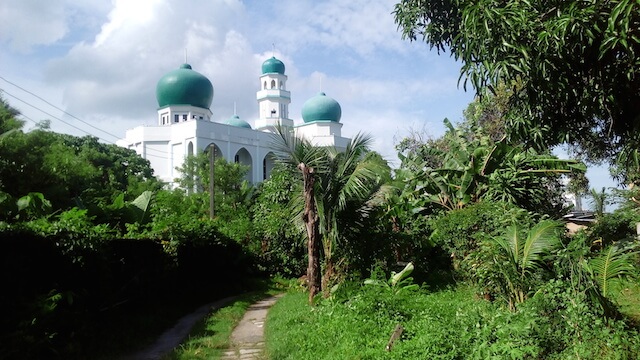 Vegetarian cycle touring – I don't really like to cook.  Especially for myself only.  Cycle touring for a vegetarian not wanting to cook can be trying.  Fruits and salads don't meet the carbohydrate intake necessary.  Luckily in Thailand there are many vegetarian restaurants.  I always ask the helpful  motorcycle taxis.  In the evening, normally none of the vegetarian restaurants are open so the night market is the place.  Almost everywhere in Thailand from the villages to the big city known as Bangkok has some form of night market.  Most of Thai sweets are vegan.  So normally my evening meal will consist of different less sweet deserts with soy milk and Chinese bread.  I can't complain.
Day 3 – Leaving the police station I head south.  One police officer told me of hot springs along the way which were not popular nor expensive.  Camping nearby is easy he said. Hot springs are one of my favourite things.  Later, as I was just relaxing in the beautiful hot water gazing at the distant mountains and surrounding jungle, I reflected on my ride that day.  All was well until I punctured in front of what looked to be a palm plantation.  South Thailand is traditionally a rubber tree plantation area but palm has also become popular due to the low prices of rubber recently.  Being just a kilometer and a half from the hot springs I debated whether to fix the puncture or to walk.  With the puncture being on the rear tire walking wasn't a good idea so I began to unpack.  A young guy came walking down through the pines and speaking in very good English offered me to use his pump and to visit his house.  As it turned out his house was indeed in a palm tree plantation along with a few other houses as part of a homestay.  As I fixed my puncture we talked about the homestay and his family.  His father was a retired governor of the province and his mother a school teacher.  He invited me to sleep there and join the family for dinner showing me a room attached to the house where I could sleep very comfortably on a cushioned bench in a dining area.  For free.  He and his family were very kind and I watched football with his father after dinner.  They insisted I stay another night to be able to enjoy the full hotspring experience.  The spring are free before and after the opening areas for the tourists that come as part of a three stop day tour from Krabi town and tourist areas.  Luckily, I was able to enjoy the morning and evening local atmosphere of the hot springs.  Very few people live in that area and the hot springs are at the end of the road with nothing but jungle and mountains behind in a forest reserve.  So punctures aren't always bad and everything happens the way it should and for a reason.
After the hot springs in Krabi I was off to Kho Lanta.  I had been in Kho Lanta in 2003.  The local resorts were few and just beginning to offer concrete houses.  The ride was very easy and included a great ferry to the small Lanta island and then a short ride across a little bridge to the big island.  Upon arriving I saw what I already knew.  The Lanta of ole was gone.  Or at least its been built around and in some cases over.  Still I was glad to be there and had a warm shower host to stay with apparently.
After finding the resort I had to admit I was disappointed not to be staying in the beautiful resort but rather in a house in the jungle among the resort staff housing.  However,  it was quite nice because it was quiet and in nature and I shared an apartment with a Chilean couple cycling through SE Asia.  The resort was built in a natural way with much of the building constructed with grass and other materials.  The stay on the island was nice.  I met a Muslim woman with a son in school and a husband in jail.  She runs her own restaurant and I ate pizza nightly as considering the prices it was a nice change.  My apartment mates and I went on a ride around the island and met a very interesting couple running a café/guesthouse with an amazing view from the hill.  He is a retired executive from the telephone company and she was an employee there.  Certainly living the dream now.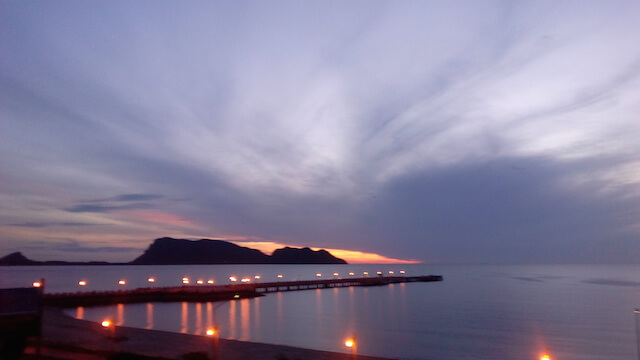 I continued the ride around the island and, as the heat got to the Chilean couple, we stopped for ice cream and met some local Muslim guys.  One spoke English quite well and worked for one of the clubs on the other side of the island where all the tourists were.  He was telling me about all the nice European girls he met on their holidays and how much he enjoyed working there.  He invited me back to his family home anytime and we parted ways as the night was falling soon.  The next day was off to Trang.
Day 5 – Having had a fairly early start, by the time I made it to the mainland after the ferry and ride to the port the morning was getting on.  And so was I.  Until I was hailed by a girl from in front of a shop along a rural road.  She was big and friendly.  Her and her brother offered me a place to rest and as the day wore on I finally camped in the gazebo nearby.  Off I was in the morning to Trang.
There is a hotel in the downtown area which is old school Chinese Thai style.  These types of hotels are not easy to find any more in Thailand.  Yes they are cheap and no they are not fancy.  But I like them.  They have character and you can feel the stories echoing from the past against the soiled walls and broken furniture of days gone by.  Well gone.  The old men manning the reception area, to the ancient TV; everything and everybody is aged.  When I was there last they had a restaurant in the front and now even that is gone.  I suppose their children have no interest in an old hotel.  Probably live in Bangkok or abroad.  As I said the reception area is run by some old guys.  Friendly, they just sit around and watch TV.  Chill.  In the back room where I kept my bicycle I came across a very old guy sitting in semi darkness in a chair eating.  I spoke with him in Thai and he was the owner.  I spent a few days in Trang.  The morning market is very good and there are a few very tasty vegetarian restaurants.  Of course only open in the day time but at night is a great night market with vegan Chinese noodles with sauce.  Kanom gin in Thai.  There are various sauces but often times there will be a vegetarian option.  I rode to the hot springs one day, which are up some steep hills in a beautiful setting.  The problem is that the water is extremely hot and not possible to bathe in.  That was a bit frustrating but funny.  The next day I went to visit the beaches.  Absolutely beautiful and in most areas isolated.  The sand itself isn't crystal white like in Phuket and some other islands but the view is noteworthy because of the steeply raising highlands around the beaches.  Having done enough in Trang and as my visa was going soon it was off to Bangkok by train the next day.
-Teacher Chris