Utility Transport Lifestyle Bicycle with Kustom Double Rear Baskets
1 year in the making…
Kustom Special Deluxe no. 1: Darth Cruiser
On its own, the bicycle did not fulfill the utilitarian need to be able to cruise over to the noodle shop and bring some home or transport 3-4 bags of groceries back from the supermarket. I totally admire the ingenuity of many local bikers who bungee strap a plastic basket or crate to the back-rack but I wanted something tougher.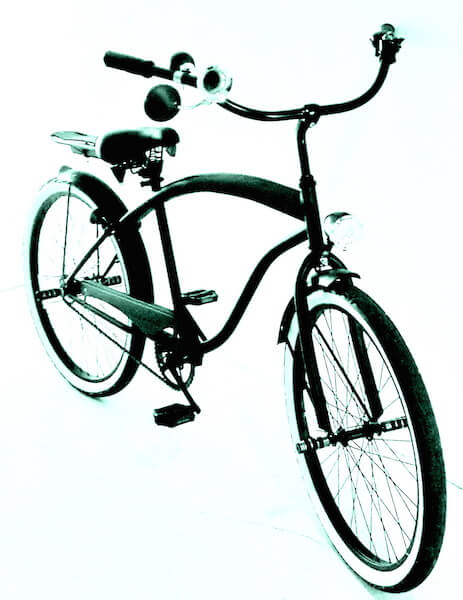 Rat-bikes and rat-rods using rat-parts (cleverly pieced together to serve a function) have always seemed cool to me. Seeing master-crafted wood panel doors on a vintage vehicle, tough rustic wood beam rails on a work truck, or even fake plastic wood grain trim warms the heart and makes me smile; being in SE Asia made bamboo the perfect vernacular choice and creates an earthly contrast to the black on black aesthetic. A good many months of free time was spent on the woodwork alone (more than half a year for sure) plus dozens of times of undoing and reassembling the puzzle that I built to make it fit just right.
The unique bracket designs were the simplest solution based on strength and structural integrity in re-purposing 2 front baskets into strong and steady double rear baskets. It was not an overnight job as I spent months redesigning it 5-6 times and measuring just as many before shaping the strip metal and then hiring a local metal shop to help with cutting & drilling; not often, but through trial & error, some parts were done twice. I painted my kustom designed and fabricated one-of-a-kind parts where it was necessary to make them less conspicuous.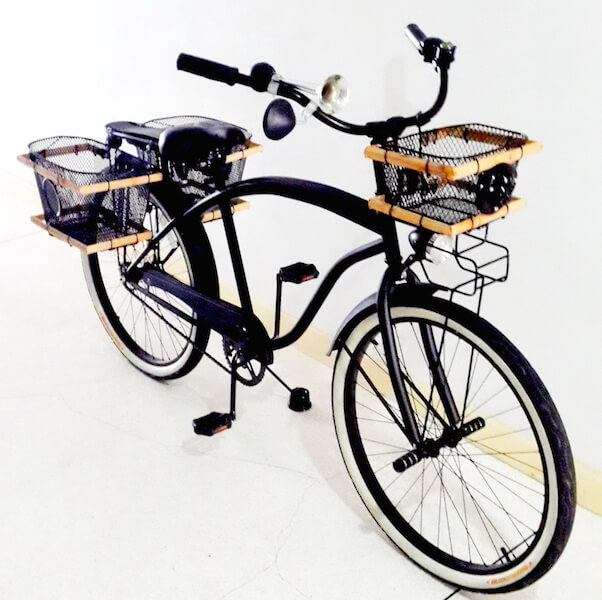 Somewhere along the way of conceptualizing the woodwork & metalwork, I imagined that a pair of rear lights would provide extra safety and look nice hidden underneath the double baskets. I then envisioned that a front basket may be needed to balance out the composite look of the bike; a front support leg then also had to be kustom designed to make the front console glove box strong enough to hold more than just a few kilos.
The inspiration was born purely from humble necessity for the bike to perform a utilitarian function; materializing through simple and practical design true to the classic retro lineage and lines.
Charlie Sanjarernsuithikul Jr.