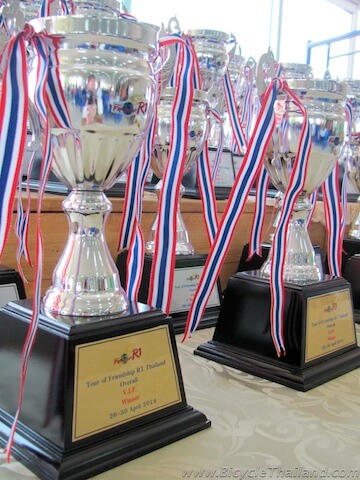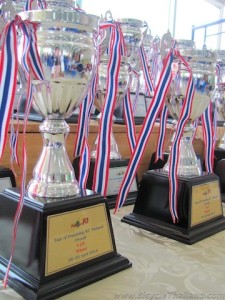 Wednesday, April 30, marked the 5th and final stage of the Tour of Friendship R1 2014. The day's course was a flat and fast road stage that would take riders from the Pavilion River Kwai Resort, in Kanchanaburi district, back towards Bangkok and Woonsen Tah Reo, the finish line location of Stage 2 of the race. For Stage 5, competitors were divided into four separate groups: Group A, B, and C consisting of Open, age 30-39, and age 40-49 category riders respectively, and Group D consisting of Junior, Lady, Men Master, VIP, and age 50-59 category riders. On Stage 5, Groups A, B, and C would complete a 90 kilometer course while riders in Group D would be required to complete a shorter 60 kilometer route.
There are 8 CATEGORIES of riders competing in Tour of Friendship R1 2014: Open, age 30-39, age 40-49, age 50-59, Men Master, Lady, Junior, and VIP.
For the previous four stages of the race I had followed the group containing the Open category riders, but as there was little chance of any major change to the GC standings in that category, for Stage 5 I opted to ride along with the commissaire vehicle keeping tabs on Group D, containing all of the category riders completing the 60 kilometer route.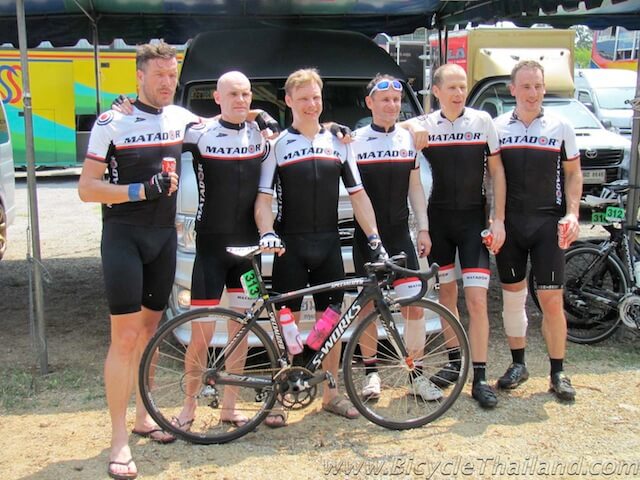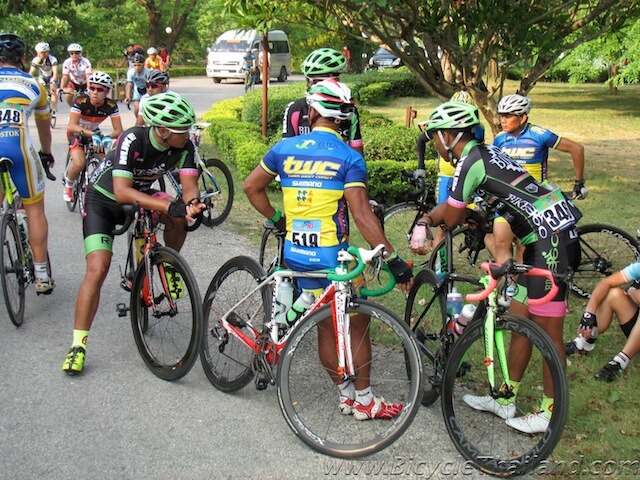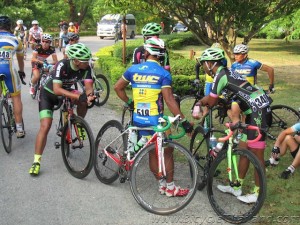 After a fast start that saw riders from the Junior category setting the initial pace of the main group, several more individual attempts to go off the front were made at the 8-kilometer point. All attempts were quickly brought back by the main group, which eventually settled into a steady pace that held well past the half-way distance of the day. The most prominent riders attempting individual breakaways in the first 30 kilometers of the day's race were Junior category riders (201 and 204).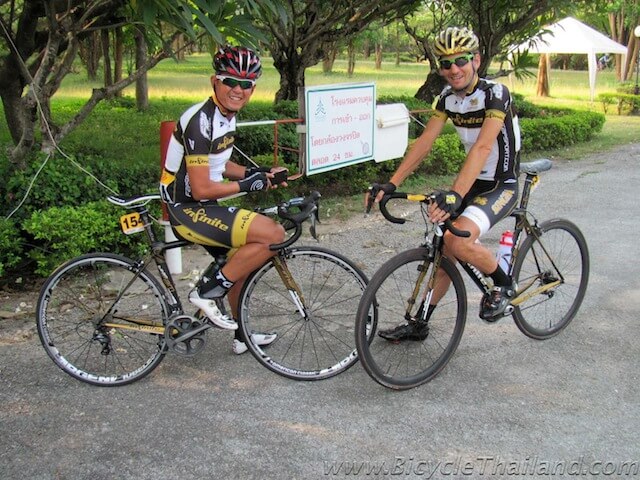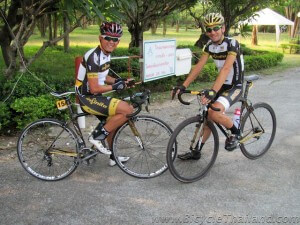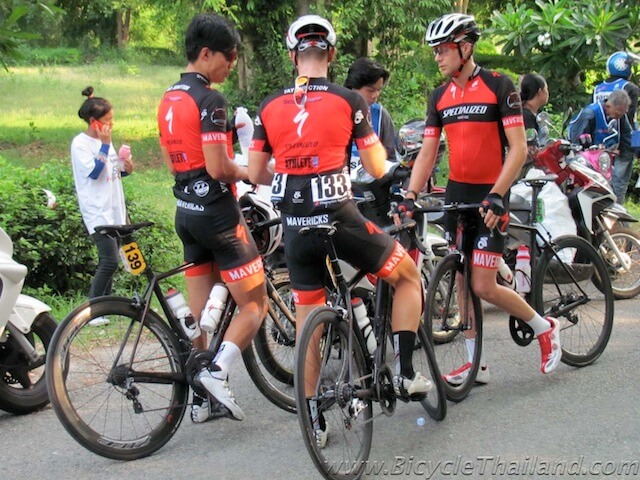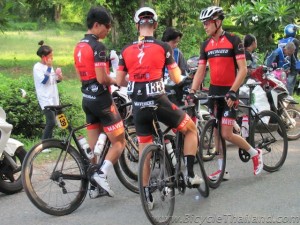 At the 20 kilometer point, the race made a left turn towards Nakhon Pathom district, after which the group surged up a few long inclines before making another turn, this time in the direction of Suphanburi. Riders took on gels and water at the day's half-way point where, unfortunately, a dropped water bottle in the midst of the pack caused two riders (529 and 204) to crash. The TTCT rider (529) would eventually rejoin the main pack several kilometers down the road, while the Junior category rider (204) would not, having to pull out of the final stage completely.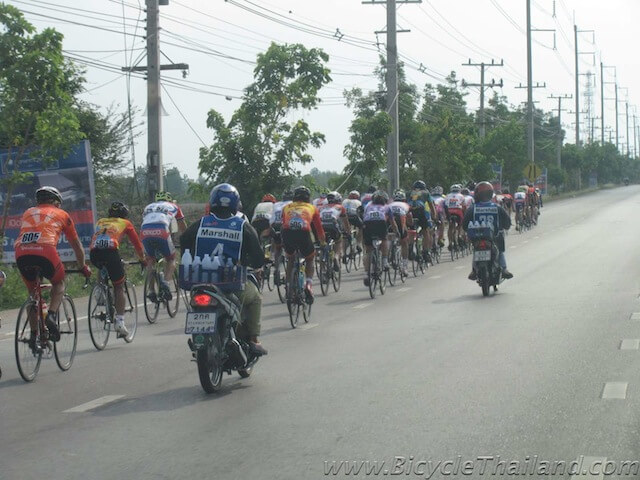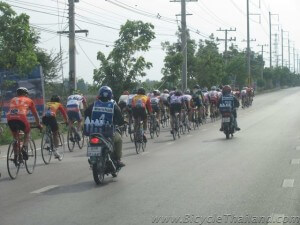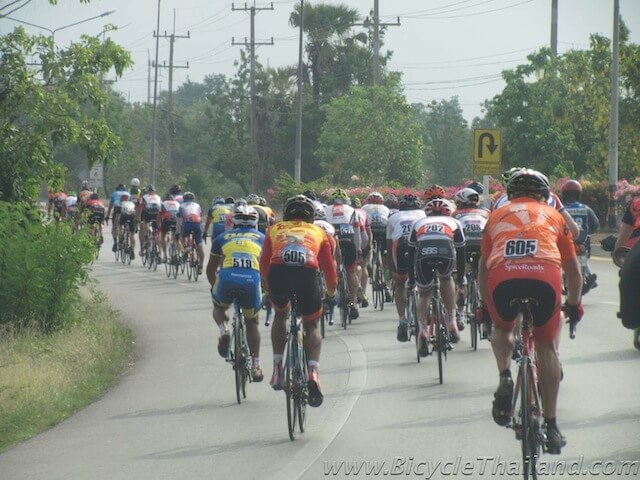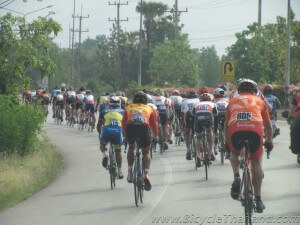 At the 45 kilometer point, Teams TWC Singapore and Specialized Mavericks sent several riders to the front of the pack in order to lift the pace, which inspired an individual jump from a SAXO Next Stage rider followed by two additional riders (502 and 518).
This spirited effort by Team TWC Singapore and Specialized Mavericks, along with the small 3-man breakaway group kept the peloton moving swiftly along until a right turn at the 49 kilometer point (mistakenly overshot by the breakaway riders), where the main pack collected again prior to the day's final stretch, a 10-kilometer straight and wide road leading to the sprint line finish.
Serious jostling at the front of the group began, but was quickly quelled at the sight of the '5km to finish' sign on the roadside.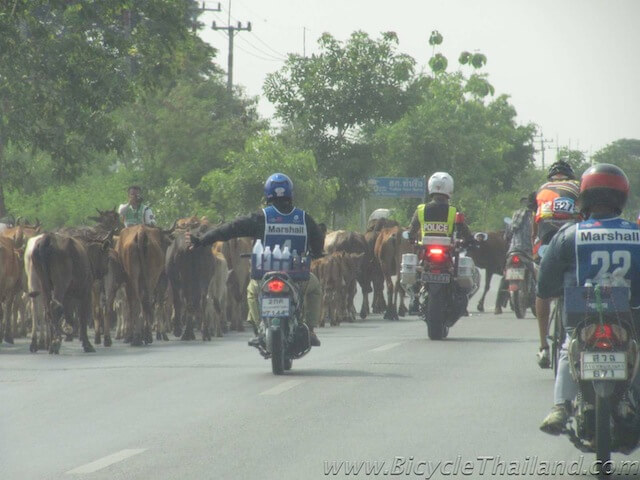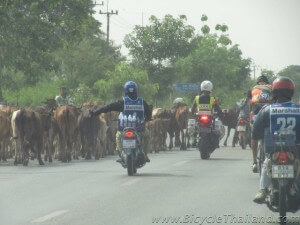 The main group, now aware of the impending finish, held a steady pace up until the 3km to finish sign, where a renewed shifting of riders at the front of the pack was put into slight disarray with the sudden appearance of a large herd of cows within the last 1,500 meters of the finish line road. Thankfully, Tour of Friendship escort police officers and race marshals quickly reacted to the situation to ensure rider safety, smoothly ushering the pack to the race's last 1,000 meters where riders prepared for the day's finale, a straight and fast sprint from the 300 meter mark.
Groups A, B, and C completed their longer 90 kilometer route at the same finish line location as Group D, arriving 35, 15, and 10 minutes behind respectively. Group D finished by 9:45 a.m., Group A by 10:20, Group B by 10:35, and Group C by 10:45.
The day's stage and race's completion was marked by a celebratory lunch and awards ceremony at the finish line location, Woonsen Tah Reo, in Kanchanaburi district. Stage 5 winners, overall General Classification (GC) victors, and race sponsors were recognized by Tour of Friendship R1 organizers before the race officially closed with a commemorative video, which highlighted moments of competition and camaraderie throughout the race's five stages.
Because of the race's longevity, continual improvements, and strong word-of-mouth recommendations from previous riders the Tour of Friendship R1 experiences a full field of international competitors every year. Multiple year participants like Mike Rice of Neilpryde in Hong Kong attributes, "the race's constant improvements and the fact that the good feeling and friendship shared among riders remains the greatest aspect of the race" as the reasons he will continue to attend and recommend the Tour of Friendship R1 for years to come.
Top places in each category for Stage 5:
Open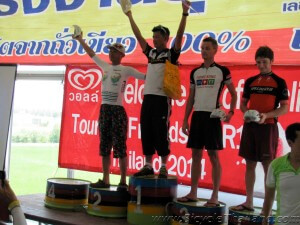 1. Vincent Tam – Singha-Infinite
2. Takei Kyosuke – Forza
3. Darren Benson – Bicycle for Humanity HK
30-39
1. Joel Balucos – Excellent Noodle
2. Kosuke Nakadai – Saxo Next Stage
3. Fazboi – 360 Bike
50-59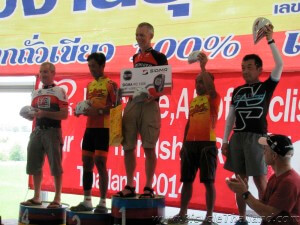 1. Anthony Herdrich – Specialized Mavericks
2. Jerry Aquino – Excellent Noodle
3. Rolando Pagnanawon – Excellent Noodle
40-49
1. Sebastien Pilotte – Neilpryde Men's Club
2. Adam Horler – Specialized Mavericks
3. Richard Paine – Specialized Mavericks
Lady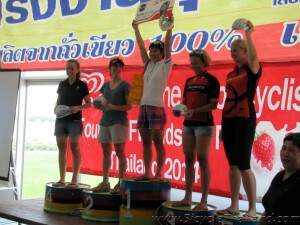 1. Mao Chino – Neilpryde Men's Club
2. Aiyana Currie – Anza
3. Sarah Clark – Specialized Mavericks
Men Master
1. Tinsley Janes – Spiceroads
2. Tony Aspell – Spiceroads
3. Kichi Ikeda – BM-Racing Japan
Junior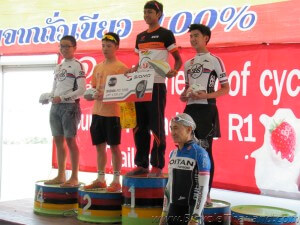 1. Ielyas Bin Adnan – D2B Bike Labz
2. Iz Ho – ACS International
3. Jirayu Ariyadirek – SBS Cycling
VIP
1. Alexander Billan – Excellent Noodle
---
Final General Classification after Stage 5:
OPEN – Wu Kin San / Champion System
30-39 – Chris Nyonyintono / Specialized Mavericks
40-49 – Pascal Triebel / Luxembourg
50-59 – Steven J Wong / Anza
MEN MASTER – Tony Aspell / Spiceroads
LADY – Tina Haugbro / Rasta Whoppas
JUNIOR – Ielyas Bin Adnan / D2B Bike Labz
View the complete list of Tour of Friendship R1 2014 Stage 5 results for all categories, General Classification after Stage 5
View Tour of Friendship R1 2014 Stage 5 photos by Craig Shepperd
Rider limit (250 riders ONLY) and dates for the Tour of Friendship R1 2015 have already been set. All new route for 2015!
Early bird registration opening soon – Reserve your spot for Tour of Friendship R1 2015