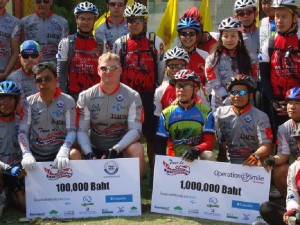 The annual Tour de Thailand charity bicycle ride, now in its tenth year, is riding strong on its personal and friendly service to cyclists, its well planned routes amidst Thailand's beautiful scenery, and its founding principle of giving something back to the people of Thailand, whose gracious hospitality makes every year's tour memorable.
In the words of Tour de Thailand's founder – "Every day people around the world ride their bicycles. Whether they ride for transportation, exercise, work, vacation, competition, adventure, or to limit their impact on the environment, millions of people ride their bikes each and every day. We ride bicycles for many of the same reasons, but more importantly our rides provide an opportunity to improve the lives of everyone involved in our long distance tours and charity events. If all of us pull together – Operation Smile, Tour de Thailand, Event Sponsors, Riders, Donors, and the Media – we can change the world – One Smile at a Time."
The dates for this year's Tour de Thailand have been set. Northern route participants will enjoy a tour of 11 days / 10 nights from November 3 to November 13. Central route participants will enjoy a tour of 11 days / 10 nights from November 13 to November 23. Southern route riders will enjoy a tour of 8 days / 7 nights from November 23 to December 2.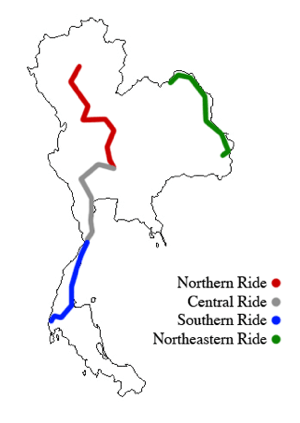 Watch videos of past Tour de Thailand participants. Learn their motivations for wanting to participate in the Tour de Thailand and witness their cycling and personal charity fundraising goals to see if this kind of tour is right for you. Read comments from past riders of the Tour de Thailand.
Have a question about the Tour de Thailand? The organizers have a comprehensive 'Frequently Asked Questions' page which has been built through their many years of experience operating charity bicycle tours in Thailand.
All riders are required to meet a minimum donation level in order to participate in the Tour de Thailand. Visit the 'Charities We Support' page for more information about the charities that directly benefit from the Tour de Thailand.
Make a life changing decision by turning your cycling miles into children's smiles. REGISTER ONLINE NOW for this unique cycling tour through one of Asia's most enchanting and unforgettable countries.