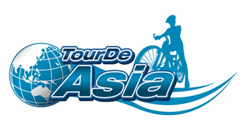 The Tour de Asia Bicycle Touring Company (a licensed Tourism Authority of Thailand Company) was started in April of 2004 for the main purpose of organizing and operating charity bicycle events in Thailand and Southeast Asia.  The Founder and Managing Director, Mr. Christopher Byrd, came up with the idea for the 1st Annual Tour de Thailand on August 4th, 2003 and he completed a 3,200 KM solo bicycle journey covering Thailand from Hat Yai to Chiang Rai that started on November 22nd and finished on December 20th of 2003.
The inaugural success was so incredible that Christopher felt that he needed to continue this event to include riders from around the world and start other rides in Southeast Asia that would become more successful each year.  In 2003 Christopher raised over 300,000 baht for the charities by himself and with the help of other riders raised over 300,000 baht once again in 2004.  Since then the donations as well as riders have more than doubled each year the tour has been in operation.
It is because of our ongoing efforts to get support from Corporate Sponsors who will benefit from our Marketing and Corporate Social Responsibility programs that we can operate reasonably inexpensive rides and still have 100% of the donations go directly to the charities.  Without the generosity of these sponsors the events we organize would not be possible, so we make every effort to give them credit for sharing our vision and dream.  Our events are not races, but everyone involved wins!
Our Mission:
To raise as much money for the charities as possible.
To promote bicycle touring (responsible tourism) in Thailand and Southeast Asia.
To provide participants with an unforgettable adventure while helping others.
Christopher Byrd, Managing Director
A former U.S. Marine that originally came from Maryland, Chris lived in Washington, DC for the last 12 years that he was living in the United States.  Chris has been residing in Bangkok, Thailand since April of 2002 and plans to continue to live and raise a family there while eventually organizing 6 annual charity rides in Thailand (2), Laos (1), Cambodia (1), Vietnam (1), and China (1).
Chris has over 25 years experience in the hotel and restaurant business as well as working in sales and customer service.  His time in the Marine Corps gave him the strength to be a leader and to motivate his staff and fellow riders while understanding the physical limits of individuals.  Chris is a caring individual that loves to have a good time and help others.  Many people think that Chris was the inspiration for Disney's movie "The Incredibles" and the resemblance is uncanny.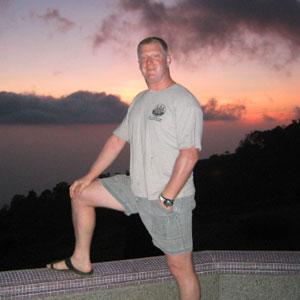 Siranee "Gae" Meesith – Director
Ms. Siranee Meesith (nickname "Gae") is originally from Surin, Thailand and she came to Bangkok in 2002 to attend Ramkhamhaeng University and continue her studies in English and Hotel and Restaurant Management.  While attending university Gae worked in the restaurant business for 3 years.  In 2005, she met Christopher and joined the Tour de Asia Bicycle Touring Company and later became the Thai Director.  After the intense course with the Tourism Authority of Thailand Gae is now a licensed Tour Guide and she loves working in the bicycle touring industry and helping others in need.  In 2001 Gae's brother lost his sight and has been part of her inspiration to help the Foundation for the Blind in Thailand under the Royal Patronage of Her Majesty the Queen.