2015 is drawing to a close and there is no better way to end the year than with some great cycling. Our Top Pick Event for December 2015 is the Thailand Gravity Series – MOJO Downhill #4 event taking place in Hua Hin. Where else but Thailand can you have beautiful beaches, breezy downhill runs, and bitchin' bikes. This is the last race of the 2015 series so an overall series winner will be announced on Sunday, December 6. Come to race or to cheer on the riders as they jump, whip, flip, smash, and crash their way to victory. 
DECEMBER 5 – 6 Saturday & Sunday: Prachuap Khiri Khan
Thailand Gravity Series – MOJO Downhill #4. Location: Hin Lek Fai DH trail, Hua Hin, Prachuap Khiri Khan province. Downhill, Freeride, and Mixed categories. Register: At event location 0930-1200 (December 5th). Registration and seeding runs on December 5th. Final runs start at 0930 on December 6th. Fee: 500 THB (Free event T-shirt!).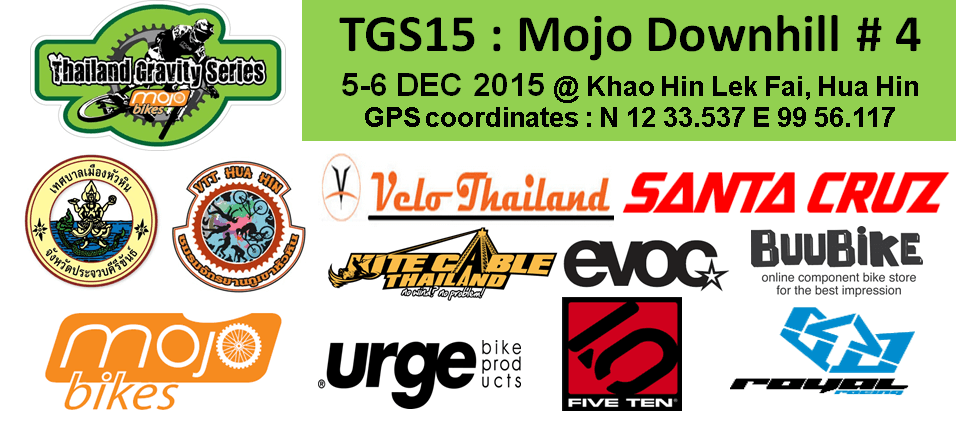 Thailand GRAVITY SERIES made it this month as our Top Pick Event but, there are certainly plenty more great cycling events listed on our EVENTS calendar. Go check 'em out.
If you are organizing or know of a cycling event in Thailand that you would like to see listed on our EVENTS calendar page, or as a future Top Pick Event, contact us with event details at Events@BicycleThailand.com
Event details required:
1. Name of event
2. Date(s) of event
3. Exact location – Tambol, Amphoe, and Province. Include additional information if available such as GPS coordinates or description of registration and/or start point of event.
4. Type of event: MTB, Road, Casual, City Ride, Festival, etc.,
5. Cycling distance(s)
6. Registration: Process and location
7. Fee(s)
8. Event categories
9. Website, FaceBook page, email, phone number or other contact information
10. Other details of event