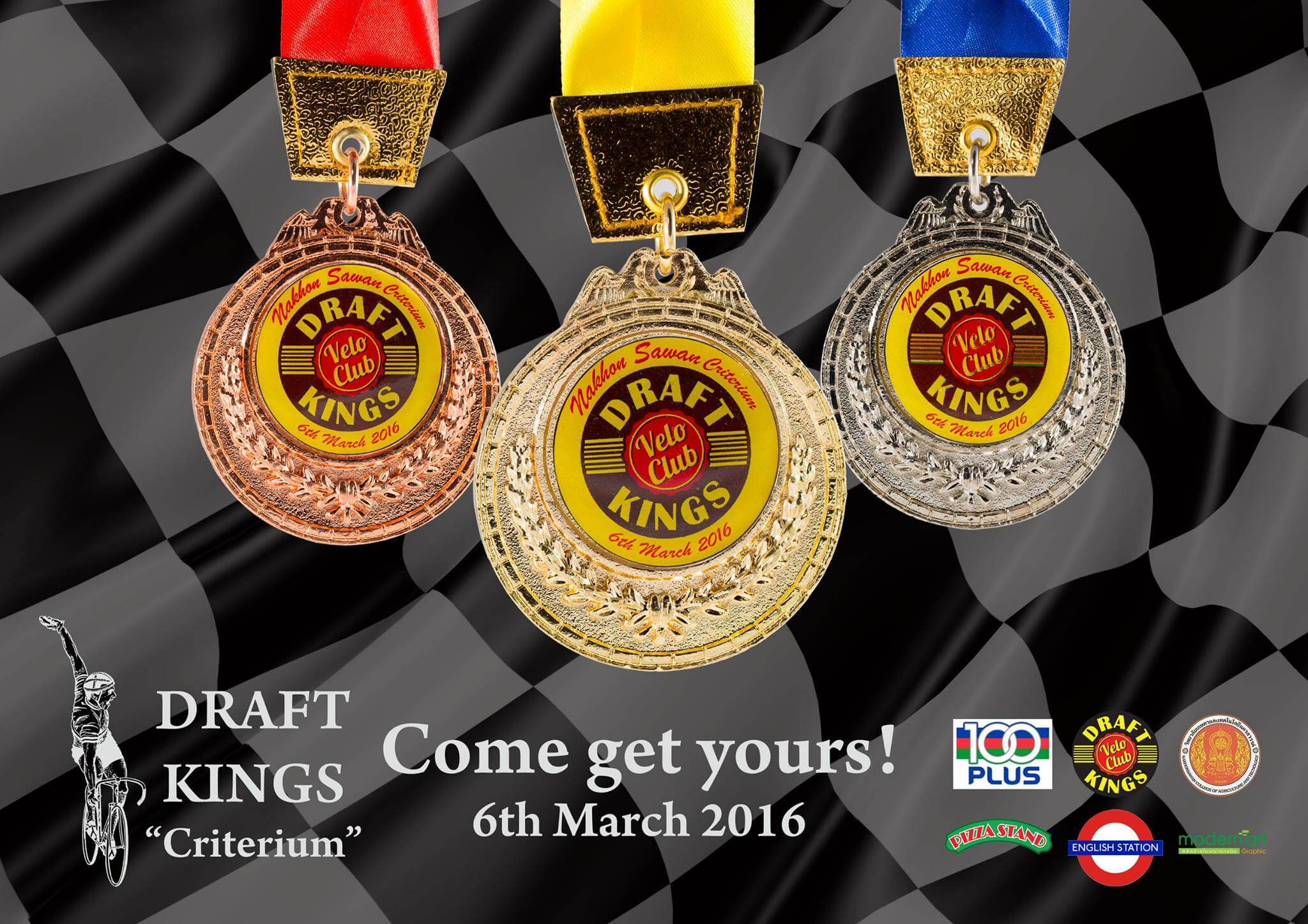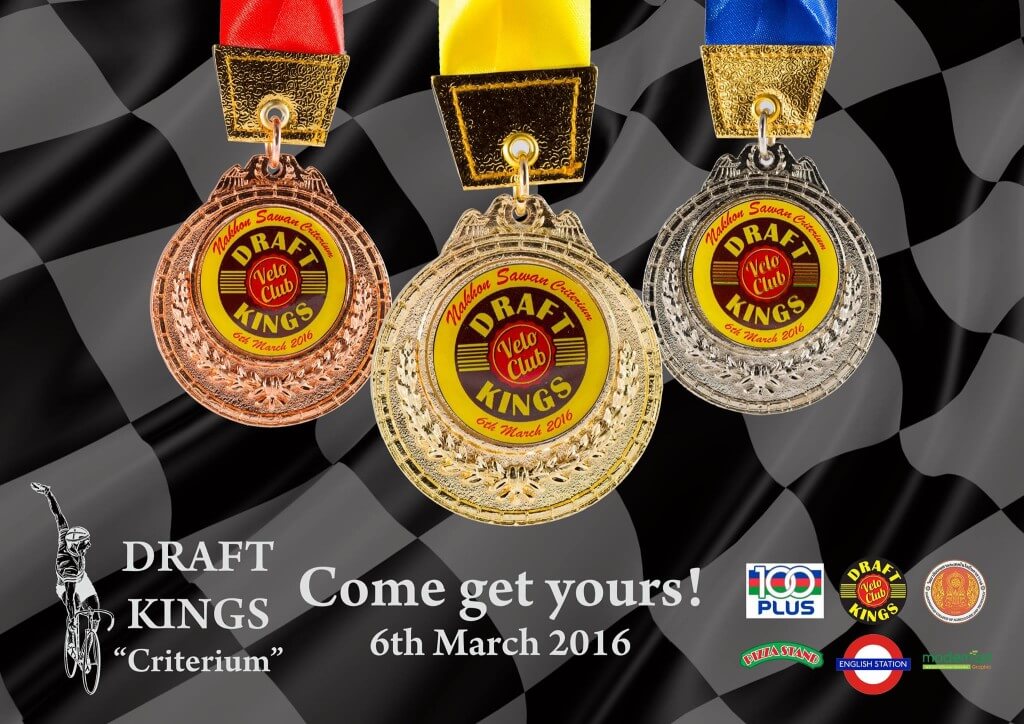 Our Top Pick Event for the month of March was an easy choice. DRAFT KINGS Criterium race in Nakhon Sawan promises to be a great event. It's the first event of its kind in Nakhon Sawan and the online response that we've seen so far has all been positive, with many well-known Bangkok and Chiang Mai cycling teams/clubs attending. The organizers have done an awesome job of getting the word out about their event and making the registration process as streamlined as possible. They have also released all details in both Thai and English language and are keeping everyone talking about the race on social media by posting 'profiles' of riders who have registered. We'd be glad to see this inaugural event do so well that additional improvements could be implemented in future editions.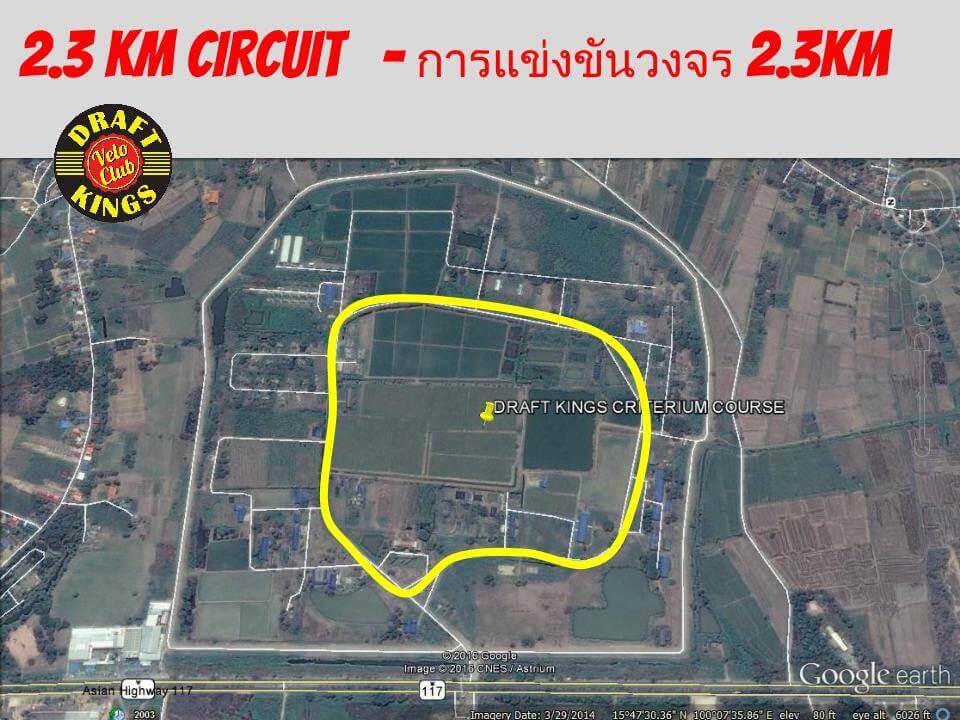 MARCH 6 – Sunday: Nakhon Sawan
DRAFT KINGS Criterium. Event type: Road Bike and Fixie Bike Criteriums. Distances: Men's A Race (Open) is 20 Laps of a 2.3KM Closed Circuit (total 46KM). Men's B Race – 12 Laps (27.6KM). Master's Race – 10 Laps (23KM). Fixie Race – 10 Laps (23KM). Location: Located at the Nakhon Sawan College of Agricultural Technology, which is located 11 kilometers north of the city center of Nakhon Sawan, alongside HWY 117. Registration: STEP 1 – Register Online at www.facebook.com/draftkingsthailand (One Hour Criterium), STEP 2 – Transfer fee to Kasikorn Bank account# 104-2-77300-6, name on account is Mr. Rory Adam Stace, STEP 3 – Send photo of transfer slip to LINE ID: rstace Event categories: Men's A Race (OPEN), Men's B Race, Master's Race (Age 50+), Fixie Race. Fee: 150 Baht for Men'S A (OPEN) race. 100 Baht for all other races. Cash & Prizes for lap Primes and top 5 overall finishers in Men's A Race (OPEN). Prizes for top 3 overall in all other races. Each race is limited to 50 participants. This event is for amateur riders only. Contact: 08-170-71468 (English) Rory Stace 08-442-03603 (English/Thai) Gary Thomas.
Check out plenty more great cycling events listed on our EVENTS calendar.
If you are organizing or know of a cycling event in Thailand that you would like to see listed on our EVENTS calendar page, or as a future Top Pick Event, contact us with event details at Events@BicycleThailand.com
Event details required:
1. Name of event
2. Date(s) of event
3. Exact location – Tambol, Amphoe, and Province. Include additional information if available such as GPS coordinates or description of registration and/or start point of event.
4. Type of event: MTB, Road, Casual, City Ride, Festival, etc.,
5. Cycling distance(s)
6. Registration: Process and location
7. Fee(s)
8. Event categories
9. Website, FaceBook page, email, phone number or other contact information
10. Other details of event