Our Top Pick Event for February 2016 is a close tie between the Chiang Rai Criterium and the TOT Bicycle Market. We obviously like both of these events for very different reasons and found it hard to choose one over the other.
What we like about the Chiang Rai Criterium is the consistency of the event and the recognition by the organizers that an informative website, early announcement of venue and date, and putting on a really fun race are fundamental to success. We know the huge success experienced at last year's Bangkok Criterium showed this organizer the benefits of informing the international cycling community of events taking place in Thailand and that a BIG part of that is having event information available in English language.
Seems as though the TOT Bicycle Market organizer is also keen to keep people informed, as he has released an entire year's worth of market dates for 2016. We sure hope the monthly dates that have been released for the market at TOT headquarters take place without any cancellations or changes.
We would have loved to of had this month's 9th Annual Doi Inthanon Challenge as our Top Pick Event but sadly this event, while always fun, suffers from poor information regarding date and registration process which results in a lot of international competitors not being able to participate.
FEBRUARY 6 – Saturday: Chiang Rai
Chiang Rai Criterium 2016 by Vittoria. Event Type: Night Criterium Road Race Event. Time: 04:00 pm- 11:00 pm (1600-2300). Location: Clock Tower in city center of Chiang Rai, Mueang district, Chiang Rai province. Fee: 350 baht and VIP 1,200 baht. Contact: 053-744-317. Race details, schedule, and updates can be found at www.BangkokCriterium.com Registration: Online registration for this event is available at www.bangkokcriterium.com/register.php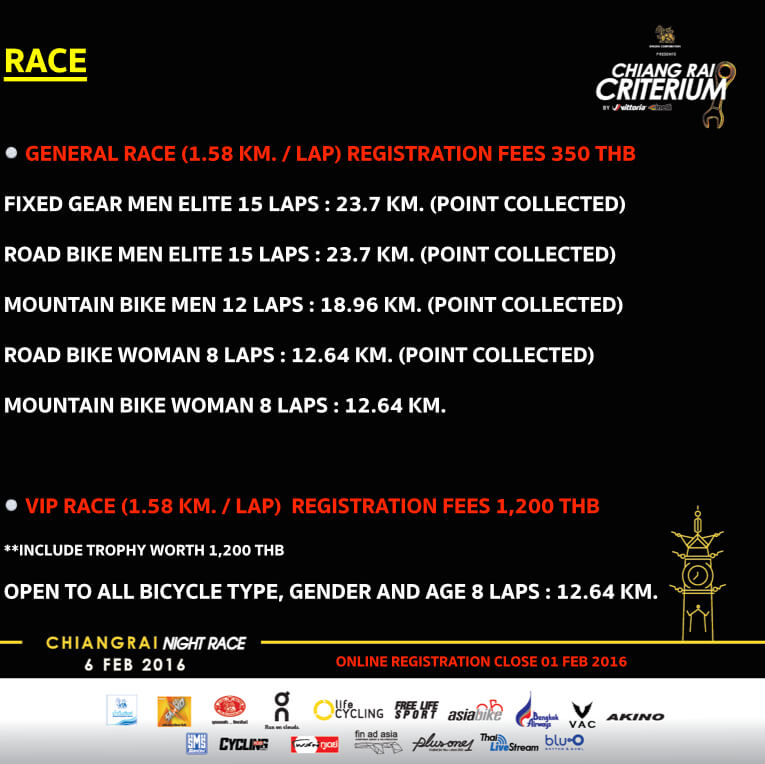 FEBRUARY 6 – 7 Saturday & Sunday: Bangkok
TOT Bicycle Market. Location: TOT Head Office Building, 89/2, Moo 3, Chaengwattana Road, Thungsonghong-Lak-Si, Bangkok. GPS – N 13.88510, E 100.57468. All different bicycle products on display by individuals and bike shops. Good market for finding new and second hand bikes and cycling related products. Fee: FREE entrance. Read more about Bangkok's TOT Bicycle Market here.
FEBRUARY 21 – Sunday: Chiang Mai
Doi Inthanon Challenge 9th Event. Event type: Bicycle race to conquer Doi Inthanon mountain (Thailand's tallest peak). Distances: 50 km and touring 16 km. Time: 6:00am – 3:30pm (0600-1530). Location: Doi Inthanon national park, Ban Luang, Chom Thong district, Chiang Mai province. Registration: Register online. STEP 1 – Log in at http://event.thaimtb.com/login.php , STEP 2 – Type name of participants, STEP 3 – Transfer registration fee via Credit card (VISA card) or via Bank transfer (transfer fee details will show after you log in at website). Fee: 800 THB. Categories: Everyone is welcome, several categories by age, gender, and bicycle type. Registration will be open on November 9, 2015 and the event is limited to 4,000 participants. Training advice: How to Conquer Doi Inthanon. Contact: Tel. 089-755-0275, Web – http://event.thaimtb.com/
Check out plenty more great cycling events listed on our EVENTS calendar.
If you are organizing or know of a cycling event in Thailand that you would like to see listed on our EVENTS calendar page, or as a future Top Pick Event, contact us with event details at Events@BicycleThailand.com
Event details required:
1. Name of event
2. Date(s) of event
3. Exact location – Tambol, Amphoe, and Province. Include additional information if available such as GPS coordinates or description of registration and/or start point of event.
4. Type of event: MTB, Road, Casual, City Ride, Festival, etc.,
5. Cycling distance(s)
6. Registration: Process and location
7. Fee(s)
8. Event categories
9. Website, FaceBook page, email, phone number or other contact information
10. Other details of event