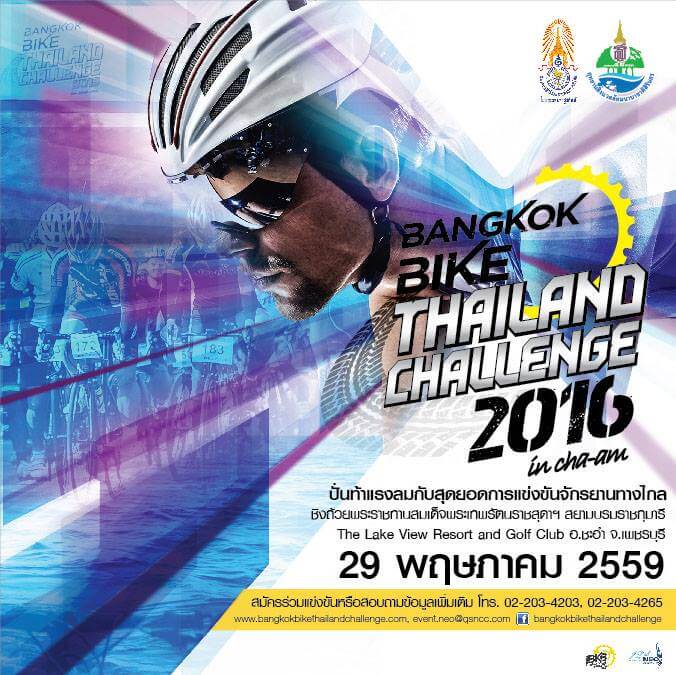 Our Top Pick Event for the month of May is the Bangkok Bike Thailand Challenge in Cha am. Now in its second year the Bangkok Bike Thailand Challenge series is a number of races organized by the Bangkok Bike group that welcomes all competitors to provinces within a couple of hours drive from Bangkok. We like this event because it has great web presence, early online registration (Thai and English), and plenty of race details (including route information and categories). Expect plenty of race-ready and casual participants across all categories. Nearby beachside towns of Cha am and Hua Hin have plenty of accommodation and restaurant options as well as attractions for family members who need something to do while you are away at the race.
MAY 29 – Sunday: Phetchaburi
Bangkok Bike Thailand Challenge in Cha Am: The Wind Challenger. Event Type: Road and Mountain Bike competition on paved roads. This race is under the patronage of the Princess Maha Chakri Sirindhorn's Cup series of sporting events in Thailand. Distance: 77.3 km. View the route here. Location: The Lake View Resort and Golf Club, Cha am, Phetchaburi province. Registration: Online registration available now. Register before April 22 and receive a 15% discount. Fee: 1,000 THB for individual participants, 5,000 THB for a Team of 5 people, and 500 THB (Youth participants). Categories: Road (Open Men & Women, 30-39, 40-49, 50+, Youth 18 yrs Men & Women, Team of 5 people); Mountain Bike (Open Men & Women). Event schedule: Road race start 7:00am, MTB race start 7:25am. Race completion and awards ceremony 10:35 – 11:00am. Contact: 02-203-4203, 02-203-4265. www.FaceBook/bangkokbikethailandchallenge
---
Honorable mention Top Pick Event for the month of May is the Singha River Kwai International Trophy Adventure Race 2016. Always a well-organized day of fun in the sun, mud, and water. If you are a keen mountain biker and want to have a fun-filled day of team adventure racing in Thailand's ruggedly beautiful Kanchanaburi province, then don't hesitate to register for this annual event.
MAY 28 – Saturday: Kanchanaburi
Singha River Kwai International Trophy Adventure Race 2016. Event type: Adventure race (Trail running, Mountainbiking, and River Swim/Kayak). Location: Felix River Kwai Resort, Kanchanaburi. GPS – N 14.0380004, E 99.4970865. More details and online registration available at www.AMA-Events.com
---
If you are organizing or know of a cycling event in Thailand that you would like to see listed on our EVENTS calendar page, or as a future Top Pick Event, contact us with event details at Events@BicycleThailand.com
Event details required:
1. Name of event
2. Date(s) of event
3. Exact location – Tambol, Amphoe, and Province. Include additional information if available such as GPS coordinates or description of registration and/or start point of event.
4. Type of event: MTB, Road, Casual, City Ride, Festival, etc.,
5. Cycling distance(s)
6. Registration: Process and location
7. Fee(s)
8. Event categories
9. Website, FaceBook page, email, phone number or other contact information
10. Other details of event