Thailand's November is always full of great cycling events. This year is no exception, with bicycle markets, road races, a Bangkok Criterium, Randonneurs/Audax rides, and MTB events all scheduled, November 2015 promises a little something to every type of cyclist.
We picked the 4th Annual A DAY Bike Fest as our Top Pick Event for this November but, there are certainly some great honorable mentions from our extensive EVENTS calendar.
NOVEMBER 12 – 15 Thursday thru Sunday: Bangkok
4th Annual A DAY Bike Fest. Event Type: Bicycle Expo. Location: Makkasan Rail Link Station, Bangkok. Very popular bicycle expo show presented by A DAY magazine, supporting sponsors, and most importantly, members of the Thai cycling community. Location will be same as in previous years, 2nd and 3rd floors of the Bangkok Airport Rail Link Makkasan station GPS – N 13.7510573, E 100.5611014. Time: everyday from 10:00am until 8:00pm (1000-2000).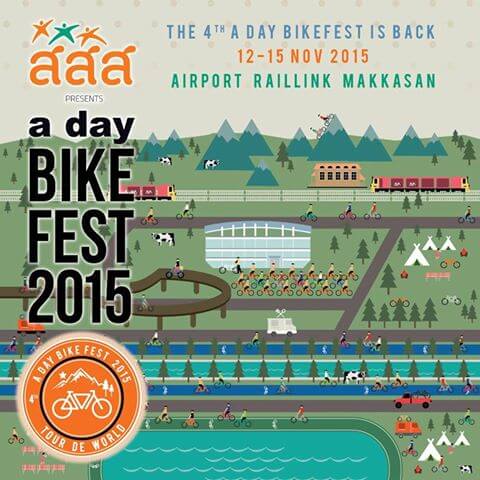 If you are organizing or know of a cycling event in Thailand that you would like to see listed on our EVENTS calendar page, or as a future Top Pick Event, contact us with event details at Events@BicycleThailand.com
Event details required:
1. Name of event
2. Date(s) of event
3. Exact location – Tambol, Amphoe, and Province. Include additional information if available such as GPS coordinates or description of registration and/or start point of event.
4. Type of event: MTB, Road, Casual, City Ride, Festival, etc.,
5. Cycling distance(s)
6. Registration: Process and location
7. Fee(s)
8. Event categories
9. Website, FaceBook page, email, phone number or other contact information
10. Other details of event