Looking for a new exciting place to pedal? The fix is in and it's free and easy! Nestled in the heart of Ramkhamhaeng's Rajamangala National Stadium complex exists a very useful venue for Bangkok's track and road cyclists: The Hua Mark Velodrome.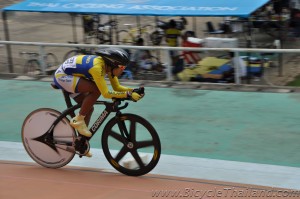 This public velodrome is open to anyone, and it costs nothing. The price of admission is that you practice safe cycling conduct and make sure to wear a helmet while riding. It's open from nine in the morning to dusk every day. Track use is unsupervised so riders are encouraged to conduct themselves responsibly while riding. Fixed gear bikes as well as touring bikes can ride here.  The track is two hundred fifty meters, and includes two 45° banks. The sprinter's lane, as well as the finish line is clearly marked, and there are a plenty of stadium style seats in case you'd like to bring friends to watch. You should make sure to bring your own water, as there is no public water fountain near, although there are vendors nearby.
Many monumental events have been held here, in fact the cycling portion of the Asian Games 1998 was held at this very stadium along with the 2007 Asian Cycling Championships. The Thai National Team can often be found practicing here. Stop by on a Saturday afternoon to watch the National team graciously speed around the track in a perfect peloton.  Enthusiasts can cycle among the likes of Thailand's premier cyclists, such as Prajak Mahawong and Phuchong Sai-Udoumsidpa.
The velodrome has remained mostly unchanged since its 1998 debut; however the facility is maintained extremely well by the Sports Authority of Thailand. There are no future plans for renovation.  Check the Thai National Cycling Team's calendar here www.thaicycling.or.th (Thai language). You can also subscribe to the newsletter at the same website to be informed of the latest races and happenings at the velodrome.
It's easy to get to the velodrome. Using the new BTS airport link it's possible to access the Rajamangala Stadium. From the City Line, get off at Ramkhamhaeng Station.  After exiting the BTS station it's an easy journey to Ramkhamhaeng 24 where you'll find the complex.
If you plan to take your bicycle with you to the Hua Mak Velodrome you will find that bicycles are allowed on the BTS Sukhumvit and Silom lines, but not the newer Airport Link. Get a bit of a warmup by riding your bike from Phaya Thai BTS Station to the Ramkhamhaeng (Airport Link-City Line) Station along Nikhom Makkasan and Kamphaeng Phet roads, which run below and parallel to the elevated train line.