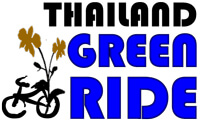 Thailand Green Ride was founded in 2008. The company, which offers bike tours in the Bangkok countryside, is under 100% Thai ownership. The tours given by Thailand Green Ride guides focus on agro tourism attractions such as orchid farms, and lotus and rice fields.
Their delightful tours combine cycling with other activities like rice barge cruising, Muay Thai camp visits, and riverside market shopping. With the motto "We don't want to be the biggest, just the very best" driving the Thailand Green Ride team, guests can expect professional but friendly service on their next interactive cycling adventure.
Thailand Green Ride prides itself on giving tours that:
Are safe, fun, and easy
Can be enjoyed by guests of all ages and skill levels
Allow guests to interact and travel as the locals do
Interpret the language, nature, history, and culture of Thailand
Responsibly respect the environment
Thailand Green Ride is located only 30 minutes away from Bangkok's Grand Palace or hotels in the riverside areas.
Thailand Green Ride
18/70 Moo 13, Tawi Wattana Road Soi 29,
Sala Dhammasop, Tawi Wattana,
Bangkok 10170
Thailand
Tel. +66 (0) 2 888 9637
Fax. +66 (0) 2 888 9693
Mobile. +66 (0) 81 318 3561
MSN: parichats@yahoo.com
www.thailandgreenride.com
Thailand Tourism License No: 14/00801