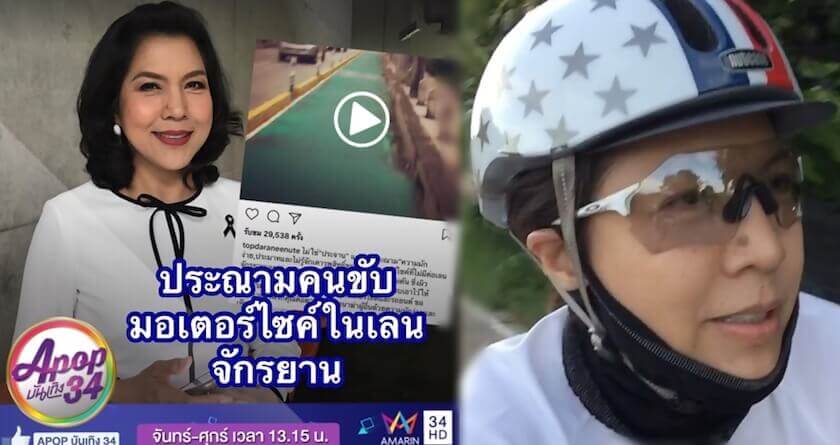 "Top Daraneenut" posted a video clip of people riding motorbikes on bicycle lanes
Top Daraneenut, an actress and TV program presenter, posted a video on Instagram of people riding motorbikes on bicycle lanes. She also posted the comment to condemn people who had no respect of the rules.
The comment she wrote was "These people have no respect for the rules and I condemn them as murderers who intend to kill other people by carelessness and selfishness. While I was cycling on the bicycle lane, I witnessed many motorbikes all along the way but I could only take a video of 3 motorbikes."
On the 26th of July 2017, Top Daraneenut said to the reporter that she experienced this situation many times before. This time she recorded the video because there were many motorbikes on the bicycle lane. The bicycle lane is completely separate from the vehicle lanes and footpath, and there are bicycle only signs clearly posted. She said she saw 6-7 motorbikes on the bicycle lane, that were using it illegally because it is not a motorbike lane.
She also shared her experience about people who rode motorbikes in the opposite direction down the expressway while she was driving. She said this was very risky and an accident was ready to happen. She was thinking if there is an accident, who will be responsible for it? Why don't people help each other? Why don't they love their own life?
She suggested that all parents should teach their children to respect the rules in Thai society. The police and related organizations should be strict about the rules and determine the serious punishment to people who break the rules.
She also said that after she posted the video and comments on social media, there were many comments from people who supported and agreed with her. Most people mentioned that the government should pay more attention to getting people to follow the rules, which could help to reduce accidents on the road.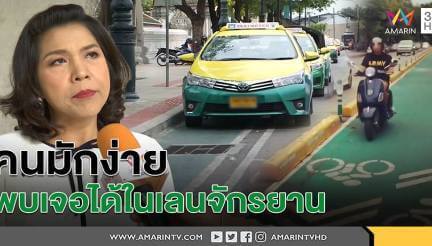 Original article posted on July 26, 2017 at Amarin TV