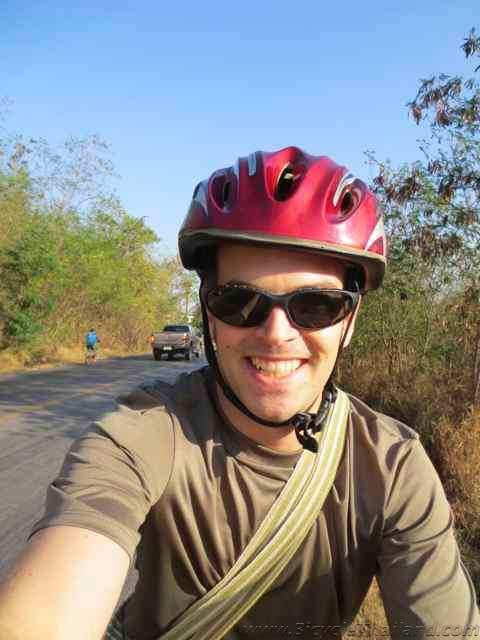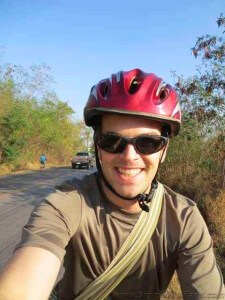 I accidentally spotted a group of cyclists hanging out next to the "Gate to Isaan" (Pratu Su Isaan) one evening on my way to my favorite Italian restaurant.  I'd seen them before in the same spot, at around the same time so I figured they met regularly and decided to approach them and ask what's the deal.  They informed me that they meet everyday at 4 p.m., except weekends, and go on an approximately 30 km bike ride.  That sounded amazing to me, so I asked them if I could join them the next Friday (I work Mon.-Thurs. until 4:30, but get off at 3:30 on Fridays).  The Thai guy who speaks the best English gave me his FB info and phone number and offered to meet me at the same spot on Friday.
The following week, we met at 3:55 and then headed off to go meet other cyclists.  Apparently, where I saw them next to the giant gate is where they finish.  They normally meet at a friend's house, but the leader was kind enough to meet me at this easier to find location.  We cycled through town, through the market, across the train tracks and arrived at the real meeting place where we were greeted by another 4 cyclists. Their broken English and my limited Thai combined to convey the message that today we'd be biking up some mountains.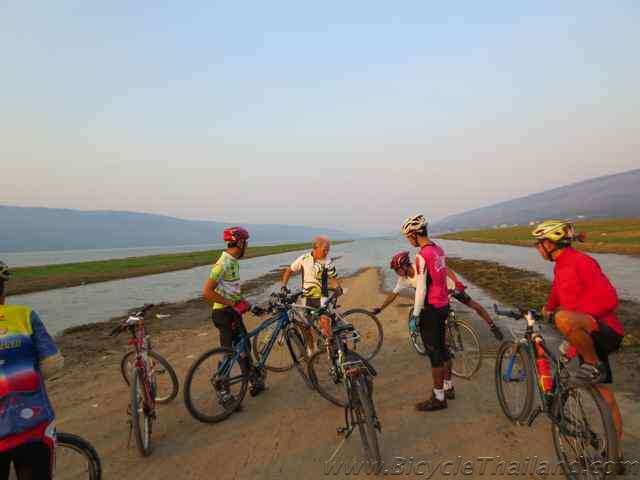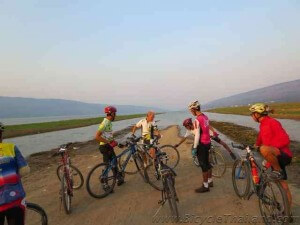 A German guy, who looks like he's in his 60's (although who can tell with these incredibly fit older guys) spoke to me in broken English and ended up letting me borrow a spare helmet. It turned out that he wasn't at the meeting spot after the ride and the other cyclists told me that he had given me the helmet.  I later figured out this was a mistake, but not until after sporting the helmet for a couple of weeks, thinking the whole time that Germans in Thailand are super nice. This first outing was indeed a mountain ride.  At some point we cut through a sugar cane field, and took several shortcuts through electric facilities, temples, and you name it.  It was essentially a 30 km ride, 20 of which were uphill.  Oh man! It killed me.  But I managed to keep up.  Luckily (for me, not the cyclists) a couple of cyclists got 'splinters' in their tires from cutting through the sugar cane field.  While I thought the whole time that I was keeping up with the leaders, really the rest of the group were helping to replace a tire.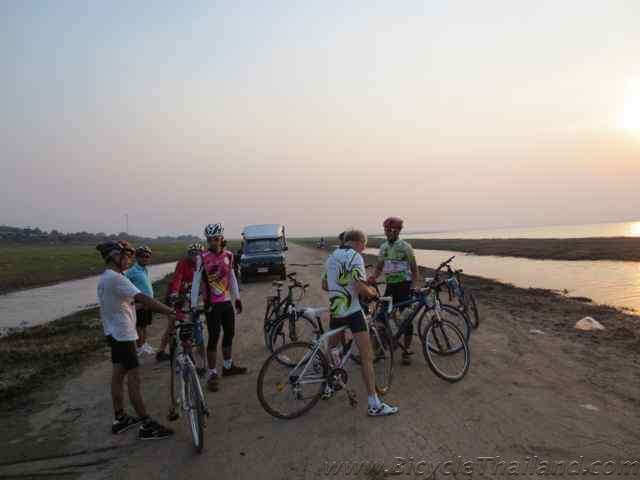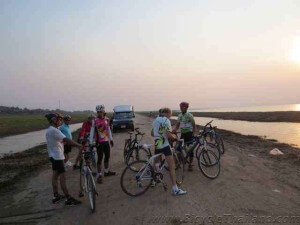 The first outing I went on was right before New Years, so I missed the following Friday while on vacation. But I was able to join them again on three more Fridays since then, and it's been great.  Flying through the Isaan countryside, climbing up small mountains, and taking shortcuts through farms and resorts has provided me with a glimpse of scenery I would have never gotten the chance to see if I hadn't gotten a bike and ventured to speak to this cycling crew.  On the 3rd Friday we went to a man made lake called Lamtakhong.  This was my longest bike outing to date and it ended up being about 40+ km.  I got a bit of a history lesson from one guy who informed me that the reason the road came to a dead end in the middle of this shallow lake is because the lake is only about 60 years old.  A road used to pass through, but the lake was created just after WWII and the spot where we had cycled used to be a U.S. army base of sorts.  I thought it quite surreal.  Here we were in 2013, on a leisurely bicycle ride, with a group of Thais, an American and a German.  We were all a bit exhausted but happy and at peace.  Go bicycles!
---
Do you have a Thailand cycling story or experience that you would like to share? Visit our Readermail page or Contact us at Readermail@BicycleThailand.com