After cycling 35,000km from England, SuperCyclingMan arrives in Singapore on world cycle.
Is it a bird? Is it a plane? It's SuperCyclingMan! After cycling over 35,000km from his home in England, he's arrived in Singapore on his inspirational, charity fundraising bike ride across all seven continents!
SINGAPORE, 3rd October 2017 10am
Former primary school teacher Will Hodson is cycling 100,000 kilometres over 7 years across all seven continents (including Antarctica!) in a superhero costume as SuperCyclingMan
His mission: to inspire 100,000 school children with his message that #WeCanAllBeHeroes and to raise £100,000 for Parkinson's charities as his father has Parkinson's Disease
SuperCyclingMan is now visiting schools all over Singapore until 29th October
Nobody has ever cycled across all seven continents – will SuperCyclingMan be the first?
I believe I can fly! SuperCyclingMan aims to inspire with his message that #WeCanAllBeHeroes
My name is Will Hodson and I have just spent the last 2 years, 4 months and 2 days of my life cycling all the way from England to Singapore. To add to the challenge, I cycled the whole way in a superhero costume (complete with cape and pants!) as my own made up superhero – SuperCyclingMan! It's been a journey of over 35,000 kilometres, across 26 countries and been an incredible adventure so far.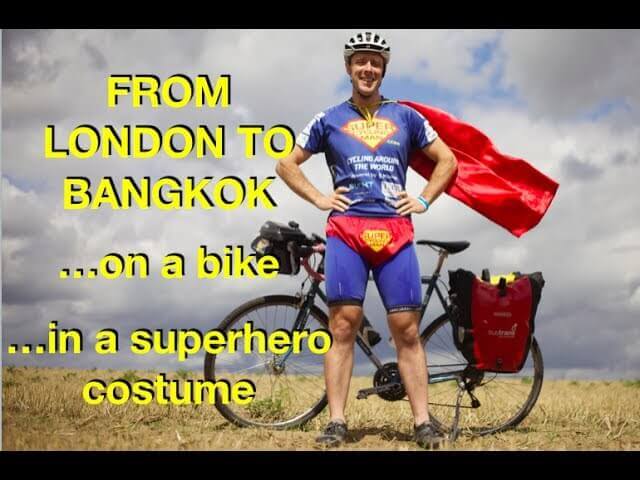 WHY ON EARTH AM I DOING THIS?
I'm on a mission to cycle across all seven continents on the planet…including Antarctica! Plenty of people have cycled around the world before, but nobody has ever cycled across all seven continents. It's something I've dreamed about doing for a long time and I find that really exciting to be taking on a world first.
I used to be a primary school teacher in London and I want to inspire 100,000 children around the world by visiting schools in different countries with my message that #WeCanAllBeHeroes
I am the first to admit that I'm not a real superhero at all, but I really believe that anyone can be a hero by doing things like: being kind to others, going for your dreams and not giving up.
I also want to raise £100,000 (around 180,000 SGD) for Parkinson's charities worldwide as my father has had Parkinson's Disease for the last 20 years.
I am looking for opportunities to get my story in the media to help spread the word about the adventure, to inspire more people with my story and my message that #WeCanAllBeHeroes and to raise more money for the Parkinson's charities I'm supporting.
I can speak on the following subjects: the highs and lows of the journey so far, funny stories, challenges and (my favourite topic) the extraordinarily kind people I've met in all the countries I've travelled through – the real heroes of this adventure.
My website is www.supercyclingman.com and I am sharing regular updates about the adventure on my Facebook page and my YouTube channel.
Approximate dates for the road ahead are: MALAYSIA (November 2017), THAILAND (December 2017 – January 2018) CAMBODIA (February 2018), VIETNAM (February 2018), HONG KONG (March 2018), TAIWAN (March 2018), CHINA (April – June 2018), SOUTH KOREA (July 2018), JAPAN (July 2018), AUSTRALIA (August – December 2018), NEW ZEALAND (January – February 2019)
Superhero cycling! SuperCyclingMan is on a mission to get children to search for the hero inside themselves…and get on their bikes!
From May 2015 until January 2022 SuperCyclingMan (Will Hodson) will be:
Cycling 100,000km across all 7 continents (including Antarctica)
Raising £100,000 for Parkinson's charities around the world
Inspiring 100,000 children through school visits around the world
Be a hero and get involved with the record-breaking pedal around the planet:
on my SuperWebsite: www.supercyclingman.com
on my SuperFacebookPage: www.facebook.com/supercyclingmanfacebookpage
on my SuperTwitterFeed: www.twitter.com/supercyclingman
on my SuperInstagramAccount: https://instagram.com/supercyclingman/
on my SuperYouTubeVideo Channel: https://www.youtube.com/user/Supercyclingman1
Thank you and remember…#WeCanAllBeHeroes
For media enquiries please contact Will Hodson on his temporary Singapore telephone number of +6591930787 or his permanent WhatsApp at +447905001171