SpiceRoads "Tribal Trails of Thailand – Mountain Biking in the North" Tour Review
Article and photos by John Knauss
With 6 weeks of Christmas vacation this year, I chose to pack up my Giant Anthem X29 and head to North Thailand for a 10-day mountain bike tour with 4 days extra on each end to settle and expand. The experience was great, and it won't be my last to Thailand with a bike.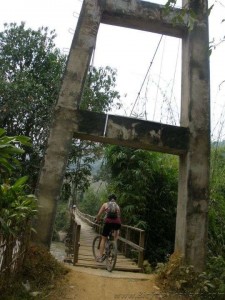 I arrived in Chiang Mai a handful of days before Christmas and spent my first days there whitewater rafting, ATV riding and trying the "Eliminator" route of Doi Bakia through Mountain Biking Chiang Mai which was led by one of the best Thai riders I met in Thailand. The Spiceroads tour began in Chiang Rai on Christmas Day, so I bused up north and met my group of 8, which consisted of a Canadian family of 4 plus one son's girlfriend, an older couple from Hong Kong, and myself. The tour took us around the outskirts and beyond Chiang Rai to the northwest in the first few days, we then began our movement south and west adjacent (but not following) route 107.
Most of the trails were doubletrack or access roads between villages that eventually connected to towns—their quality ranged from firm and free of rocks that would please any hybrid to seriously distressed that pleased my full suspension. A few short ascents were too long, steep, and without traction to climb, but others offered a great opportunity to test technical and muscular limits. Doi Mae Salong, Doi Bo, and Doi Bakia were all part of the trip, with Doi Bakia being the longest and most fun. At one point, I was climbing a very steep bit of road when one of the Mountain Biking Chiang Mai trucks rode past with a load of downhill riders aboard. I remember thinking, "That was me a week ago. Now I'm crawling up this thing on my own." The singletrack as advertised was not the kind of fast singletrack most mountain bikers would think of, but was still fun. The best sections in my opinion were the downhill doubletrack lengths with plenty of cornering and opportunities to clear rocks and ruts with a jump. There was also plenty of flatland between days that offered scenery and low-level climbs over picturesque farmland and forest.
The resorts and homestays we rested in were phenomenal.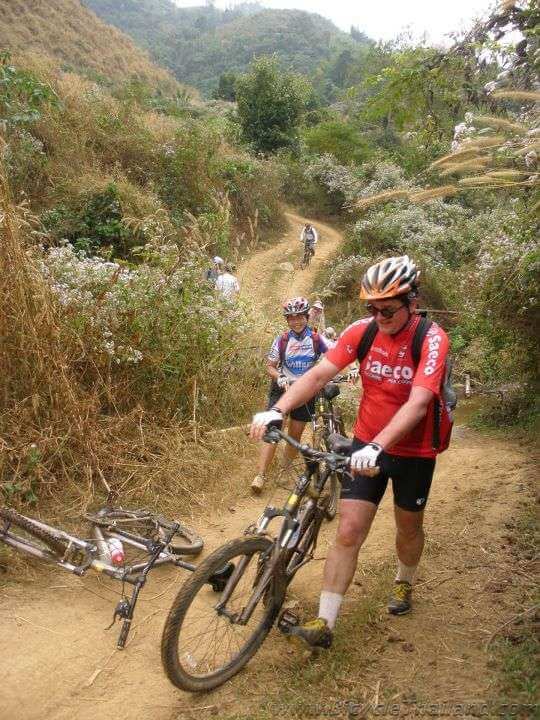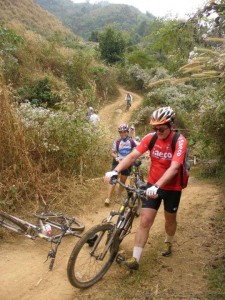 Each night was different, so we had a wide range of experiences. Phu Chaisai resort close to Mae Chan was stunning, and worth a return for much longer. Our Hilltribe homestay allowed time to organize a soccer match with the local boys as well as put our bikes on bamboo rafts for the next day's raft/ride. On New Year's Eve, we climbed Doi Bakia and rerouted to a different stay at the Treehouse Village, which was the high point for me. The village was quite small and the Treehouse run by several daughters of the village chief. At midnight, one other rider and I motorbiked higher onto the mountain to set off fireworks and eat various mystery meats of a barbecue with younger members of the village. When the tour properly ended in Chiang Mai several days later, I turned my bike around and rode the 75km back up north to stay in the Treehouse for a few more days of fun.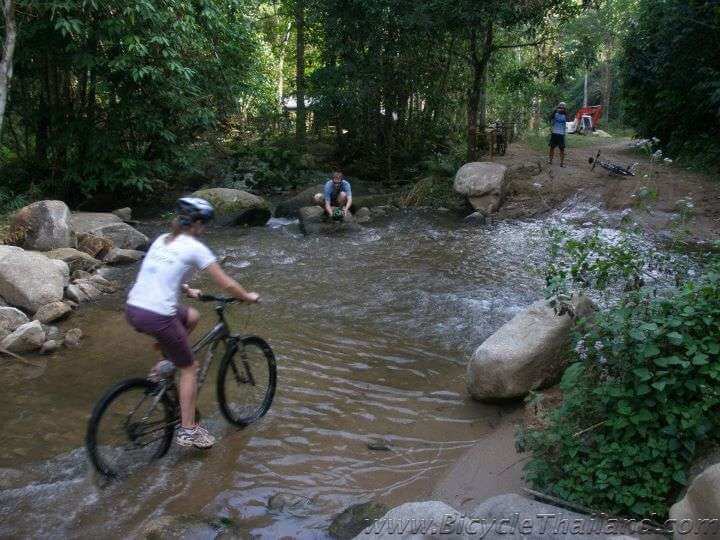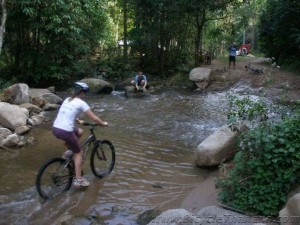 During the winter months, the weather is absolutely perfect for this kind of tour. Had the weather been any hotter or brighter it would have been difficult to get through some of the long climbing days or higher distances of 80km or so. This was the second version of the tour for SpiceRoads and no doubt they are still working out the kinks. Now that I've ridden these trails and matched them to a map, it's possible to return on my own, or with others. During the tour, I came across other touring riders in pairs or solo who were covering the tarmac routes or a bit offroad, so I hope to trade a bit of information as well as utilize bikemap.net for a second go.
SpiceRoads has rated this tour difficulty at 4 out of a possible 5 chilli peppers.