SpiceRoads wants you to see the world by bicycle! We believe cycling is a unique and rewarding way to experience a country and have developed a broad range of cycling tours in Asia so you can do just that. Whether you are riding through the northern mountains of Vietnam, a wildlife reserve in Borneo, on the steppes of Mongolia or in the back alleys of Bangkok, you will meet fascinating people, experience a rich and diverse culture, and enjoy wondrous scenery and culinary delights.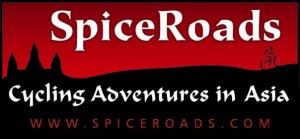 On every cycling tour SpiceRoads is committed to providing you with an unforgettable experience. Our fantastic guides will take you on our well-researched routes and provide you with cultural and historical background.  You can concentrate on cycling knowing our support van is never far off carrying water and fresh fruit and that you will be fueled by the best of the local cuisine and resting in carefully chosen accommodation. Trips are limited to no more than 16 people and we are happy to provide custom trips for groups.
At SpiceRoads we are passionate cyclists ourselves, with more than 15 years experience leading bicycle tours in Asia, we extend a warm and open invitation for you to come and join us. Delight your eyes, open your mind, stimulate your senses and get into gear with a SpiceRoads cycling tour. We are specialists in the art of bicycle tours throughout Bhutan, Burma / Myanmar, Cambodia, China, India, Indonesia, Japan, Laos, Malaysia, Mongolia, Sri Lanka, Thailand and Vietnam.
If you are in Thailand and interested in seeing Bangkok or Chiang Mai from a different perspective we have a multitude of tours to choose from. Moving at ground level, you travel fast enough to see everything and slow enough to experience it all! SpiceRoads offers a range of two wheel activities that take you to the very heart of Bangkok and Chiang Mai. Highlighting the culture history and natural beauty of each destination, the cycling tours go beyond the hotels and tourist traps to explore the essence of Asia's culture, people and way of life. With an ever-increasing menu of itineraries SpiceRoads tours cater for every level of cyclist and range from half and full day-trips to 4-day packages. You are invited to join tours with fixed date departures scheduled throughout the year, while private or tailor-made tours can be arranged for groups or individuals on request.
SpiceRoads Cycle Tours
14/1-B Soi Promsi 2, Sukhumvit 39
Klongtan Nua,  Wattana
Bangkok, THAILAND 10110
Tel: +66 (0) 2712 5305
Fax: +66 (0) 2712 5306
Visit us at: www.spiceroads.com