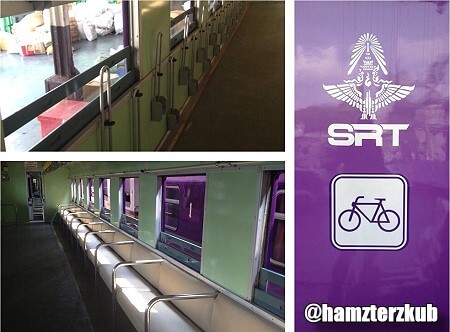 If you are cyclist in Thailand, you might be interested that the State Railway of Thailand (SRT) are making an extra effort to help cyclists travel around the country. Normally you would have to put your bicycle in the guard compartment, or if there isn't one, try and find enough space by your seat. On express trains this might not be possible. Now the SRT are converting 3rd Class carriages to be special transport for cyclists and their bicycles. The above picture tweeted by rail fan @hamzterzkub is of the prototype on display at Hua Lamphong for the 117th Anniversary of the SRT. This finishes today if you want to go and see for yourself. I'm planning to join the first trip with this carriage on Friday that will take members of a cycling club from Bangkok to Ayutthaya. I will share pictures of this with you later here or you can see live on my Twitter feed @RichardBarrow on Friday.
RT @hamzterzkub: การรถไฟเตรียมดัดแปลงรถชั้น3ให้เป็นรถไฟขนจักรยาน โดยทำต้นแบบแล้ว1คัน มีตัวล็อกจักรยานแล้วม้านั่ง #สิ่งดีๆกำลังเกิด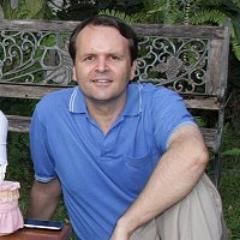 Richard Barrow
Full time independent travel blogger based in Thailand. Tweeting and blogging anything to do with Travel, Food and Festivals, and translating Breaking News from the Thai media. Plus avid weekend cyclist, riding everyday!?
richardbarrow.com
|
twitter
|
facebook