Originally posted as 'Phuket Lifestyle: Those other bikers heading to Phuket' in
Lifestyle section of Phuket Gazette 28/03/2012. Article by Marc Mulloy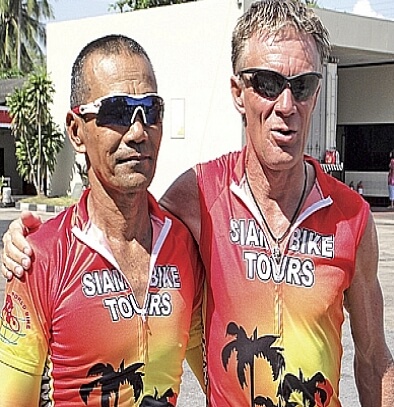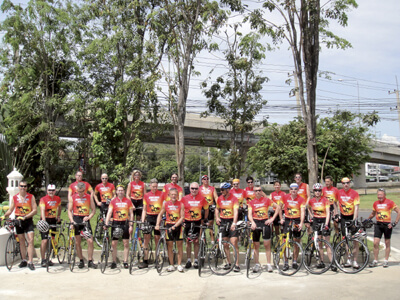 PHUKET: With Big Bike Week just around the corner it is good to remember that Phuket also attracts the pedal- powered variety of biker thanks to Siam Bike Tours run by avid cyclist Martin Brot.
Martin is a sprightly 54 year old with a healthy tan, deep smile lines at the corners of his eyes and well developed calf muscles. He speaks English well albeit with a strong Swiss accent and it soon becomes apparent why Martin looks so healthy and happy. Not only is he the happy owner of the successful Siam Bike Tours, he also personally leads each tour such as the recent one from Bangkok to Phuket.
"I join and lead all of our tours. I've been cycling and racing since I was a boy in Switzerland. I've been coming to Thailand for over 30 years and moved here nine years ago. I first lived in Koh Samui where we focused on mountain biking and for the last six years we have been in Phuket where we are more involved with road bikes. It is my passion" says Martin.
Guided by Martin and his team, tours are arranged into groups of 4 to 16 participants and are designed for any enthusiastic cyclist in reasonable shape. A Siam Bike Tours minibus follows up behind transporting all of the luggage; spare parts; wheels and tools as well as water; soft drinks and fresh fruit. If necessary any rider may also complete the day's stage by bus if they are feeling tired or unwell.
Martin determines the riding speed on any stage with faster riders going ahead together, regrouping at selected refreshment stops every 30 or 40 kilometers.
"It is not just about the cycling, we see and experience many things along the way. We stop at noodle shops, temples, waterfalls or just stop to share some fruit. We spend each night in excellent, clean hotels most of which have a swimming pool, Thai massage and spa or wellness facilities. Even though we are cycling hard we also have a few beers and a few laughs each night, we become like a big family," says a smiling Martin.
The 10-day, nine-night Bangkok to Phuket tour follows both the East and West coastlines covering a total of 833 kilometers in eight stages which vary between 72km to 140km each.
For many in Phuket the idea of riding a bicycle in Thailand, yet alone covering such a distance, seems a dangerous prospect.
"Not at all" says Martin " Many of our riders say that Thailand is even safer than Europe and we drive mostly along empty roads. Motorists here respect bicycles and give us a wide berth especially the lorries. Indeed we often ride two abreast for most of the day. However it is true that once we get to Phuket the traffic is different and we are squeezed into single file."
Having recently completed another successful Bangkok-Phuket run (he does seven every year) the ever energetic Martin now looks forward to his upcoming "Issan Tour" in the east of Thailand. Siam Bike Tours also offer what they call the 'Transalp challenge of Thailand' which starts in Chiang Mai and takes in Mae Hong Son and Doi Inthanon a 13,435 meter ascent.
"This is a more challenging ride, but for many of our repeat riders it is not a problem as many come from places in Europe where we have big mountains." says Martin.
When asked if the company has expansion plans he laughs and says "Now it is just right – a boutique business. We already have over a dozen scheduled tours a year as well as customized tours and our shop to run, so I do not want to get bigger than this."
It is always refreshing to find a man so happy in his work where the only obstacles ahead for Martin seem to be those mountains in the North.
For more information visit www.SiamBikeTours.com