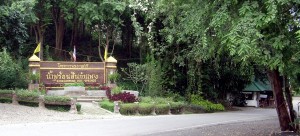 One of my favorite places to cycle in Chiang Mai is the San Kampaeng Hot Springs. Not only is it a beautiful 68km round trip ride, but it is also a relaxing destination. The Hot Springs have been built up in such a way as to make it easy to enjoy wading into the stream that runs through the park, picnicking, and bathing or swimming in the mineral waters. You can also rent a cottage to enjoy an overnight stay at the hot springs.
The San Kampaeng Hot Springs are easy to find. From Narrowat Bridge follow Charoen Muang road east. On the way to the hot spring, you will pass several interesting tourist exhibits before you get out of Chaing Mai, including umbrella making and teak wood shops. You will also ride through the city of San Kampaeng. If you happen to be riding on a Saturday, there is a lovely market in the center of town, which could cause you to detour if you are riding through in the late afternoon. You will have a choice on which highway to take to the springs: remaining on 1006 or changing to 1147. Both will take you to the hot springs, but I recommend staying on 1006 until you reach highway 1317, where you will make a left turn. On the other side of San Kampaeng you can expect to be refreshed by the lush greenery of the rice fields. You can also see the mountain ranges that encircle Chiang Mai in the distance.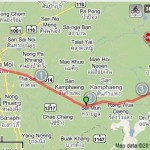 You will make one final turn off of highway 1317 to get to the hot spring. There are signs marking this intersection. It is 3 more kilometers to the hot spring from that turn-off point.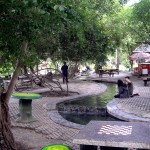 The fee for entering the hot spring park is 40 baht, and it is 10 baht to park your bike. If you want to take a mineral bath or enjoy the swimming pool, there is an extra fee. The price of the Thai food sold outside the park is about the same as most street vendors in Thailand, and they have a menu in decipherable English. Inside the park there is a restaurant and also several snack booths where you can get ice cream, soda, raw eggs to boil in the hot springs water, and other snack goodies.
This is a great location to go and relax for the day, soaking in the warmth of the hot spring, eating eggs, and taking in the cultivated gardens at the park. Enjoy!
Download GPS file here – (Zipfile contains .gdb and .gpx formats)