Originally posted as 'Road trip for peace' in
Life section of The Nation 26/01/2013. Article by Kitchana Lersakvanitchakul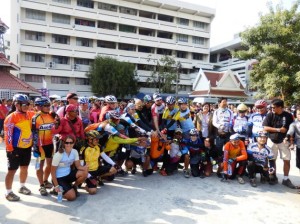 Actors and cyclists remember the late art teacher Juling Pongkunmul and others who have died in the troubled South.
The "Ride for Peace", part of the "Ton Kla Udomkarn" ("Young Ideologist") charity project to raise funds to support the families of the teachers killed by insurgents in Thailand's violent south, came to an end last Wednesday, as more than 30 cyclists arrived in Chiang Mai after 10 days on the road.
"We're tired but happy," said actor and organiser Peter Louis Maiocchi, who was among the cyclists to pedal the 1,000 kilometres from Bangkok. He was joined on the road by fellow actors and cyclists and had tears running down his face as he chatted to the media.
"Achieving our goals is great for the spirit. It's very hard to express in words how we feel. It's important to remember that even when we feel exhausted, we must always try to fight for our goal."
Peter, along with actor Pollapat "Mike" Welsh and BikeFinder's Zeudthavee "O" Kanchanapakapong were the mainstays of the journey and were joined at various points on the route by other actors, among them Supakorn "Tok" Kitsuwon, Penpetch "Jab" Penkul, Bunjerd "Shogun" Santanapanich, Neng Napat and Prannee "Ie" Weranukul. On each occasion, they were seen off and welcomed by a group of cyclists from the provinces.
The ride was difficult in places, particularly on Khao Khad on the Phitsanulok to Uttaradit sector and on Khao Plueng between Uttaradit and Lampang.
"It was quite a task for us to take on this long-distance bike ride because we aren't actually cyclists," said Mike. "Sure I ride my touring bike but usually with three to five days rest in between trips so I always have time to recover. For this project, I have been riding every day for 10 days with only short breaks at the regular water and food stops.
"It was really hard going in the hot sun and strong winds plus with 20-kilogrammes of luggage loaded on the bike. While cycling along a 3-km slope of a road on Khao Khad, I felt discouraged but refused to give up and ask one of the service drivers for help. In the end, I got off the bike and pushed it.
"The trip has also provided a kind of dharma teaching: the sorrow that came with the exhaustion and pain while biking up the hill was forgotten the moment I took my bike down the hill. I can apply that kind of thinking to my daily life. The friendship has also been important: one cyclist gave me a piece of sun-dried banana for energy, and another suggested that I use the right gears as to reduce my heart rate and put less pressure on my respiratory system."
The group was also joined by a few foreigners, among them Swiss teacher and keen mountain biker Corinne Hasle, who started her cycling marathon in Nakhon Sawan.
"It was nice to cycle to the North, riding for peace and riding for the teachers in the South. It was a lot of fun and everything was very well organised," said Hasle, who has been riding for 15 years. "People took care of us really well, giving us cool towels and water every hour. And everyone encouraged us, clapping their hands, smiling and saying 'yeah, very good, well-done'."
The cyclists received a warm welcome in Chiang Mai and were presented with a helmet made of coconut at an event that also featured a photo and painting exhibition of the late Southern teacher, Juling Pongkunmul.
The following day, they continued their journey to Juling's house in Chiang Rai and paid tribute to her memory by having dinner with her parents.