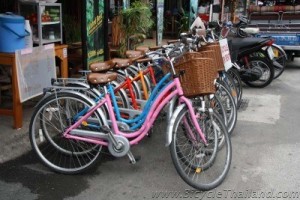 Every time I go on a holiday trip, the biggest decision I must make is whether to bring along my own bicycle or rent one at my destination. Of course riding a bicycle to any destination is THE best way to travel, but for some travelers with time or logistical constraints this option is just not possible. If your journey to Thailand includes a plane, bus, or boat ride then sometimes the problems associated with transporting your own bicycle become significant and can weigh heavily on your decision.
I usually make my final decision based on what I plan to do on my holiday. If city or countryside sightseeing is on the agenda then I often choose to rent a bicycle. On these type of holiday trips I end up riding for less than 20km a day with frequent stops for photos, eating, and whatever else catches my fancy while on holiday. The money I save on taxi fares by using a rental bicycle is usually quite significant. However, if my holiday trip is specifically to go mountain biking, road riding, or touring in a new area I will do everything in my power to make sure that I am atop my very own bicycle, ensuring the longer distances and riding experience are not hindered by an unfamiliar or unreliable rental bike. Nothing can ruin a beautiful bike ride like an ugly (functioning) bike.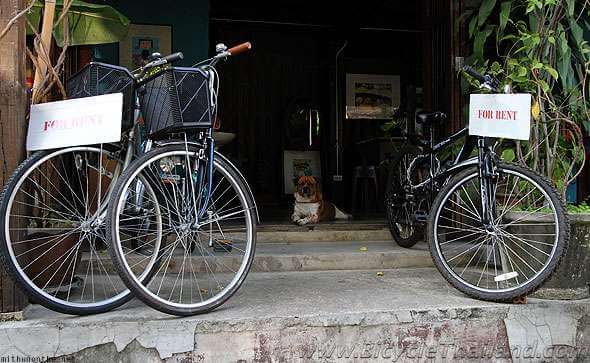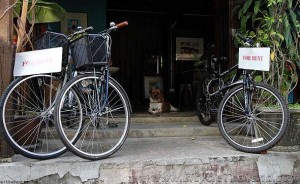 Knowing what types of bicycles are available at your holiday destination, and their approximate quality level and costs can help you make a better informed decision.
If your travel plans have you visiting Chiang Mai Thailand let me start by saying that you have made a great holiday destination choice, as the northern city boasts a wonderful mixture of culture, cuisine, and convenience. Cycling in and around the old part of the city, to its many different attractions and sights, is one of the conveniences that I especially enjoy during my frequent visits. Renting a bicycle in Chiang Mai is very easy, inexpensive, and liberating. While the small city streets do bustle from morning until night with song taews (Taxi trucks with 2 bench seats) and Tuk-Tuks (3-wheeled open cabin motor trikes) for hire, this author guarantees that by taking an early morning ride on a bicycle around the city you will experience and see more of the kind people and memorable sights that make this ancient place truly unique among Thailand's cities.
There are a wide range of places to rent a bicycle in Chiang Mai, depending on your needs. Here is a list to help you in your search: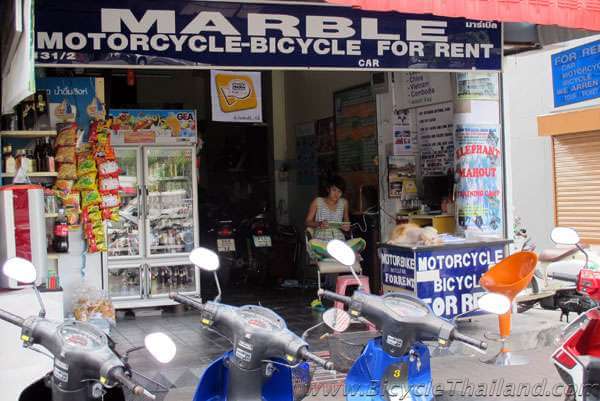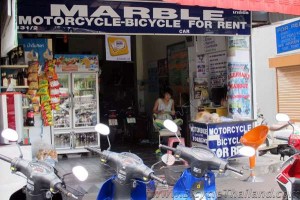 Your hotel or guesthouse. Many hotels and guesthouses in Chiang Mai now offer bicycles for rent at an hourly or daily rate. Some hotels and guesthouses have bicycles that are FREE for use by their guests! Single speed city cruiser style bicycles are what will be available at hotels and guesthouses. Quality will vary. Higher quality and name brand mountain bikes and road bicycles should not be expected from hotels and guesthouses. Approximate rates: 20-40 Baht/Hour, 30-80 Baht/Day.
Rental shops. There are several rental shops along the Eastern (Moon Mueang Road) and Northern (Sri Poom Road) moat roads. These rental shops are easy to spot and most of them rent bicycles, motorbikes, and even cars. These shops rarely offer hourly rates, preferring to charge a daily rental rate for their bicycles that are usually of the standard single speed city cruiser style of bicycle. Many of these rental shops have better quality single speed city cruiser bicycles than what is available at hotels and guesthouses. Approximate rates: 120-180 Baht/Day.

Rental bicycles are not usually available at bike shops. There are a few exceptions, Cacti Bike is a great source for well-maintained rental bikes.

Bicycle shops. Across Thailand rental bicycles are not usually something that you will find inside bicycle shops. In Chiang Mai however there are a few exceptions. Cacti Bike on Singharat Road has a great selection of rental bicycles starting at 200 Baht/Day for well-maintained single speed city cruiser bikes and 350 Baht/Day for good quality (Trek and similar brands) Mountain Bikes. The owner of Cacti Bike (Mr. Sak) includes a bike lock and repair accessories with every rental. LA Bike Shop on Mahidol Road has single speed city cruiser bicycles for rent for 100-180 Baht/Day.
Bicycle Touring Companies.Few people realize that many bicycle touring companies offer good quality rental bikes on a daily, weekly, and monthly basis to customers without having to book one of their organized tours. If you're looking for mid to higher level quality mountain bikes and road bikes, and are willing to pay a bit more, than you should check out the following tour companies in Chiang Mai: