Bicycles are simple and reliable, but they must be properly maintained for safe operation. Here's a simple checklist of things to consider before purchasing any secondhand bike.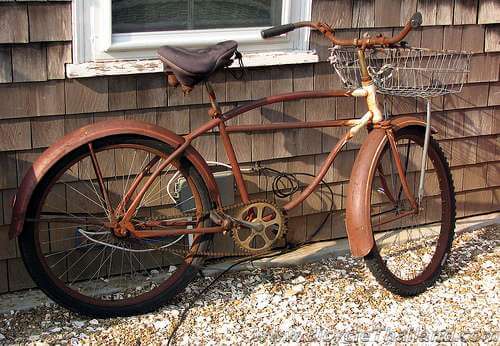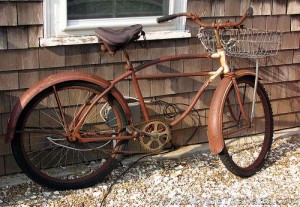 Frame/Fork: Paint chips are like beauty marks; they're inevitable, and may add character to a bicycle. When purchasing a secondhand bicycle expect some dings and scratches. What you don't want, particularly in aluminum frames, are significant dents. These can act as possible failure points in the frame. Carefully check the lugs or welds where the frame is joined together. Welds should be even. Cracking of any kind should raise a big red flag. Likewise, bends at the dropouts (where the wheels attach to the frame) is indicative of a frame that has seen significant abuse. There should be no play (fore and aft movement) in the front fork. Small areas of oxidation or rust are primarily just a cosmetic issue. Ensure that small bolt attachment points on the frame (water bottle cage, rack mounts, brake posts) have good threads and the bolts have not seized in place preventing future use.
Handlebars: Never ride a bicycle with handlebars that do not have some type of plug in the end. If you can see the hollow of the bars you must replace the handgrips or bar end plugs before riding. Plan on replacing worn or missing handlebar grips or bar tape.
Saddle/Seatpost: Replace torn or obviously worn saddles. There should be no play whatsoever in the saddle, its rails, or the  Verify that the seatpost clamp is free of cracks or obvious distress. If you'll need to raise the saddle height it is best to ensure that the seatpost has enough length to do so. All setaposts have an insert line. The seatpost must be inserted into the frame, at a minimum, to this line.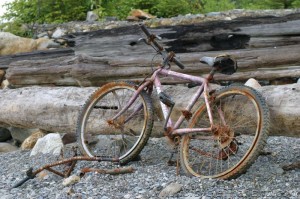 Brakes: Check for worn or dried-out brake pads. Check for cracked or bent brake levers. Expect to replace rusty or frayed brake cables. Brake action should be smooth and positive.
Drivetrain: Grasp the crankset arms and try to wiggle them. Any side-to-side movement indicates worn bearings or an improperly adjusted bottom bracket. The same applies to pedals. Replace a chain if it's rusty or has links that do not move freely. Pedal the chain backwards slowly to reveal tight links. Chains and rear gears become mated with use, so chain replacement may require the purchase of a new gear cassette. You should be able to shift into the largest and smallest rear gear without the chain moving into the wheel or frame. On bicycles with rear derailleurs, inspect the derailleur hanger for bends or cracking. Expect to replace rusty or frayed gear cables.
Wheels: As with the crankset, side-to-side play in a bicycle wheel indicates poorly maintained hubs. Squeeze the spokes with your fingers. The tension should feel equal across the entire wheel. Loose spokes indicate serious problems. Rims require periodic adjustment in order to remain straight. Stand over each wheel and spin the wheel while visually inspecting the wheel for any side-to-side motion. A small amount of side-to-side motion can usually be corrected. Rims should smooth and free from road impact damage. Tires should hold the rated sidewall air pressure. Replace tires exhibiting dry rot, worn tread, damaged sidewalls, or tears that expose sidewall wires or the inner tube.
Happy Riding!