Looking for professional bike fitting services in Bangkok, Thailand? Look no further than JJ Cycling Centre, conveniently located on the 3rd floor of Velo Fabric bicycle shop, on Thetsaban Songkhro Road, in the Talat Pracha Niwet area of Bangkok.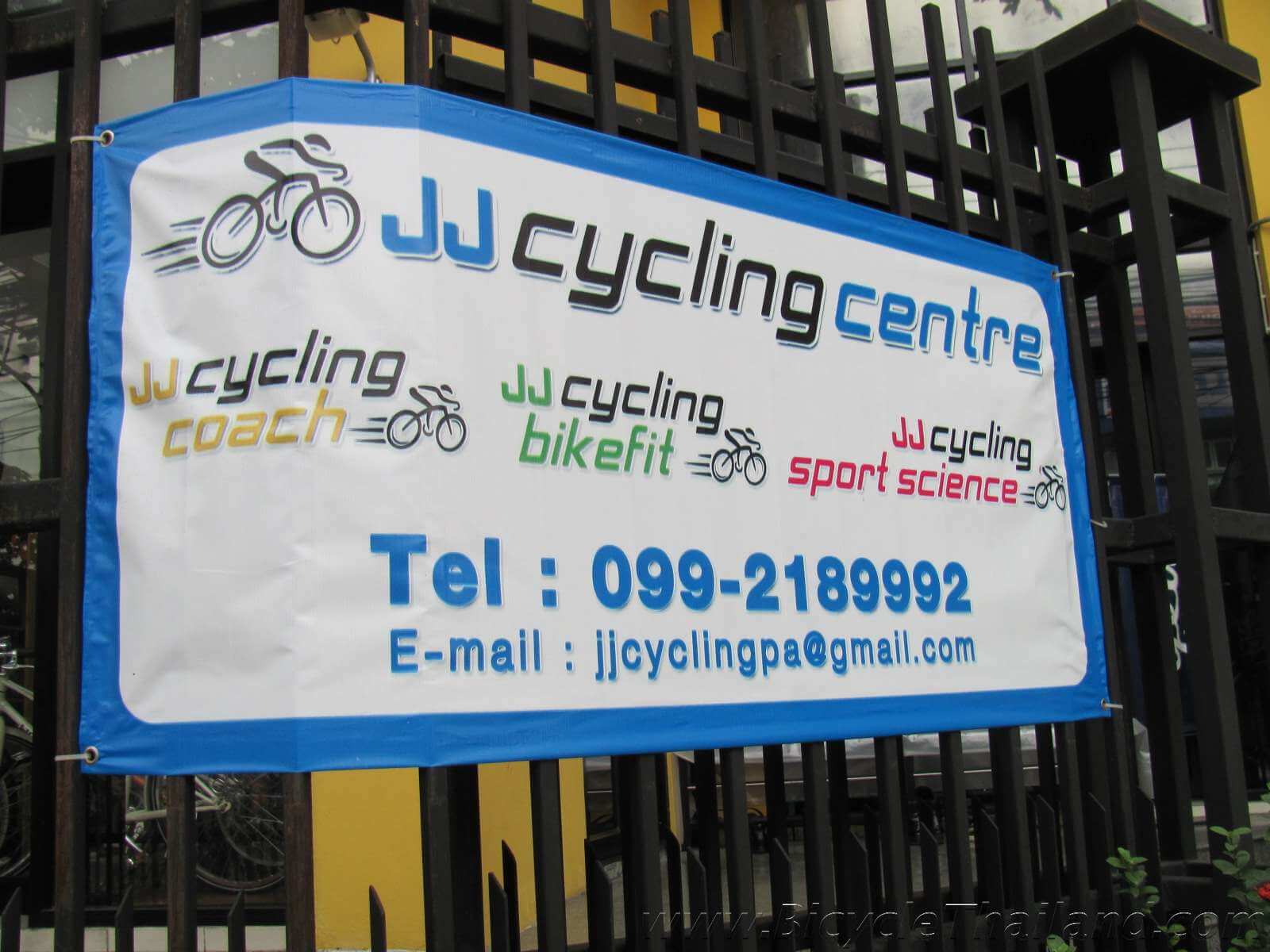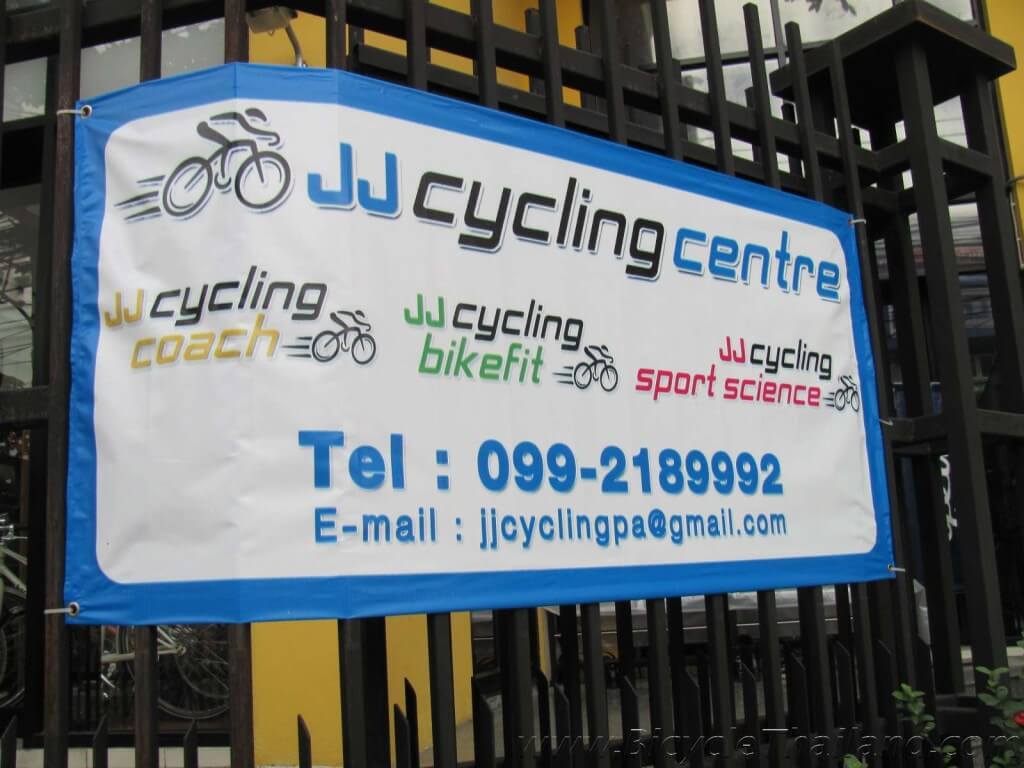 JJ Cycling Centre has partnered with Velo Fabric's owner, Khun Jack, to provide the residents and visitors to Bangkok a comprehensive bike fit and cycling coach service.
Assisted by Khun Panda, a certified Physiotherapist and JJ Cycling Centre's liaison to Thai coaching clients, JJ (John Julius) conducts an in-depth rider interview as the preliminary step before applying his Cyclefit-trained years of experience to asses and fit each individual client.
"If the client has tight hamstrings, poor flexibility in the lower back, or other cycling inhibitive ailments we will prescribe a course of exercises and stretches so that they can improve their position over time, and then we can assist them with small incremental changes to improve their performance on the bike," says Khun Panda, JJ Cycling Centre's certified Physiotherapist.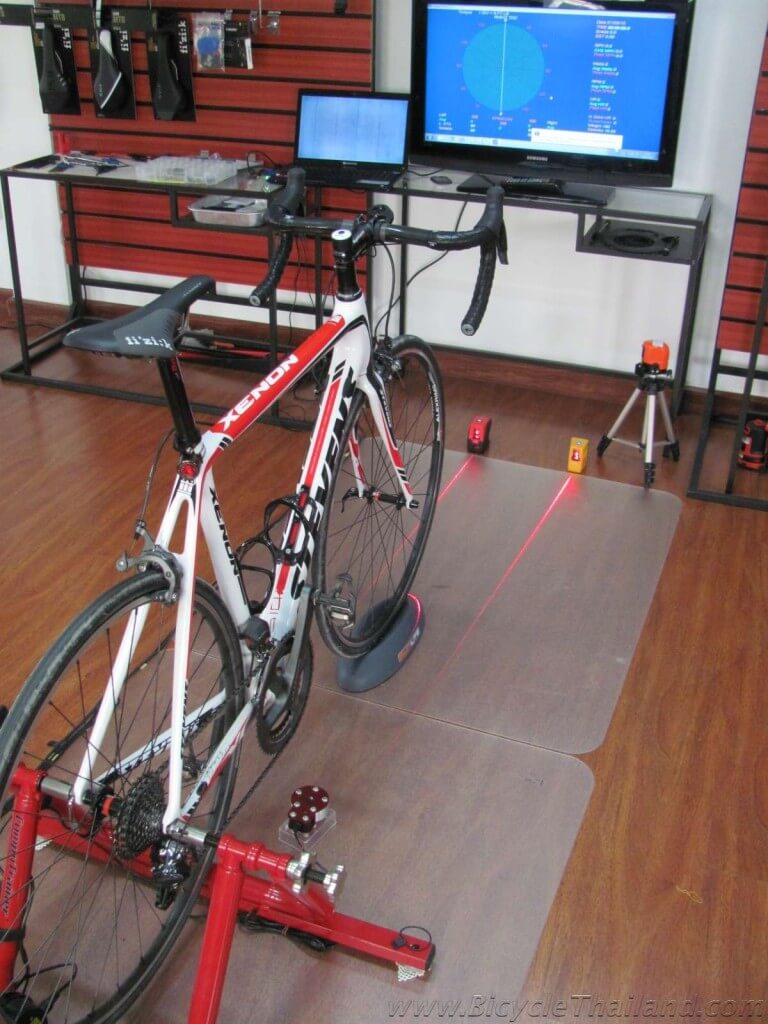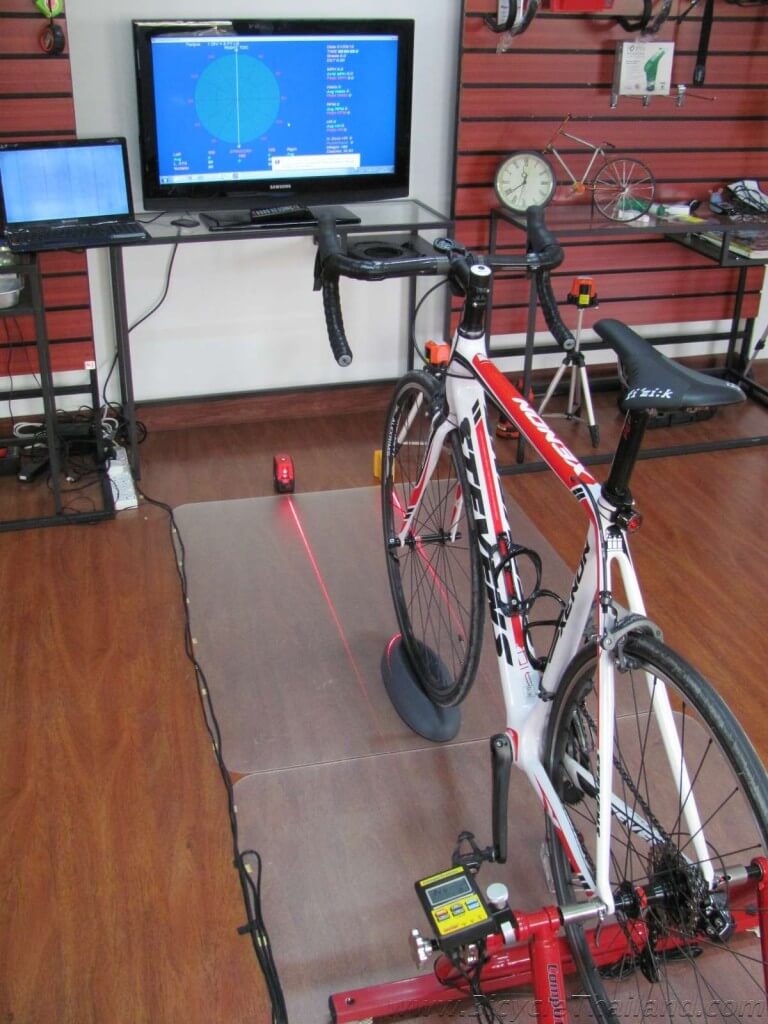 Client injury history and riding experience, as well as body dynamics and rider flexibility assessment (rider range of motion) culminate to produce important information used by the fit specialist and Physiotherapist team during the rider spin scan analysis. The rider spin scan analysis is done on the bike and is performed with the aid of positional lasers. The 'perfect circle' pedaling rhythm of the rider, along with the amount of power being produced (measured in Watts), is evaluated in conjunction with overall rider position and balance on the bike. The whole bike fitting process takes from 2 to 3 hours.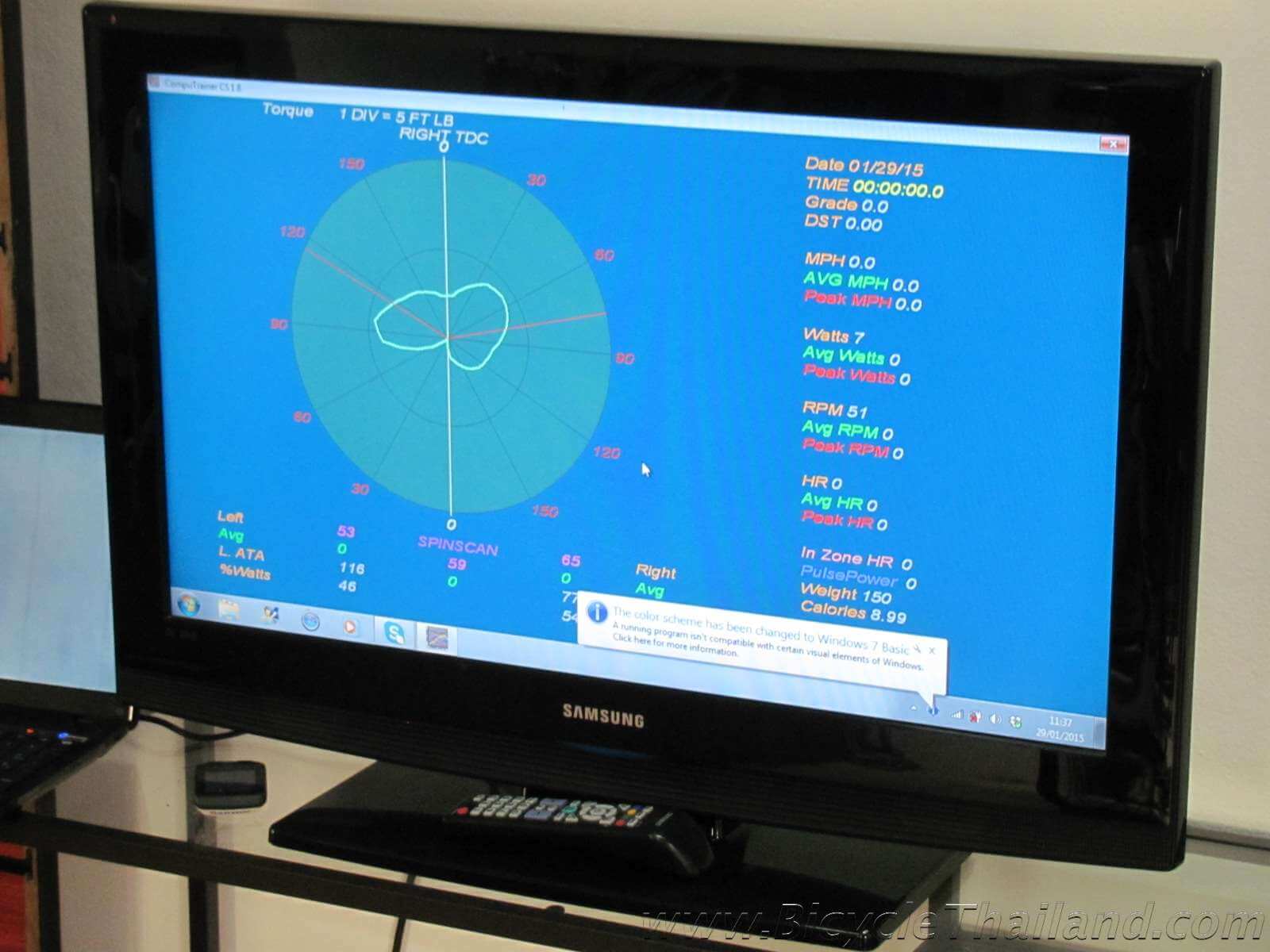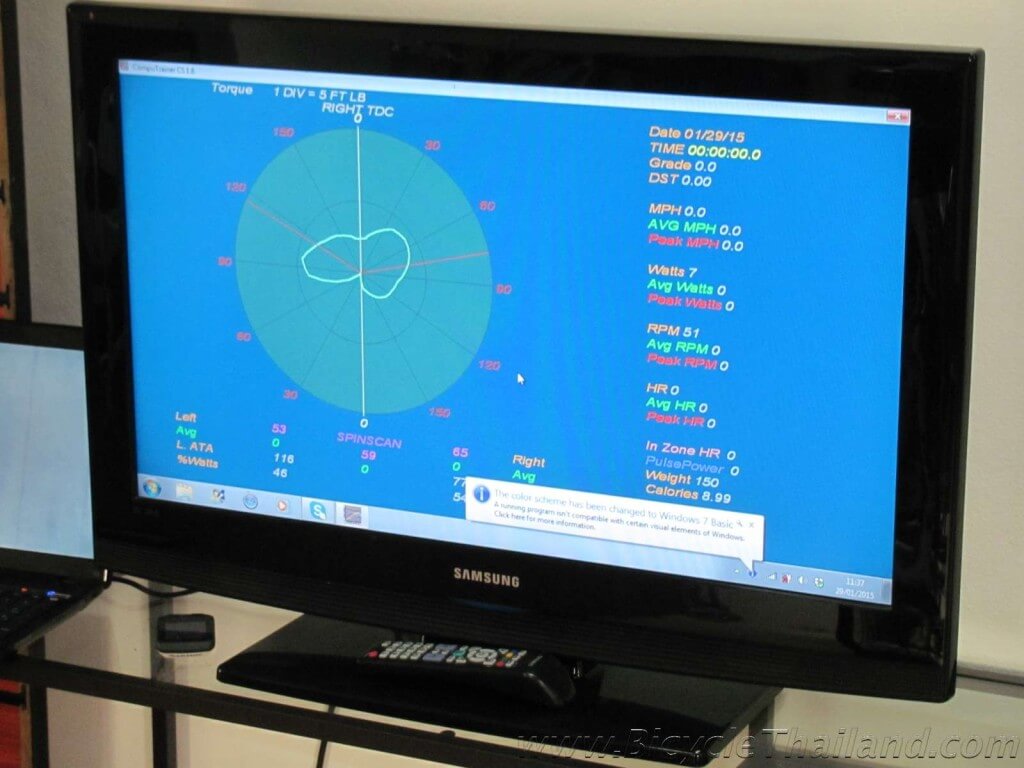 JJ says, "The three most common things I encounter when doing a bike fit are improper stem length, handlebar width, and the wrong positioning of cycling shoe cleats. That's why I start with the client's feet and shoes, and then work my way up from there. Pronation of the foot, tight hamstrings, and a limited range of motion in the lower back all play key parts in a proper bike fit. Having a certified physiotherapist as part of the bike fitting process enables me to properly asses these issues and account for them during the spin scan analysis phase of the fit process."
JJ Cycling Centre, in addition to a professionally trained Cyclefit coach and a certified Physiotherapist, has a private car park for clients, a changing room and a shower, and access to a wide range of bicycle replacement parts and highly skilled mechanics all in one location, making it a true 'one stop shop for bike fitting'.
Having experienced mechanics on hand to make on-the-spot adjustments, repairs, and install replacement parts to the bike you're being fitted to makes for a seamless experience.
Clients can book a bike fitting session by calling 099-218-9992, 7 days a week from 9am-9pm. Bike fits are performed 4 days a week during normal working hours at JJ Cycling Centre, but they do make exceptions for clients who require to book a fitting outside of normal working days/hours.
1st Bike Fitting (new client) – 5,000 THB
Cleat/Shoe Change / Pedal Setup – 1,500 THB
2nd Bike Fitting (return client) – 1,500 THB
JJ Cycling Centre is a 10 minute taxi ride from MO CHIT BTS
JJ Cycling Centre
3/7 Soi Thetsaban Rangrak Tai
Khwaeng Lat Yao, Khet Chatuchak
Bangkok 10900
ภาษาไทย [+]
JJ Cycling Centre
3/7 ซอย เทศบาลรังรักษ์ใต้
แขวงลาดยาว เขตจตุจักร
กรุงเทพฯ 10900 Tel. 099-218-9992
GPS – N 13.840150, E 100.546450
---
New location (updated October 7, 2017)
Bike Fitting – Cycling Coaching – 
Lactate Fitness Testing – 
Training Camps
JJ Pro Cycling Centre
84/33-35 Moo 2 Soi Wat Bang kutee Thong Tiwanon Road
Thombon Bangkadee, Mueang Pathum Thani
Pathum Thani 12000
ภาษาไทย [+]
JJ Pro Cycling Centre
84/33-35 หมู่ 2 ซอยวัดบางกุฎีทอง ถนนติวานนท์
ตำบลบางกระดี อำเภอเมือง
จังหวัดปทุมธานี 12000 Tel. 091-549-5362, 091-416-1464
www.jjprocycling.com