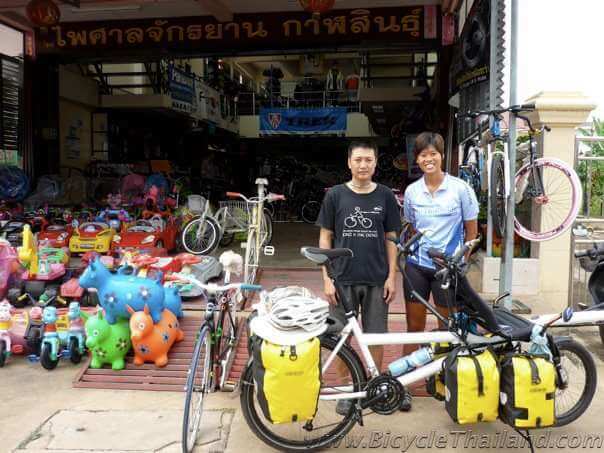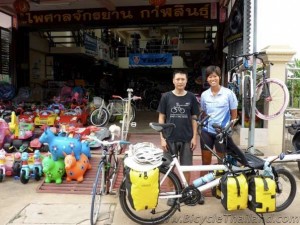 Kalasin has a very large and well stocked bicycle shop. On the outside it looks like a normal LA Bicycle shop, but upstairs in the 'Pro section' they have the most complete amount of high quality accessories and equipment that I've only dreamt about in Thailand.
I find that a fair amount of the bicycle shops in Thailand have a limited range of equipment and accessories. Shop owners seem to think that 1 or maybe 2 items provides enough choice, anything else is a waste of space. It also seems that high end products like POLAR water bottles, test saddles (although I have seen more of these around lately), and other cool products just don't make it on to their showroom floors.
When I imagine a good bicycle shop, I think of one which has 10 different brands for each product and an actual range of items that are all different in price, specifications, and quality. In reality, I find that you need to visit 10 shops to get any range and it can be very frustrating.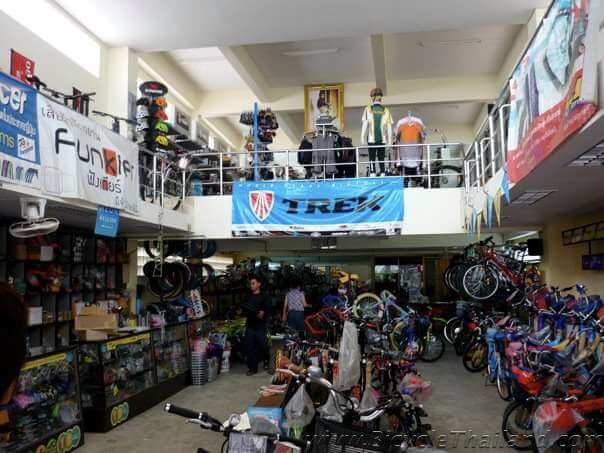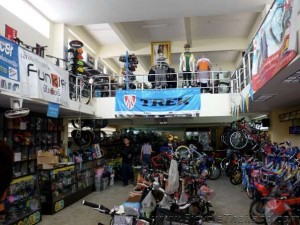 Pisan Bike relieved all of that frustration. This bicycle shop had 5 different brands of folding tires, 5 different brands of gloves, 5 different brands/types of water bottles, 5 different brands of stems, and the shop owner even had touring mud guards that ranged from what I would call 'cheap' all of the way up to 'high quality.' I think you get the picture… and the shop's showroom floor was laid out in a logical and useful manner.
Pisan Bike (LA Bike Shop – Kalasin)
310 Thanaphon Road
T. Kalasin A. Mueang Kalasin
46000
ภาษาไทย [+]
ร้านจักรยานพิศาล (ร้านจักรยาน LA สาขา กาฬสินธุ์)
310 ถนนธนะผล
ตำบลกาฬสินธุ์ อำเภอเมืองกาฬสินธุ์
จังหวัดกาฬสินธุ์ 46000 Tel. 043-816-977, 043-816-988, 085-850-7999, 086-223-8855
GPS – N 16 26.158, E 103 30.694
I didn't go into this shop to purchase anything in particular, but just seeing that someone had put so much time and effort into the layout of the store kept me searching through the seemingly endless aisles of cycling goods. I ended up spending a couple of thousand baht to support this shop and show my appreciation to the owner. As far as I'm concerned, this shop is a MUST visit.