Phuket to play host to Thailand's first ITU Long Distance Triathlon Series
9th/10th November 2013
Attracting Athletes from around the world to the Island of Phuket and
broadcasting in more than 120 countries and to over 336 million viewers worldwide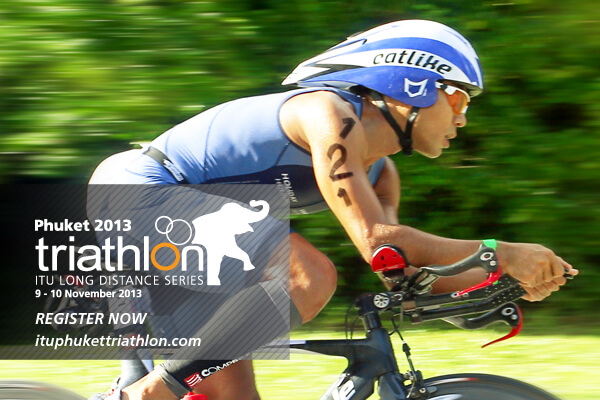 PHUKET, Thailand – Organisers of the inaugural 2013 Phuket ITU Long Distance Triathlon Series event presented by the Absolute World Group are proud to announce that Phuket has been chosen as host of the Long Distance Triathlon Series (LD) event under the International Triathlon Union (ITU) banner. The event is part of a triathlon weekend on Phuket which will take place 9th and 10th November in Patong, Phuket, Thailand.
The weekend starts with a Sprint triathlon (750m swim, 20km bike, 5km run), Olympic Distance triathlon (1.5km/ 40km/ 10km) and relay events on Saturday 9th November as part of the ITU Asian Cup, followed by the headline event the 2013 Phuket ITU Long Distance Triathlon Series event presented by the Absolute World Group on Sunday 10th November, which comprises a 3km swim, 80km bike and 20km run. Each event will be capped at 500 competitors for 2013 and following an early expression of interest over 300 Athletes have already registered.
There are Elite and Age Group categories, with world ranking points available and prize money in excess of US$40,000 (approximately THB1.2 million) for the 2013 Phuket ITU Long Distance Triathlon Series event presented by the Absolute World Group.
"We are delighted Phuket is one of the hosts for the 2013 ITU Long Distance Triathlon Series," said ITU President and IOC Member Marisol Casado. "We are confident the local organising committee, with the support of the Absolute World Group, will host a great event that will generate high interest in both triathlon and the beautiful island of Phuket."
ITU is the global authority for the sport of triathlon and one of their overriding aims is to encourage participation and spectators. In line with this, the course will start and finish in Patong, the Island's largest population and tourism centre, and will include a series of loops ensuring spectators can view the action up close.
Presented by the Absolute World Group, the event forms part of a series of CSR initiatives to mark the Group's 15th Anniversary year. A leader in resorts and mixed-use real estate, the Absolute World Group wish to bring triathlon to the people and through the 2013 Phuket ITU Long Distance Triathlon Series event aims to encourage visitors, provide further support for tourism and local businesses in the area, and develop a healthier lifestyle for the benefit of the local community and holidaymakers alike.
Organisers are working closely with the Asian Triathlon Confederation (ASTC) as well as the Thai triathlon community to encourage more local and regional participation.
"Triathlon in Thailand is growing in popularity. We are excited that Phuket is hosting a world-class ITU Long Distance Triathlon event. This is a great opportunity for Thai athletes and all athletes around Asia to compete shoulder-to-shoulder with top elite and age-groupers from around the world," said Vijitr Sittinawin, President, Triathlon Association of Thailand.
"There has already been a lot of interest from national associations, particularly in Asia, wanting to send their national teams and age groupers to join. We expect a strong turnout and a highly competitive field with some big name sponsors and further prizes to be announced," added Khun Vijitr.
Registration is available from 9th February at www.ituphukettriathlon.com.