Originally posted as 'Pedal power to open up the Mekong' in
News section of TTR Weekly February 27, 2012. Article by Wanwisa Ngamsangchaikit
CHIANG RAI, 27 February 2012: Tourism Authority of Thailand partnered with the Chiang Rai Bike Association  to embark on an eco-bike tour experiment, 25 February, that will explore roads and tourist facilities in neighbouring Laos and China over the coming week.
Eco Bike Tour: Thailand Gateway to Mekong Sub-Region 2012 runs to 3 March to promote cycling tours through Chiang Rai province and to Laos and Yunnan province in China.
Cyclists and accompanying media, met with Chiang Saen Sub-district Municipality Mayor, Chayagrit Nissaisook, who officially declared the tour open at the riverside town's historical monuments.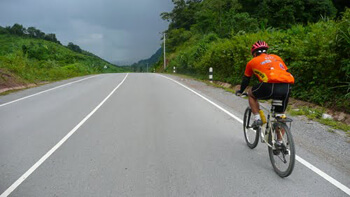 "This product testing will raise awareness of the province and will encourage the community to take care of ancient ruins for future generations."
There are 76 ancient ruins in the sub-district of which 72 sites are abandoned temples and the remaining four continue to be places of worship with monks in residence. They are: Wat Pha Khao Pan; Wat Phra Chao Lan Thong; Wat Pong Sanook and Wat Chedi Luang.
Cyclists toured the historical sites before heading off to Chiang Khong around 100 km southeast of the town.
TAT's product promotion department assistance executive director, Wanchai Reungudom, said TAT was aware of the negative impact tourism had on the environment and was therefore testing what it called "Eco Bike Tours" aimed at cycle enthusiasts. The survey covers Chiang Saen to China's Jinghong (Chiang Roong) following route R3A that crosses the Mekong River at Chiang Khong in Chiang Rai province to Huay Xai in Laos' Bokeo province.
"This is an expanding market today and we want to show it is possible to organize cycle holidays all the way from Thailand to China."
Mr Wanchai added: "It will also build awareness for quality tourism and encourage visitors to look at a mode of transport that is environmentally friendly."
Chiang Rai is already attracting cycle tourists from Singapore. Many of them stay at Le Meridien Resort and do day cycle rides in the province's hill country with climbs reaching almost 1,000 metres and rolling hill circuits at altitudes of 400 to 500 metres, perfect terrain for race training.
Chiang Rai province is often compared to regions in northern Spain where Tour de France race teams do their pre-season training at similar altitudes and temperatures during November to March.
Most of the holiday cyclists riding in Chiang Rai are coming from Singapore, but due to the lack of direct airline services, they have to fly Bangkok and then connect with domestic flights.
The eco bike tour is focusing on leisure travellers who want to tour on bikes with support from travel agencies supplying accommodation and meals.
The only drawback is the state of the R3A road, which has been damaged by heavy truck traffic. The terrain is tough with some very difficult climbs and very few stops on the way for refreshment.
The cooperation between TAT and Chiang Rai Bike Association began in 2008 to support the Tour of Mekong following an objective to create new tourism routes.
The 537 km cycle component of the Eco Bike Tour 2012, along the R3A highway, got underway in Chiang Rai's Chiang Saen and then stopped at Chiang Khong in Thailand where the group crossed to Lao PDR's Huay Xai. From there the route will cover Wiang Phuka, Luang Namtha, Baan Nateoi, Boten and to China's Muang La-Muang Loon and Jingjong.
There are 42 cyclists on the survey tour, while the TAT is sponsoring media to report on their progress. TTR Weekly is participating in the trip.