Hello fellow bicyclists,
Thank you for taking a couple of minutes to read this. It might be very interesting to you….
My name is Greg Joyner and I am an American living in Chiang Mai, Thailand. Before I moved to Chiang Mai I was a member of a group of tandem riders in San Diego, California. The group is called "The Blind Stoker's Club".
This group in San Diego makes connections between people who own tandem bicycles and people who are blind. Many of these blind people have never experienced the bliss of travelling at speed through the wind and space on a bicycle. But because they are now riding with a person who is guiding them on a tandem bicycle…. they are now able to experience the joy and freedom of bike riding. I think that this is an incredible gift for one human to be able to give to another.
With this in mind, I am working on starting a group like this here in Chiang Mai. The purpose of the group would be to benefit anyone who is blind or physically challenged in any other way, or simply underprivileged because of their life circumstances. Our title for the group is Pedal Pals of Siam. You can visit Pedal Pals of Siam on FaceBook here.
For purposes of providing credibility to this message…. please feel free to contact the admin / president of the San Diego Blind Stoker's Club to confirm that I was, and still am, a member in good standing of that club. In fact, Dave has been invaluable to us here in Chiang Mai in terms of providing encouragement and direction as to how to best form our club here. Here's Dave's contact info if you want to check us out: "Dave White (BSC)" director@blindstokersclub.org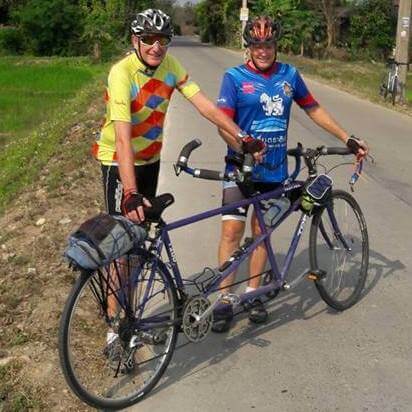 I have a friend, Dell Edwards, who has been riding bicycles with me here in Chiang Mai for over 4 years. Dell and I have already had a meeting with the director of the Chiang Mai School for the Blind, in which the director expressed enthusiasm for having his kids gain the experience of cycling with us on tandems. We have a tentative schedule for our first ride sometime in mid May. In addition, we have also had a meeting with the director of the Chiang Mai Association for the Blind, which has over 200 members. The director of this association has also expressed interest in our proposal.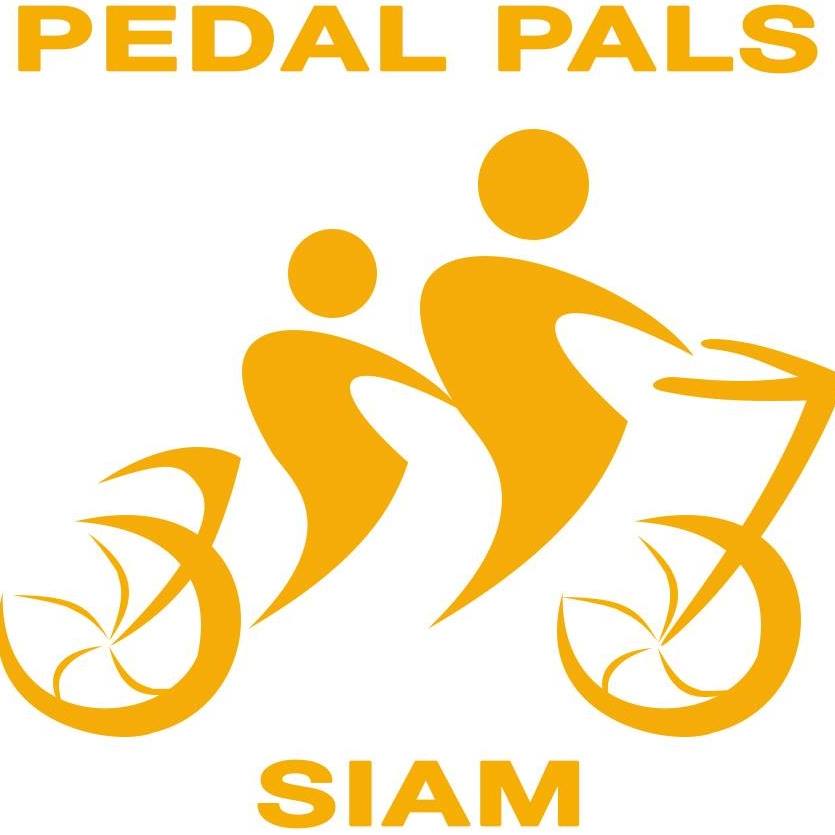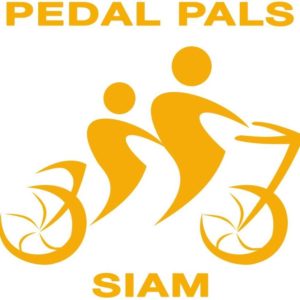 We already have one tandem here in Chiang Mai. This is my personal tandem, which a friend of mine brought over with her when she visited in December. We are now reaching out to other people living here in the Chiang Mai area and also our friends and family around the world,
hoping to be able to get at least 5 more tandems for the club and more members to be captains. If this is of interest to you we would love to hear from you. If you have a tandem and you would like to join our group please contact me.
I have found one shop here in Chiang Mai that sells fairly high quality, foldable tandems that would be great for the club because they are easy to transport if needed. The cost of these tandems is 48,000 Thai Baht each. At current exchange rates that's about 1,315 US Dollars. After buying helmets and gloves and the rest of the stuff needed to keep the blind kids safe, we're probably looking at about 1,400 US Dollars for each fully outfitted tandem.
To this end, we have created a donation campaign with GiveAsia. You can learn more details and give a donation on our GiveAsia campaign page here.
This donation campaign has to be tied to a bank account and one of our founding members, Tricia Lui, has agreed to let us use her account in Singapore. For this reason, all donations are automatically converted into Singapore dollars. At the current exchange rate of about 1.4 to 1 US Dollar, this means that a donation of 25 Singapore dollars is just under 18 dollars US.
Please help us to achieve the goal of helping the blind children of Chiang Mai to experience the joy and freedom of cycling through riding on tandems with us. Thank you very much for your generosity.
And please don't hesitate to share this letter with other cyclists that you feel would be interested in helping us to make this tandem club a success. Thank you very much for your time and consideration and… let the fun begin……
Sincerely,
Greg Joyner
PS – For our friends back in America and other locations around the world…. If any of you would like to come and visit us in Chiang Mai we would be very happy to give you tours of the surrounding countryside on bicycles. It's a great riding area and the people of Thailand are warm and gracious in their reception of foreigners. Come on over.