In between working and studying, it isn't very often that I have a free morning to enjoy cycling for cycling's sake these days. I was idly chatting with a friend about possibly enjoying one of my favorite day rides around Chiang Mai when he mentioned a park to the south of town I had never heard of. It caught my imagination and so I decided to go find it.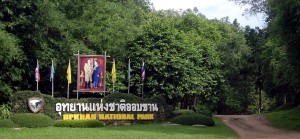 Opkhan National Park is built around a natural gorge through the hills just a little southwest of Chiang Mai. Its main attractions are its campgrounds and a hiking trail that runs along the gorge. It is approximately 30km from the city of Chiang Mai, depending on where you are staying. The map shown here takes you out of town along the Ping River and then parallels the mountain range that Doi Sutep is part of. The road along the river is a little narrow at times, but I find that the traffic in Chiang Mai is quite good at sharing the road with cyclists. As you get further from the main city, there is less traffic and fewer buildings, allowing you to take in the scenery of the northern Thai countryside.
Not long after turning south on Highway 121 I started seeing signs for Opkhan National Park. As soon as I had a feel for how far away it was, I decided to try to get off of Canal road and explore some of the Thai neighborhoods. Imagine my surprise to find a newly paved black top running through the neighborhood in the direction of the park! I sped along on this lovely road for about 3km before turning west again and heading into the hills.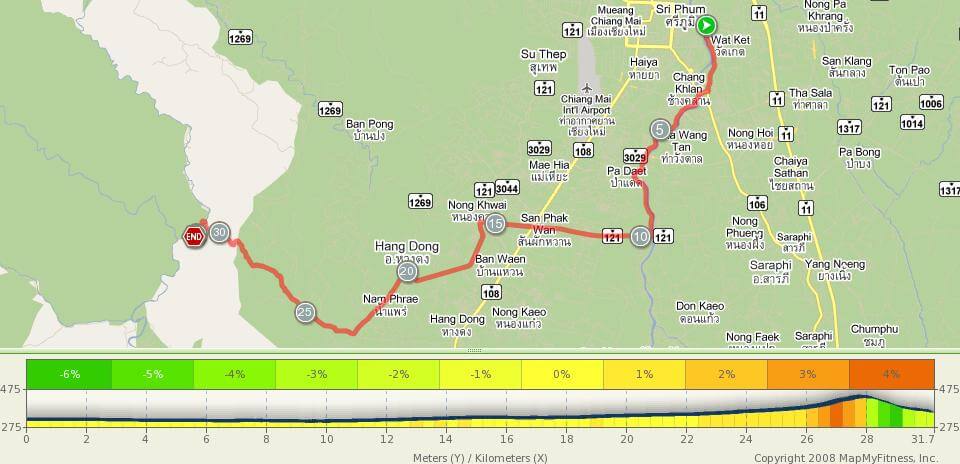 I started noticing more signs to Opkhan, but no matter how close I got it seemed they kept telling me that there were 6 more km to go. So when I crested the hill that came to the check point of the park, I decided I better refill my water bottle, since I really had no idea how much further I was going into the hills. The guards were kind enough to let me get a drink from their water tank and I exhausted my entire vocabulary of Thai words in trying to answer their questions and thank them for the water before I headed onward into the park.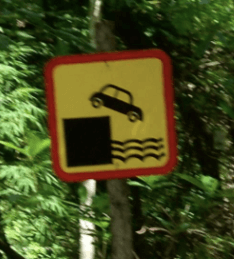 The roads in the hills are well-maintained and scenic. The turns in the road weren't sharp enough to give me any worries on the bike so I let gravity have its way and enjoyed the payoff for the uphill work I did to get there!
The last few meters into the park are my favorite kind, all dirt and mud. Unfortunately (or fortunately if you have a road bike), there wasn't very much of that kind of riding, but I enjoy it where I can.
The park grounds themselves are relatively small, but there is a nice outdoor restaurant where I again exhausted my small storehouse of Thai with the friendly cooks while I ordered my lunch. They don't have menus, so brush up on your favorite Thai dishes before you head out there. You can picnic by the river if you like, or sit at the restaurant that overlooks the river. And, if you haven't had enough exercise, the hiking trail is a great adventure!
---
The above route is a leisurely road ride to reach Opkhan National Park. However, the Opkhan National Park area has great potential for mountain biking and can easily be used as a starting point for some epic off-road riding. The trip from Chiang Mai city center out to Opkhan National Park is approximately 30 km of driving via Road #108 > Road #121 > Road #3035 (Canal Road) > Road #4037.
Here are two GPS tracks and a rough guide to an off-road ride that can be done by starting at the Opkhan National Park car park.
Track 1 – Approximately 27 km of Ban Huay Thong (download .gdb file)
Track 2 – Approximately 25 km of riding along Khanin river (download .gdb file)
Start point – GPS – N 18.718970, E 98.823758
Head south from Opkhan National Park Centre (car park area) through and along river to Ban Huay Thong
Ride single track loop at Ban Huay Thong
Continue through rice fields to Wat Mai Hua Fai
Ride single track loop at Wat Mai Hua Fai
Return to Opkhan Road via quarry road and single track