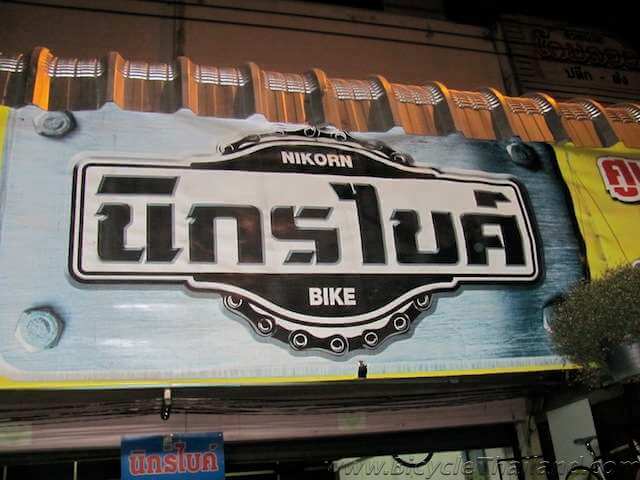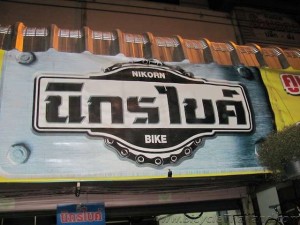 I usually have the opportunity to cycle in northeastern Thailand about once every year and I'm always happy to discover new places and people during my trips. After all, aren't new discoveries a big part of why we ride bikes? Sometimes on my travels I'm pleasantly surprised to learn more about, or discover for the first time, a place or a person I've only had chance to cycle by in earlier years. My latest visit to the provincial capital of Mukdahan, and my need for a new rear tire and a few extra bicycle bits, provided me with just such an opportunity. My plan was to arrive to Mukdahan, find a bike shop, buy a new rear tire and hopefully a chain, install it all myself late at night in my hotel room, and be rolling smoothly south along the Mekong River early the next morning.
I arrived in Mukdahan late in the afternoon and was relying on somewhat of a distant memory that I had of a bike shop located on the city's main thoroughfare which I had passed but never stopped at in my previous visits to the city.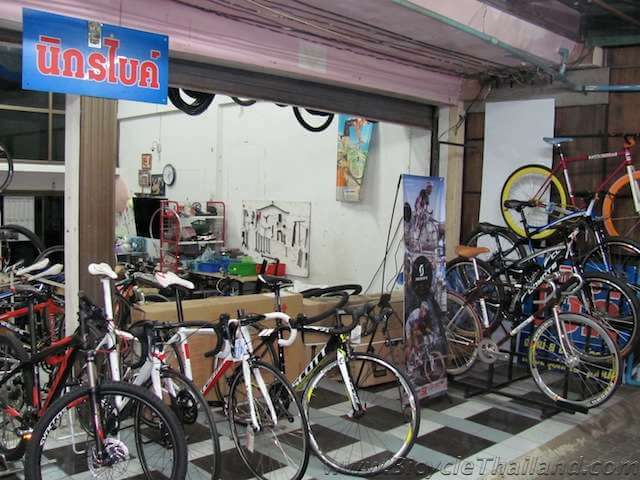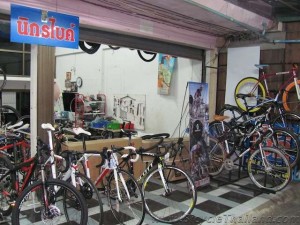 Would the shop have the correct tire? Would I find the chain I needed? Would the shop be open, or even in the place I think I remembered it being located?
I pedaled up to the shop, named Nikorn Bike as I was to discover, and was quickly greeted by the owner and operator, Khun Nikorn Khuapanyaa (นีกร เคื้อปัญญา). Khun Nikorn speaks good English and is an excellent mechanic. After explaining what I needed, a new rear tire was professionally installed (with the use of soapy water and an air compressor to ensure proper seating of the tire bead) on my bike and a new chain was ordered from a nearby 'friend' of Khun Nikorn. The chain was delivered to the shop in less than 30 minutes and Khun Nikorn had it sized perfectly and shifting smoothly in the short amount of time that I spent wandering his small showroom floor.
In my exploration of Nikorn Bike shop I discovered a photograph of the owner alongside Mountain biking legends: Steve Peat, Eric Carter, and Shaun Palmer at the 1997 UCI Mountain Bike World Cup race in Japan. Evidently this humble middle-aged Thai mechanic had not only rubbed shoulders with top riders, but had also ridden on and turned wrenches for some of the top mountain biking teams back in the day. Khun Nikorn's mechanical skills were evident to me when I watched him correctly seat my rear tire and skillfully adjust the newly acquired chain. The photo on the wall, the meticulously reconditioned rental bikes available from the shop, and the general disarray of boxed and displayed inventory (which his helpful wife seemed to have a better knowledge of than him) were all telltale signs of a skilled rider/mechanic turned bike shop owner. During my visit I noticed SCOTT and TOTEM brand bicycles on display and was informed that Nikorn Bike has the ability to order nearly every make and model of bicycle currently available in Thailand, with the exception of MERIDA and GIANT brands.
Don't judge this shop by its small size, cluttered appearance, or lack of shiny rows of brand new bikes. This is a family owned and operated bike shop, connected to and supportive of the local Mukdahan cycling community, with a skilled and competent mechanic whose humble and helpful manner preclude him from reminding you that he's changed a few more bicycle bits than most of us have ever dreamed of owning. Nikorn offers rental bicycles for 100-150 THB/day (special discounts given to those involved in education and charitable endeavors). In addition to organizing cycling trips in Thailand, Laos, and Vietnam and running his bike shop, Khun Nikorn regularly contributes articles to RACE BICYCLE magazine and provides rider training as well as bicycle repair advice on ThaiMTB.com forums.
This NEW discovery of a place, and a person that I had previously ridden by (perhaps many times) before is just one of the reasons I enjoy traveling through 'familiar' areas by bike. Stop in and pay Khun Nikorn a visit the next time you are riding in Mukdahan, or anywhere in the northeast provinces of Thailand.
Nikorn Bike
Mukdaharn-Dontal Road
T. Si Bun Rueang A. Mueang Mukdahan
Mukdahan 49000
ภาษาไทย [+]
นิกร ไบค์
ถนนมุกดาหาร-ดอนตาล
ตำบลศรีบุญเรือง อำเภอเมืองมุกดาหาร
จังหวัดมุกดาหาร 49000 Tel. 042-614-501, 086-994-6669, 081-601-0275, 087-215-5778
GPS – N 16.53243, E 104.73198