Article and photos by Andrew Bhasavanich
Educational institutions and organized sport go hand in hand. Some notable universities can even attribute their reputation to the level achieved by their respective sports teams. It is, however, less common to see the sport of cycling as a University-endorsed sport and even more of an exception in a football-crazy country like Thailand. Despite this trend, cycling advocacy in the Kingdom has been on a dramatic rise in recent years. On the forefront of this trend is a University- based group doing what they love best while at the same time promoting the sport of cycling.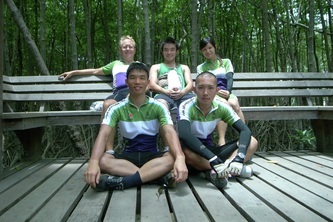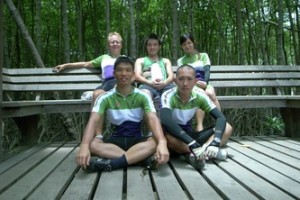 The Mahidol University International College Cycling Club is based at the Unversity's beautiful Salaya campus. The club was loosely formed by two teachers back in 2004 and has since grown from a casual social gathering to an organized cycling group with approximately 30 members. Most of the active participants are foreign students or Thai students with an international background. The group is overseen by club adviser Mr. Laird Allan, a faculty member of the University, who is himself an avid cyclist with years of cycling experience.
The club is further organized into a committee of five student core members. These five core members hold the positions of President (Nanae Aoki), Vice President (Ryota Anraku), Secretary, Event Manager, and Treasurer. There are club rides open to members and guests everyday after classes which are divided into; Novice (Mon & Wed), Ladies (Tue), General (Thur), and Advanced (Fri). Most new members are recommended to come on the Novice days when rides are more easily paced and generally of shorter distance. The faster and more competitive members ride nearly everyday and always show up for hard training on Fridays.
Most club rides average a distance of about 25-35 kilometers and are done in the areas of Phuttamonthon, Nakorn Chaisri, and Bang Yai. The club takes part in the greater cycling community through events like Bangkok Car Free day, which they have attended for the last four years. Recently, seven club members joined the attempt for the world's largest bicycle parade in Bangkok, which saw over 3,500 riders gathered in April of this year. Some of the club members will be competing in the Tour of Hua Hin this year, both in the King & Queen's Cup.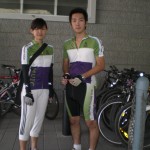 The main idea behind the club is the simple goal of encouraging more people to start cycling. Mr. Laird Allan is always happy to see new people getting bitten by the biking bug whilst the members try their best to help new entrants develop their riding skills. Veterans and more experienced members lead the regular club rides and make sure all riders are safe and accounted for.
Since the 2008 academic year the club has also supported a for-credit, physical education cycling course that is taught by Mr. Laird Allan. Many of the members are teaching assistants in the class and help with effective cycling techniques. They teach people the basics of riding a bicycle with an emphasis on safe road riding skills. The class has motivated many people to join the cycling club by reminding them about the simple joy of riding.
Any enrolled Mahidol University student is eligible for membership and the club happily welcomes participants from outside the University's student body. The University has provided 14 Wheeler, Giant and Haro mountain bikes and some members have offered their bikes on consignment. The available bikes are, however, reserved for University students so having your own bike would be ideal for guest riders. The group dynamic has an international feel to it and serves up a healthy dose of cycling camaraderie.
For more information about the club and its activities please visit www.muiccc.weebly.com