"Jai Sang Ma" Bicycle Race
Article by Thanakrit (Krit) Bandasakdi

In the early morning of Sunday July 8th, 2012, the Mahidol University International College (MUIC) Cycling Club gathered seven cyclists and three team facilitators to participate in the Jai Sang Mai Bicycle Race. The group headed to Bangplee, Samutprakarn Province aiming to race for glory as speed kings and queens.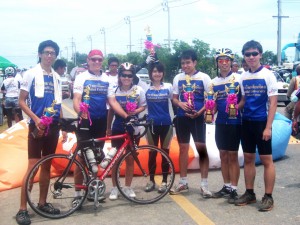 The course comprised three laps of a flat, canal-side road, approximately 18 km. each, making up a total distance of 55 km. The race was open to all age groups and genders, divided only into by bike-type: road, mountain, and fixed-gear. Four MUIC cyclists raced on road bicycles and the other three raced on mountain bicycles.
Shortly after a brief opening ceremony the road cyclists were released, followed by the mountain and fixed-gear bicycles respectively. Each group was released three minutes apart from one another. The cyclists began the race with overcast skies but within an hour the sun came out adding to the difficulty of the race. In addition to the heat, every cyclist found a strong head wind a big challenge.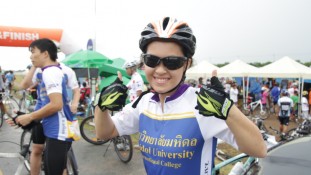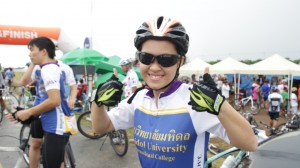 Despite having had limited training, all seven MUIC cyclists finished the race within 2:15 hours, with most less than two hours. The best time was, 1:29 hours, accomplished by Aj. Laird Allan, the club advisor. This was just six minutes behind the champion. Not only did the cyclists enjoy the race but the three team facilitators also played an important role in supporting the team through preparation of bicycles, snacks, drinks, registration, and cheering. It was truly important for the team to be there together and work side by side.
All in all, the MUIC Cycling Club members have promoted the good name of Mahidol University. They all enjoyed the race and are looking forward to participating in more challenging races. They also learned important lessons; teamwork, sportsmanship, and one plus one is greater than two.