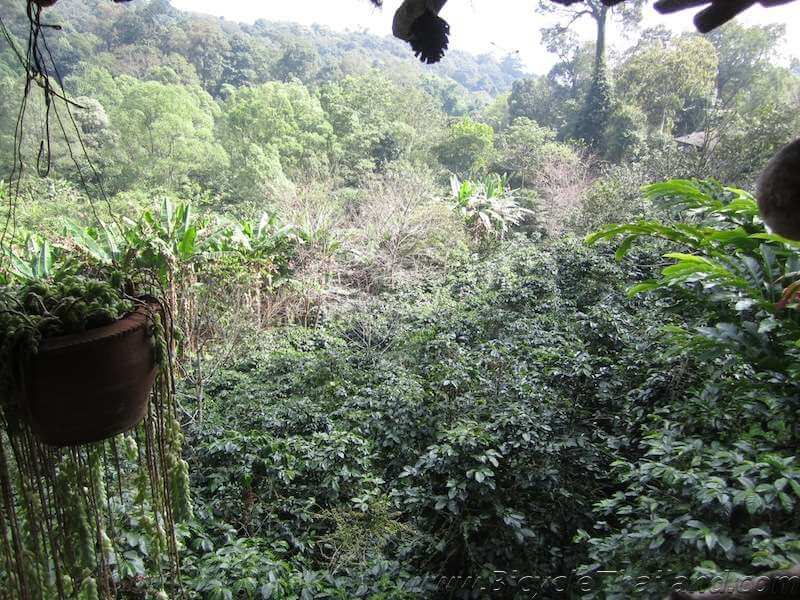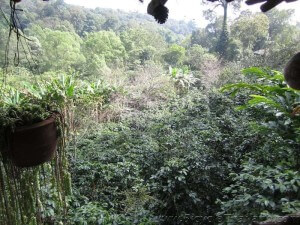 Last month I made it up to Chiang Mai and did a bike tour with Mountain Biking Chiang Mai during my stay. It was fantastic to get amongst the mountain scenery and quality trails that this special South East Asian region has to offer.
Mountain Biking Chiang Mai offers a range of different bike tour options from nature rides to cross-country and downhill, for any levels of rider. While my girl friend and I are usually cross-country riders, we decided to mix things up and take the company's Downhill Trip 4 along the Hunter's Escape Routes. However, even the nature and cross-country rides that the company offers start at the top of mountains and finish near the bottom to minimize the uphill grind and maximize the time having fun descending.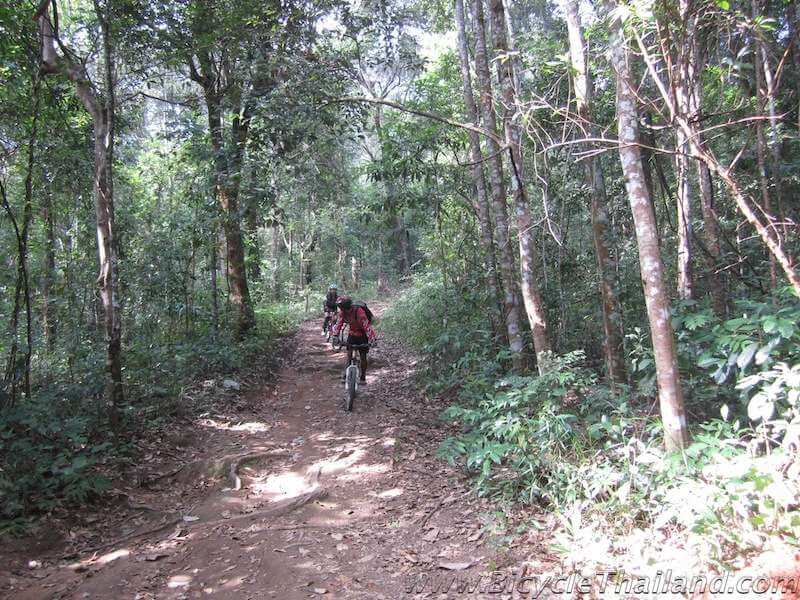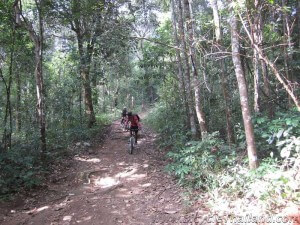 On the morning of the tour we were collected (a bit earlier than expected – be warned if you plan on enjoying a leisurely breakfast beforehand) from our guest- house in a pick-up truck and then collected a few others who would also be joining a tour with the company that day. Our next stop was at the tour company's office where we confirmed and paid for our ride, and were issued our bikes and safety equipment. Unfortunately the tour company didn't have a small enough full-face helmet for my partner so we ended up just making do with regular helmets.
Once all the bikes were loaded, we piled into the back of the pick-up again and drove to the starting location, about 45 minutes from the town of Chiang Mai, high up in Doi Suthep National Park.
After a safety briefing and skills overview we set off with our tour guide down a paved road that led us to an outdoor cafe nestled within the mountains. It was a beautiful spot for a caffeine hit before really getting started.
A short ascent to a hill-tribe village followed our coffee break and we then embarked on our downhill route. The trails were steep and rocky – consistent with the type of ride we'd said we'd like to do – and I enjoyed this technical challenge.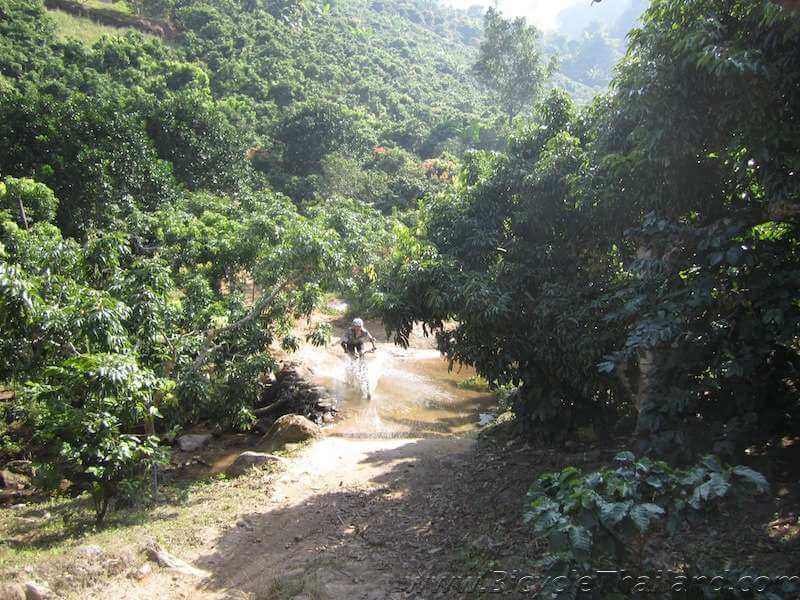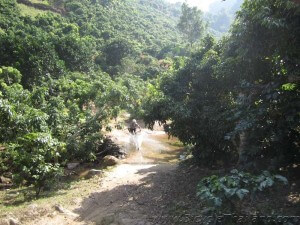 Although a lot of our attention was spent focusing on obstacles and maintaining our speed, we did stop for frequent rest breaks so we could appreciate the beautiful mountain views and our forest surroundings (in addition to our respective adrenalin highs).
Our tour guide, Khun Jay, was great at leading the way and tailoring the ride to the ability of my partner and I.  He warned of upcoming technical areas and any hazards, while also offering some handy tips to us on these trails. He really did go out of his way to make sure we were both enjoying the ride as much as possible.
Our tour guide was also accommodating in swapping bikes with me shortly into the ride as it was evident the front disc brake rotor on my bike was bent. My partner and I had been given full suspension 'Kona Stinky' Mountain Bikes on which to tackle the terrain. Apart from my front rotor, these bikes were in reasonable working order and suitable for our ride. Other customers on the cross-country rides were on full suspension Merida Mountain Bikes and these appeared to be doing the job well enough for them.
After reaching the bottom of our descent, we relaxed with a simple Thai lunch.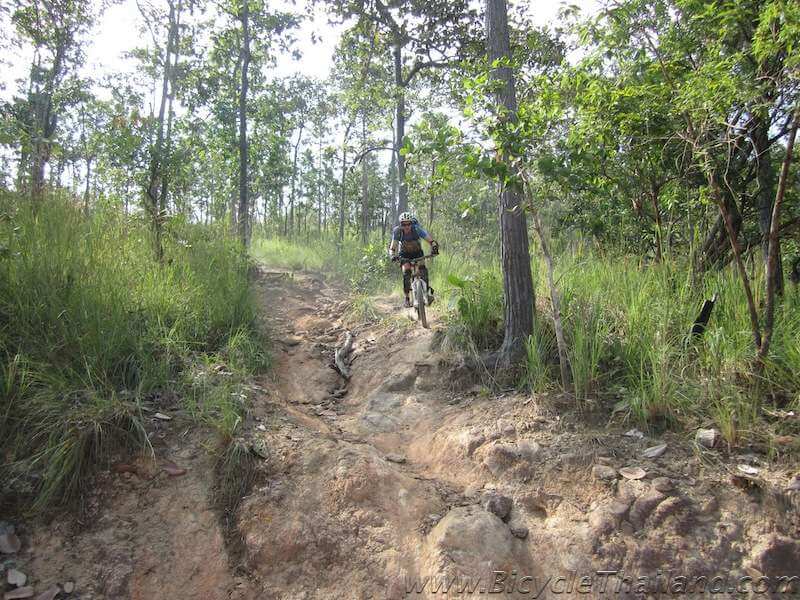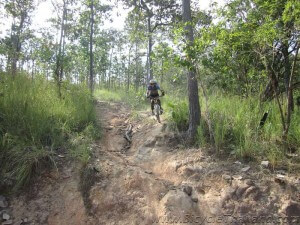 Reflecting on the ride, while it was fun, it really was all over rather quickly. While company's website says that riding time is 3-4 hours, less than half of this time was actually spent on the bike. Some other customers I spoke to who had done different rides that day (i.e. not the specific downhill rides) also felt like their 'on the bike' time had been quite short-lived. I think that a second downhill run with fewer and much shorter rest break(s) would be a good improvement on this experience of mountain biking in Chiang Mai.
Mountain Biking Chiang Mai
Phone: +66 081-024-7046 or +66 087-182-3642
Web: http://www.mountainbikingchiangmai.com/index.html
Email: info@mountainbikingchiangmai.com