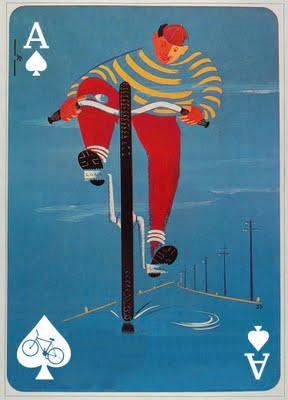 More Cycling Poker Runs Needed in Thailand
Since its television debut over two decades ago, poker has transitioned from being merely a gambling activity into a spectator sport. The media coverage, the high stakes, the intensity and the explosion in fandom all have contributed to poker's ranking as one of the world's most popular sports. As people that seek thrills by cycling through urban landscapes and mountainous trails, an interesting way to maximize an adrenaline rush is by creating a biking event with a poker twist. With poker's popularity in Thailand locals would have a field day with an event like this.
The competition isn't based on who crosses the finish line first, but rather who has the strongest hand upon completing the race. For those of you feeling less than confident with your knowledge of poker and you feel that you need to read up on poker strategies.
Let's get one thing straight – a cycling poker run isn't your average poker tournament. Participants of this kind of event will have five checkpoints spread along the route where they have to draw a card to help complete their hand. Once each participant cycles completes the track, coordinators of the event will then compare people's hands and reward the one with the strongest hand.
3rd Hua Hin Alleycat, widely known for its unique night biking events, is the first in Thailand to host poker-themed cycling competitions, the latest one being held back in November 2014. Weaving through the city's Saturday night traffic, participants rode to their checkpoints to receive their cards. In order to be eligible for the prizes at the finish line, riders had to present cards marked by volunteers to prove that they visited each checkpoint. Seeing how successful and exciting this tournament was, it'd be great if our community had more events like this one.
Though a cycling poker run is uncommon within Thailand's cycling community, other countries have shown their fascination with this kind of event. On the 23rd of this month, cyclists in Ireland have a chance to bike through the North Kerry countryside while collecting cards at their charity poker event, ending the race with a barbeque and drinks at McCarthy's Bar. Over in Charles Town in West Virginia, USA, the Panhandle Pedalers Cycling Club is organizing their fourth annual poker run on the 30th, inviting all cyclists to join, even if they prefer not to draw cards.