Last month, a good friend told me about a new bicycle cafe that she had seen while driving over the Hua Chang bridge in Bangkok's Ratchathewi district. Knowing that the shop was only a stone's throw away from the Ratchathewi BTS station, I quickly added it to my 'worth checking out' list of cafes to be visited during my next Big Mango foray.
When I did finally get to Bangkok at the end of January I was overwhelmingly pleased to find the shop to be more than just another bicycle-themed cafe. Instead of a coffee shop with a bit of bike decor I discovered The Moon Rider cafe to be a place filled with all of the guilty pleasures of the cycling fanatic owners, khun Veera and khun Joe (Joe Logo to his friends).
What Veera and Joe have created at The Moon Rider cafe is nothing less than a haven for cyclists who enjoy a cozy cafe atmosphere with the added amenities of a burger and fries restaurant, cycling races on big screen televisions, and an upstairs bank of high tech indoor cycle trainers.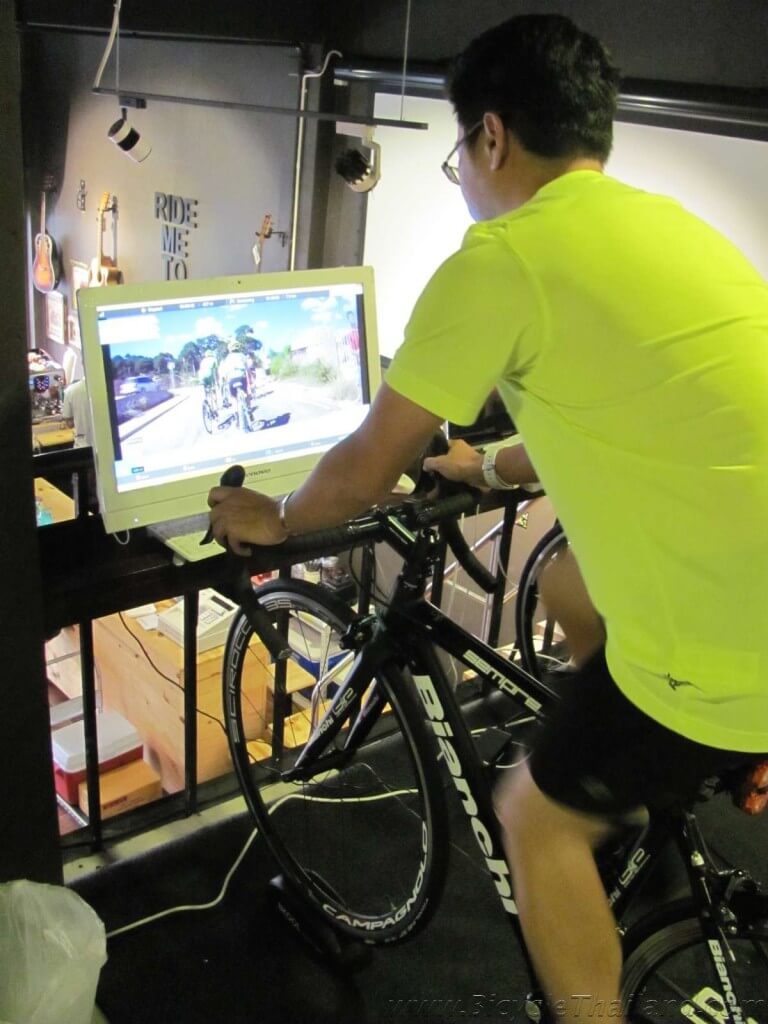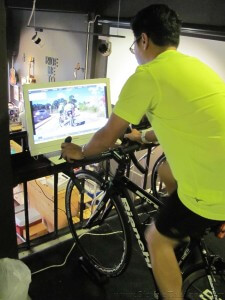 Veera is the Thailand distributor for the BKOOL brand of indoor trainers and he uses the second floor of the cafe as a demo space where visitors are welcome to test ride the latest models. Rider performance and interactive scenery footage is displayed on computer or television screens and users can invite other BKOOL owners to compete (locally or online) in head-to-head competition. Future plans for the cafe include an hourly membership package that patrons will be able to purchase in order to use the shop's BKOOL indoor cycle trainers, showers, and changing rooms.
Even if indoor cycle trainers, burgers and fries, beers, tasty coffee and desserts, and cycling events on large screen TVs doesn't get you excited to visit The Moon Rider cafe then the shop has one more trick up it's sleeve for you, a full bike wash and detailing center. The bike wash and detailing center, managed by Joe, will revive, restore, and rejuvenate any bike, new or old. Joe uses only the highest quality automotive detailing products to ensure the best results, which are well documented on The Moon Rider Facebook page. Shine up that old steed or have a protective glass coating finish applied to your newest pride and joy.
Stop by The Moon Rider during your next commute or Friday night ride for a meal, a coffee, or just dessert. Cool down with an ice cold beer or refreshing fruit smoothie and settle in to watch cycling action on one of the shop's televisions while your bike is being cleaned.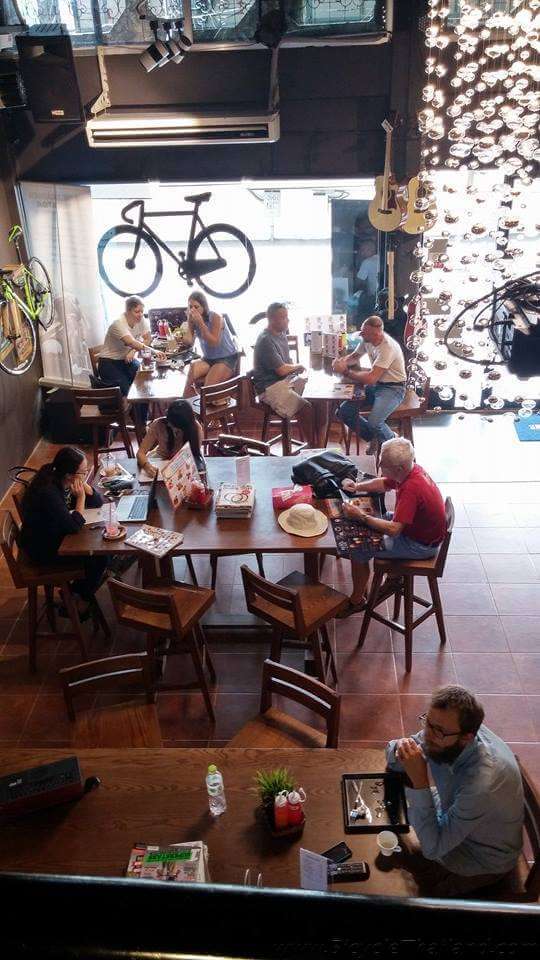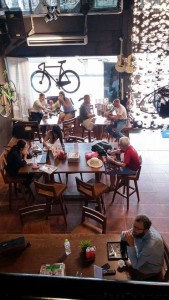 BIKE RENTALS – The Moon Rider cafe currently offers bike rentals for 500 THB/all day or 200 THB/3 hours.
The Moon Rider Cafe is open from 11am until 9/10pm every day.
BKOOL Thailand & The Moon Rider
121/78 Phayathai Road, close to Huachang Bridge (Use Ratchathewi BTS)
Khwaeng Thanon Phaya Thai, Khet Ratchathewi
Bangkok 10400
ภาษาไทย [+]
BKOOL Thailand & The Moon Rider
121/78 ถนนพญาไท
แขวงถนนพญาไท เขตราชเทวี
กรุงเทพฯ 10400 Tel. 081-801-9179
GPS – N 13 44.983, E 100 31.880