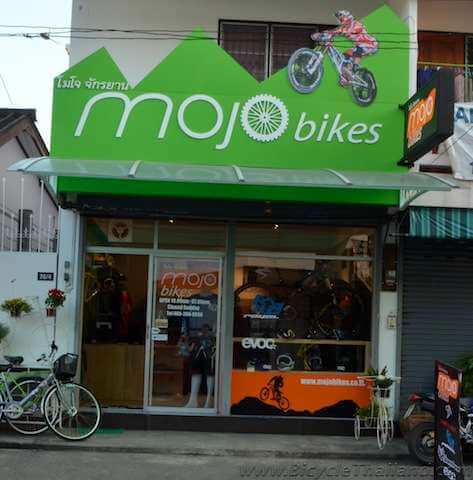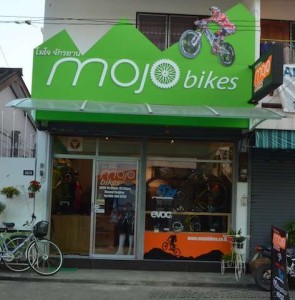 [CLOSED]
Last week I spent some time in Chiang Mai, where I had the opportunity to visit a few bike stores and ride some trails. One place I visited was Mojo Bikes, which recently opened its physical store following the growth of its online business over the past year and a half.
Mojo Bikes is a small company owned and run by dedicated and passionate mountain bikers. It distributes and retails mountain bikes, components, accessories and apparel for the following major brands: Santa Cruz Bicycles, Banshee Bikes, Royal Racing, EVOC, Urge, and Five Ten (expected soon). So if you are in Thailand and have been chasing products from these cool labels, Mojo Bikes is your first point of call.
Located at the southern edge of the old-town near the Chiang Mai gate, the shop was easy for me to find – even as a non-local.  The store manager, Khun Mei, explained to me that the shop's close proximity to many guesthouses meant that it was not uncommon for travelers to stop by, in addition to local clientele (both Thais and foreigners residing in Chiang Mai).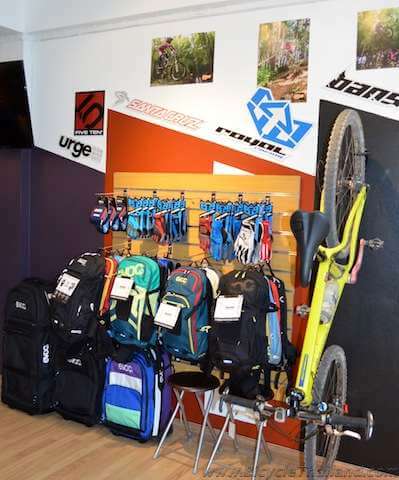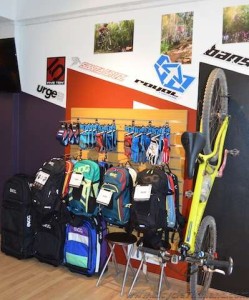 The shop, which could also be described as a showroom, was a welcoming place to get inspired by looking at the latest gear and talking about mountain biking with very friendly and knowledgeable English-speaking staff. Some of the products on display that caught my attention included a variety of Urge helmets, a good range of 2014 Royal Racing clothing (including jerseys, shorts and gloves), and a well-stocked selection of Evoc bags (such as hydration packs, courier bags and bike travel bags). The Santa Cruz Tall Boy LT also caused me to look with desire, while another product I was on the lookout for but missed seeing that afternoon was the Banshee Spitfire V2 in black that I'd heard rumors of – maybe someone had beaten me to it…
It was explained to me that while Mojo Bikes only held the grand opening of its physical shop in November 2013 (which was attended by some pro riders you might have heard of – Steve Peat comes to mind), the company has had an online presence for around a year and a half now. The company and its online store began when it became a distributor for Banshee bikes and things have started to snowball a fair bit since then.
With Chiang Mai being home to what are arguably the best trails in South East Asia, the location for the physical store is a logical choice. If you are not in Chiang Mai however, do not fear as Mojo Bikes has an online store and dealers around Thailand stocking the great mountain biking brands mentioned earlier.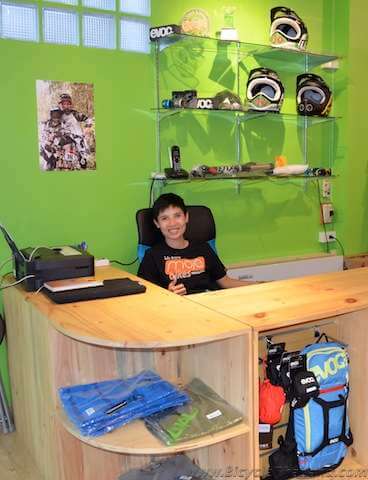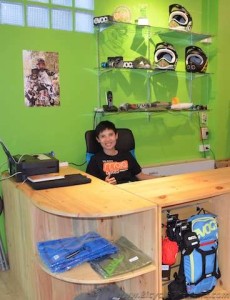 As mentioned earlier, the company is owned and run by mountain biking enthusiasts (those I spoke with had been out riding and/or competing on the local trails that day). "We do this because we have a passion for mountain biking", said the owner, Khun Lerm. While a simple statement, it was refreshing to hear in a country where many say that you must be dealing in road bikes to have a viable bike store.
Next time you're in the vicinity, drop in and have a chat with the staff at Mojo Bikes.  If you aren't in Chiang Mai, visit one of its dealers or check out the online store.
Mojo Bikes Chiang Mai [CLOSED]
20/4 Prapokklao Soi 1 (Map)
T. Phra Sing A. Mueang Chiangmai
Chiang Mai 50000
ภาษาไทย [+]
โมโจ จักรยาน เชียงใหม่
20/4 ถนนพระปกเกล้าซอย 1
ตำบลพระสิงห์ อำเภอเมืองเชียงใหม่
จังหวัดเชียงใหม่ 50000 Tel. Khun Mei 088-266-8256,  Shop 053-273-562
GPS – N 18 46.92, E 98 59.35 Email: info@mojobikes.co.th
Web: http://www.mojobikes.co.th/