Having just spent the better part of a week working on a particularly creaky bicycle I felt obliged to dedicate my next few articles to helping those of you brave enough to attempt the arduous task of finding and killing the creak on your own bicycle. This first of two articles will discuss five areas of a bicycle that could be the source of elusive creaks and squeaks. I will discuss an additional five areas in next month's issue.
Creaking and squeaking noises are annoying, and can be a sign of more serious problems. Damage to component parts may result if they are left unattended. Creaking is usually caused by two things rubbing together, such as a crankarm rubbing on a spindle.
Correctly diagnosing the source of the noise can be difficult. It may help to have a friend assist you. Have them flex the parts while you listen and feel for noise. Creaking will often resonate enough to be felt as well as heard.
If during a ride you hear a creak or squeak once per revolution, it is probably located in the crankset and pedal area. If the noise is once every 2 – 3 revolutions, it may be in the chain. There can be several causes of creaking. You may need to proceed through the drive train step by step, part by part to eliminate potential problems. Here are five possible sources and remedies for creaking.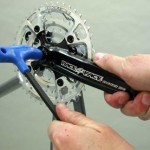 Cranks
The most common cause of creaking is the crank being loose on the spindle. Remove the crank bolts, lubricate the threads and under the bolt head, and re-install. Tighten the bolts to the manufacturer recommended torque. Use a torque wrench if possible. Typically, 300 inch-pound is considered a minimum torque, which is 50 pounds of effort holding a wrench six inches from the bolt.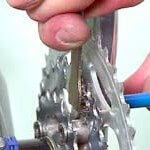 Chainrings
The chainrings are held to the cranks by chainring bolts. Use a hex key wrench and check each bolt. Hold the back chainring nut from spinning with a chainring nut wrench. Apply a mild thread locker or grease on the threads. Secure steel chainring bolts to about 60 inch-pounds, which is about fifteen pounds of effort holding a wrench four inches from the bolt.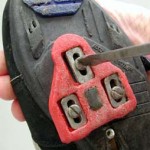 Pedal Shoe Cleats
If you have riding shoes, the cleats under the shoe can loosen and also cause noise. Use a mild grade of thread locking compound or grease on the bolts, and tighten them fully. Even regular street shoes on a platform pedal can cause noise. A shoe lace can tap against a crankarm, and the rubber can move and squeak under the sole. Eliminate these possibilities before completely disassembling your bike.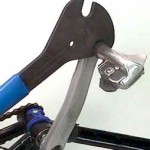 Pedals
Tighten pedals into crankarms. The torque typically recommended is 300 inch-pounds, which is about 50 pounds of effort hold a wrench six inches from the pedal. Pedal bearings can also creak. Spin the pedal and listen for noise. Different makes of pedals have different bearing service options.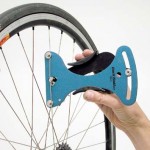 Wheel and Spokes
Creaking can be the result of loose spokes in the rim. Spoke may be moving in the rim or spokes may rub one another at the spoke interlace. In either case, increase spoke tension, using a spoke tension meter if possible. Some rims are made with a hollow section, and dirt can collect in this hollow area causing a rattling. Also, spokes with a painted or anodized color finish have more of a tendency to squeak at the interlace point when not tensioned correctly. Read Part 2 of this article.