This month's featured bike shop in Thailand is Jacky Bike. Jacky Bike is located in the city of Chiang Mai, nestled on the west side of the city between the old moat and the base of Suthep mountain. The trendy area of Nimmanhaemin is close by Chiang Mai University. Some maps refer to the area as Nimmanhaemin while others call it Nimman Haeminda. Soi 13 can be reached by going towards Doi Suthep on the Huay Kaew road and turning left onto Sirimangkhalachan road. We have provided the GPS coordinates of the shop in order to remove the frustration of locating the store.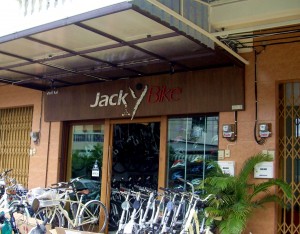 Jacky Bike
12/7 Nimmanhaemin soi 13
T. Suthep A. Mueang Chiang mai
50200
ภาษาไทย [+]
ร้านจักรยานแจ๊กกี้
12/7 ซอยนิมมานเหมินทร์ 13
ตำบลสุเทพ อำเภอเมืองเชียงใหม่
จังหวัดเชียงใหม่ 50200 Tel: 053-225-278, 089-755-7910
GPS – N 18 47.769, E 98 58.106
Jacky Bike is a well-stocked shop carrying a wide range of road, mountain, and city/casual bikes. The bulk of the store's bicycles and accessories are from TREK and its affiliated brands (Gary Fisher, Klein, Bontrager). Ortleib bags and accessories are also carried and the shop has the occasional touring bike from TREK or FUJI on display. The shop can handle most mechanical services within a reasonable amount of time but, of course, if you require any in-depth servicing be prepared to leave your bike. The shop benefits from being located on the 'quieter' side of town where short cycling trips through the campus of CMU or the Nimmanhaemin shopping district can be enjoyed. More adventurous riders can stop in at the shop before challenging themselves on the steep grade of Doi Suthep or setting out to tackle the Samoeng Loop. Happy Riding!