Originally posted as 'Phuket to host ITU World Triathlon Long Distance Series opener' in
Sports section of Phuket Gazette 3/09/2012.
Phuket to host ITU World Triathlon Long Distance Series opener
Phuket Gazette – Monday, September 3, 2012  4:35:00 PM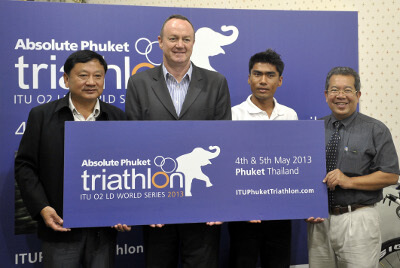 PHUKET: Next year, Phuket will host one of the eight prestigious events of the ITU Long Distance World Triathlon Series.
The event will be held in Patong on May 4-5, 2013.
The news was delivered today by Phuket Governor Tri Augkaradacha, accompanied by Bryan Lunt, chairman & CEO of title sponsor Absolute World Group.
Joining them at a press conference at Provincial Hall were Jaray Jearanai, Race Ambassador and Thailand triathlon champion, and Chanchai Duangjit, director of the Tourism Authority of Thailand Phuket office.
More than 600 athletes, including top professional ones, Olympians and world champions from 25 countries are expected to take part.
"Leading cities around the world are targeting international sporting events as part of their corporate social responsibility strategies, and with our commitment to health and fitness within our resorts and organization, the Absolute World Group are proud to bring this ITU World Triathlon Series event to Phuket," said Mr Lunt.
"We are showcasing the island to participants, families and friends, and to the world through dedicated TV broadcasts in more than 120 countries," he added.
The two-day event will feature a variety of swim-cycle-run formats, including Sprint (750m swim, 20km cycle, 5km run); Olympic Distance (1.5km swim, 40km cycle, 10km run); Team Relay; Celebrity Relay; and an "ITU Kids" race.
On the Sunday, May 5, the main event will be the Double Olympic Distance race of a 3km swim, 80km cycle and 20km run.
Athletes will start with an open-water swim off Patong Beach, transition to their bikes and race south past Karon Beach to Kata Beach, and back – a technical and hilly route, with one lap measuring about 25km.
The run is a flat road race around Patong, heading south along the beachfront, with one lap measuring about 5km. The finish will be on Bangla Road, in the heart of Patong.
The event's race ambassador, Thailand Triathlon champion Jaray Jearanai, will be racing on the Absolute World Group team alongside some of the best triathletes in the world. Jaray will also represent Thailand and carry the hopes of his home province of Phuket.
There will be elite and age group categories, with world-ranking points awarded and a prize purse in excess of 30,000 euros (about 1.3 million baht).
"Phuket will be among one of eight iconic global cities selected to be part of triathlon's largest world series, and the Absolute World Group is proud to have secured this great opportunity for Phuket, to be a part of the ITU World Triathlon Series, and to position Phuket as a world-leading sporting and tourism destination," said Mr Lunt.
Registration will open on line on November 1 at the web address www.ituphukettriathlon.com (website yet to be launched).
– Phuket Gazette