Some chains, including Shimano, use chain rivets which have wedge-like spherical ends. This creates a "mushroom" effect at the ends of the rivets, which adds to the strength of the chain side plates. When a rivet is pressed even partially out, this extra material is sheered off on the side pressed by the chain tool. If this rivet were reused, it would create a weak link at that particular rivet.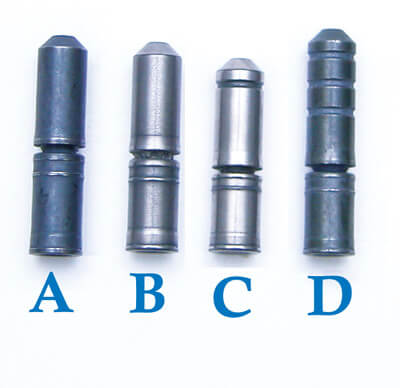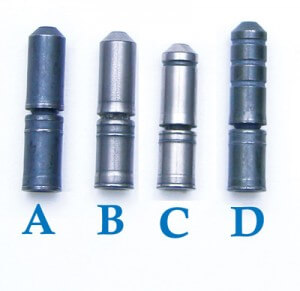 Shimano chains use a special connecting rivet when the chain is installed new or when one is removed and re-installed. This connecting rivet has special flaring that is guided in by a long tapered pilot. The pilot is then broken off so that the chain can be used. Only Shimano brand chains should use the Shimano connecting rivet.
Shimano 7 and 8 speed chains use a black connecting rivet. The narrower 9-speed chain uses a silver-colored connecting rivet. The Shimano CN-7800 chain for 10-speeds uses a silver colored rivet with an extra-machined line for identification on the pilot. The Shimano CN-7801 chain for 10-speed sprockets uses a connecting rivet with three machined identification lines. The 10-speed chain rivets are not interchangeable.
A = 7 or 8 speed connecting rivet (Black color with no grooves on pilot)
B = 9 speed connecting rivet (Silver color with no grooves on pilot)
C = 10 speed connecting rivet for model CN-7800 (Silver color with one groove on the pilot)
D = 10 speed connecting rivet for model CN-7801 (Gray color with three grooves on the pilot)