The holiday destination of Koh Samui, with its beautiful island scenery and challenging terrain, provided the ideal backdrop to this year's Ibis Koh Samui Trophy Adventure Race.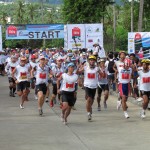 The annual race, held this year on Saturday October 2nd, drew over 90 teams of competitors from Hong Kong, Malaysia, Singapore, and Thailand. Two separate racecourses allowed participants to compete at either an Extreme or Adventure level division.
The Extreme division racecourse consisted of 15km running, 1000 meters swimming, 10km kayaking, and 45km of biking while the Adventure division racecourse consisted of 10km running, 500 meters swimming, 5km kayaking, and 30km of biking.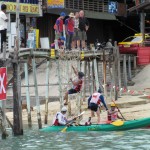 In addition to being tested in the main sport disciplines of adventure racing, the competitors were thrown a few surprises by this year's organizers who included checkpoint stations along the routes that challenged the climbing, memory, and even slingshot skills of the racers. In adventure racing the emphasis is on teamwork, good sportsmanship, and fun!
The race saw teams of two competing, and being awarded cash and prizes, in 5 different categories: Men, Women, Mixed, Masters, and Grand Masters.
To learn more about this event and how you may participate in future events organized by ama-events go to – http://www.ama-events.com
To find similar events in Thailand go to the EVENTS page at BicycleThailand.com
Extreme Division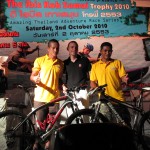 Top 3 teams in each category
Men
Saman Gunan & Seree Ruangsiri (Nok Air / Amarin Outdoor Unlimited)
Cosmo Richards & Jeremy Ritchey (Team CHIRU Endurance Bikes)
Chadarak Chaikamjorn & Suwat Phaiboon (The Smaui Gazette)
Women
Patricia Weismantel & Kathrin Puff (SpiceRoads Ironmaidens)
Sara McCosh & Annie Miniscloux
Mixed
Songphol Sripiboonbanjerd & Chothip Gan-uam
Lynda Sharp & Neil Biggadike (Gruesome Twosome)
Iphigenia Johnson & Matt Groves (Swingers)
Masters (combined age 80+)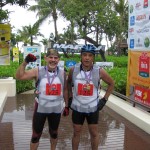 Niphon Suwan & Jaroen Kankaro
Jongsak Kaew-in & Thongchai Biadnok (Columbia)
Sylvain Perret & Christophe Mercier (Masters of Disasters)
Grand Masters (combined age 100+)
David McCormick & Stephen McCormick (Band of Brothers)
John Lawlor & Kiattisak Prem-anant (Sugar Loaf)
Suwas Thitinanthaphan & Aphisit Chatpornjaras (Marathon Phantae)
Adventure Division
Top 3 teams in each category
Men
Amnart Ngampisan & Phuchit Jhirangsi (Green Samui Bike Club 12)
Jago Gazendam & Will Kirkwood (Cheeky Monkey)
Narong Sukseng & Somchai Hamunee (Green Samui Bike Club 4)
Women
Colleen Chan & Olivia Matter (Chocolate Kangaroos)
Jean Williams & Ellen Snilsberg
Ginny Coleman & Haley Edmiston (Hot Tamales)
Mixed
Sutinee Rasp & Greg Rasp (SpiceRoads)
David Thomson & Lesley Davidson
Amporn Siriwoot & Thongsuk Siriwoot (Samui Zazen 2)
Masters (combined age 80+)
Siegfried Verheijke & Allan Christensen (Team Lion Club)
Suthep Pinkaew & Cholracha Patiphatwasin (Pharam 4)
Pascal Bricout & Laurent Figeac (Just Do It!)
Grand Masters (combined age 100+)
Jiraskiat Pakpin & Bang-orn Kohphan
Jean Duru & Luca Matthey (CONFITURE)
Somchai Chaiyotha & Ekachai Apipan (Green Samui Bike Club 10)