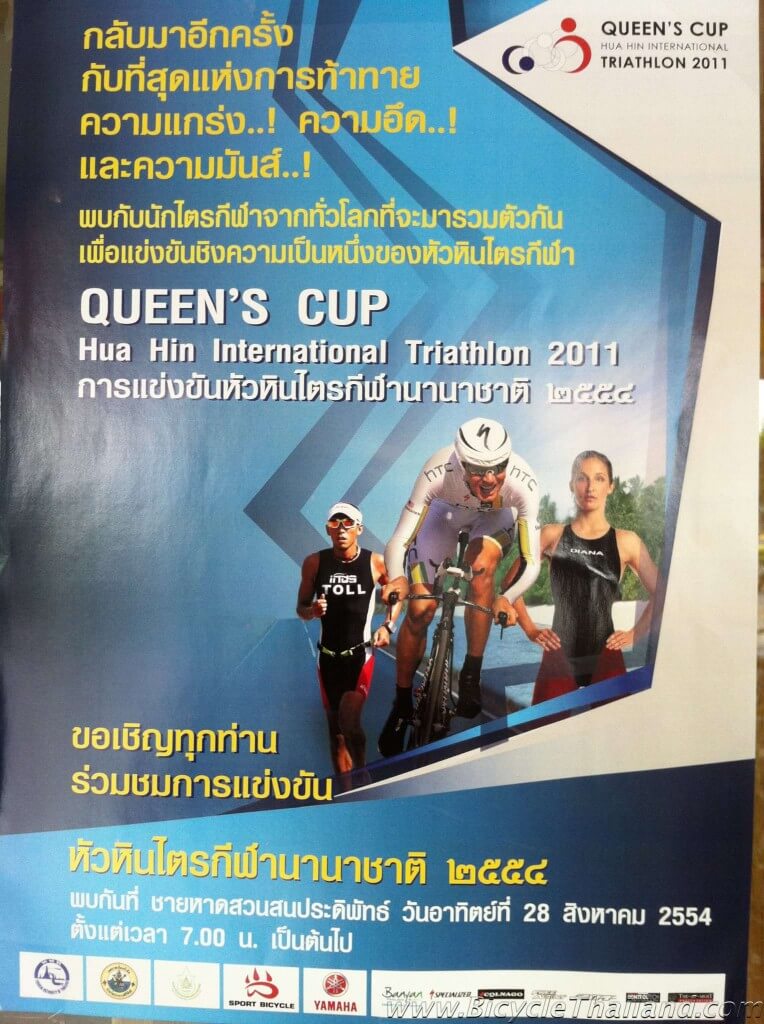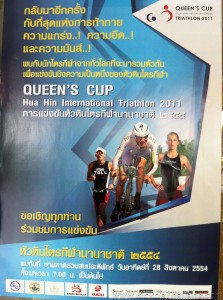 The Hua Hin Queen's Cup International Triathlon 2011 was held on Sunday, August 28th, at Suanson Pradipat Beach in the province of Prachuap Khiri Khan. This annual event, now in its third year, offers local and visiting athletes the chance to test their fitness at either the duathlon (running and biking) or triathlon (swimming, running, and biking) level. The 2011 edition witnessed more foreign participants than in previous years heralding the event as a great boost to the area's tourism and to the sport of triathlon in Thailand.
The duathlon racers, who ran 5km, biked 40km, and ran a second time for 10km, competed in a team or as an individual in one of 5 categories: Male Open, Men age 30-39, Men age 40-49, men age 50 years and up, and Female Open. The triathlon racers, who swam 1.5km, biked 40km, and ran 10km, also competed in a team or as an individual in similar categories as the duathlon racers. Teams in both events were categorized by either male or female and were ranked according to their collective overall time.
Registration for the event took place on the afternoon of Saturday August 27th followed by a race briefing and late evening pasta party. Grand opening ceremonies commenced on the morning of the 28th and saw the first wave of Olympic distance racers start at 7:10am. The race ended just after noon with results announcements and awards being given at 1pm. A formal closing ceremony was conducted at 2pm.
Mr Thanet kittipornpanich performed the duties of race director aided by Mr Chaiyaporn Piyasurapratheip of Sport Bicycle, who fielded its own group of sponsored athletes in the race. Cooperation from Ms Pinnart Chareonpol of the Tourism Authority of Thailand (TAT) and public realtion and special event manager Mr Pitak Thabthim, along with other minor sponsors, ensured an enjoyable and safe event which is sure to remain on Thailand's triathlon race calendar for years to come.
To learn more about this event and how you can participate next year go to –http://www.huahintriathlon.com
To see full race results go to – http://www.championchip-thailand.com
To find similar events in Thailand go to the EVENTS page at BicycleThailand.com
Individual Triathlon – Top ten overall winners
Peter Bartolomy (2:15:16) Men Open
Stephen Eid (2:16:17) Men Open
Stephane Bringer (2:16:56) Men 40-49
Soman Kunan (2:17:21) Men Open
Phosoyot Yongsokunchai (2:18:15) Men Open
Chaetbanglat Khunthaphon (2:18:31) Men 30-39
Ruangyos Mahaworomakorn (2:19:15) Men Open

Noppanunt Utamaphetai (2:22:04) Men 30-39

Patrice Robustelli (2:22:16) Men 30-39

Erik Bohm (2:22:33) Men 30-39