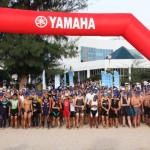 This year's Hua Hin Queen's Cup International Triathlon was held on Sunday, October 10th, at Suanson Pradipat Beach in the province of Prachuap Khiri Khan. The annual event offers local and visiting athletes the chance to test their fitness at either the duathlon (running and biking) or triathlon (swimming, running, and biking) level. Also on offer at Sunday's venue was a 5km fun run along the white sand beach, sponsored by Yamaha.
The duathlon racers, who ran 5km, biked 40km, and ran a second time for 10km, competed in a team or as an individual in one of 5 categories: Male Open, Men age 30-39, Men age 40-49, men age 50 years and up, and Female Open. The triathlon racers, who swam 1.5km, biked 40km, and ran 10km, also competed in a team or as an individual in similar categories as the duathlon racers. Teams in both events were categorized by either male or female and were ranked according to their collective overall time.
As in past years, Sport Bicycle performed the duties of race director and also had a strong showing of sponsored athletes. Cooperation from the Tourism Authority of Thailand (TAT) and the Thai Health Organization, along with major sponsors PTT, Yamaha, and Coca Cola made this event memorable and ensured its continued presence on Thailand's triathlon race calendar.
To learn more about this event and how you can participate next year go to –http://www.huahintriathlon.com
To see full race results go to – http://www.championchip-thailand.com
To find similar events in Thailand go to the EVENTS page at BicycleThailand.com
Individual Triathlon – Top ten overall winners
Stephane Bringer (2:24:26) Men 40-49
Andrew Hay (2:26:37) Men 30-39
Ja Raeh Chian Nai (2:27:47) Men 30-39
Eddy Smith (2:27:58) Men 40-49
Razani Husain (2:28:10) Men 40-49
Roman Widlak (2:30:17) Men 30-39
Masaomi Gido (2:32:41) Men 30-39
Phatsayoht Wohngsoogohnchai (2:32:50) Men Open
Amnaat Seechadti (2:33:34) Men Open
Agthaen Soowanoogoon (2:33:54) Men Open